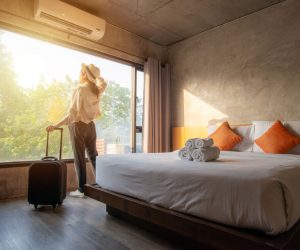 Top Rated Inpatient Drug Rehab in Fort Myers
When someone goes through the process of looking for a drug rehab center, it often seems like it is a very negative time in their life. However, asking for help is never negative. That's why it's essential to find the right inpatient drug rehab in Fort Myers for you. At WhiteSands Alcohol and Drug Rehab, we have developed exceptional programs that are fully customized for each of our clients, making us the top-rated drug rehab center in Florida. We're ready to answer any questions you may have about inpatient drug rehab or any of our other programs.
If you or a loved one are struggling with addiction, call WhiteSands Alcohol and Drug Rehab today at 877.969.1993 to learn how we can help.
What Is Inpatient Residential Drug Rehab?
Inpatient drug rehab is a treatment that occurs while a patient stays in a care facility full time. There are several different lengths of stays that we typically suggest for our clients at WhiteSands, while consistently making each person's treatment plan unique. Alcohol and drug inpatient treatment programs generally have been 30, 60, or 90 days and at WhiteSands, we have expanded on that concept to fit the needs of each individual client. In fact, we have developed a concept involving flexible lengths of stay that incorporates both inpatient and outpatient care.
Benefits of Inpatient Drug Rehab
One of the main benefits of an inpatient drug rehab program is the complete separation from the environment where a person has typically used any type of substance. Even a stay as short as seven days can open a person's eyes to how their life can be without drugs or alcohol.
In many cases, people cannot or are unwilling to commit to a residential treatment program. However, combining even a short stay in inpatient rehab with outpatient care can be the perfect mix for many people to be successful in recovery. Experts agree that a variety of care is beneficial for long-term success in an alcohol and drug-free lifestyle.
What Happens After Inpatient Drug Rehab?
No matter how long a person stays in a residential program, we strongly suggest continuing treatment after inpatient drug rehab. Inpatient care is an excellent building block for a person's recovery, but it often takes more than one phase of healing for an individual to stay successfully drug-free.
That's why at WhiteSands Alcohol and Drug Rehab, we offer comprehensive services to our outpatient clients, too. We want our patients to be able to continue developing the coping skills they need when reentering society.
By offering individual, group, and other alternative treatment options in an outpatient setting, we know that we can support our patients as they reintegrate into the home, work, and other areas of their life.
Outpatient Drug Rehab Fort Myers | PHP, IOP, OP
At WhiteSands Alcohol and Drug Rehab, we strive to be the most flexible drug rehab organization available to Florida residents. That's one of the reasons why we were named the top drug rehab facility by Newsweek magazine. That means offering a lot of options to our outpatient clients, too.
At our Fort Myers location, we offer traditional outpatient drug rehab (OP), Partial Hospitalization Programs (PHP), and Intensive Outpatient Programs (IOP) for our clients. We also have specialized outpatient treatment for specific categories of drugs, like opioids.
Sober Living and Relapse Prevention Fort Myers
Sober living homes are available to both men and women in the Fort Myers area. One of the great benefits of staying in a sober living house is the support and relapse prevention provided. Not only are our homes staffed by highly-trained professionals, but you will also be living with other people who are working to overcome the same struggles as you. This creates a very supportive environment. Sober living homes can be combined with any type of outpatient care and our clients often take advantage of this option during an IOP or PHP.
Why Choose WhiteSands for Inpatient Drug Rehab Fort Myers?
When you choose WhiteSands Alcohol and Drug Rehab for inpatient drug rehab in Fort Myers, you are opting to work with the best. Our staff, programs, and facilities are second to none. To get started, give us a call. We will answer any questions you may have about our outpatient or inpatient drug rehab programs. Call today; we're ready to help.
If you or a loved one needs help with abuse and/or treatment, please call the WhiteSands Treatment at (877) 855-3470. Our addiction specialists can assess your recovery needs and help you get the addiction treatment that provides the best chance for your long-term recovery.