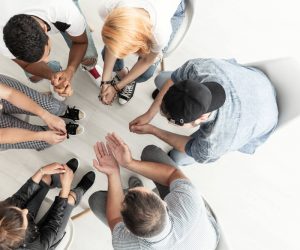 Best Drug Rehab in Kissimmee
WhiteSands is the best drug rehab center in Kissimmee because of our highly credentialed staff, the frequency and quality of therapy offered, and our exceptional life skills program. These services are designed to give you the tools you will need to succeed long after you leave our facility. Our staff-to-patient ratio is high, meaning you will receive more personalized and targeted care while you heal and recover from addiction.
If you or a loved one are struggling with addiction, call WhiteSands Alcohol and Drug Rehab today at 877.969.1993 to learn how we can help.
What to Expect in Drug Rehab Kissimmee
When you first enter our drug rehab center in Kissimmee, we will screen you for co-occurring conditions, check your physical health, evaluate your level of addiction, and find out more about you and the goals you have for rehab. This way, we can work with you to create an individualized rehab program that will best suit your needs and set you up for success in the long term.
After your intake procedures, you will move into our detox facility until the drugs leave your system. We offer medically assisted treatment to help you get through the most challenging parts of your detox. Once you are strong and stable, we will move you into our rehab facility.
The minimum recommended stay in rehab is 30 days. You will spend your time in therapy, peer groups, and educational sessions, with plenty of time to rest and reflect in the evenings. We schedule your days like workdays, with all your programming during the day. After dinner, you become our guest, relaxing by the pool, playing games, working out, going to our spa, or enjoying any of our other luxury amenities.
Drug Detox Kissimmee
Detoxing from drugs can seem frightening and can be dangerous if not overseen by professionals. That is why at WhiteSands, we provide Medically Assisted Treatment (MAT). You will be under our care 24 hours a day and supplied with prescription doses of FDA-approved medications to help you with the worst of your withdrawal symptoms as the drugs leave your system. Our detox program also includes therapy, and you are invited to join peer groups as early as possible, so you can work through any emotional issues that may come up at this time.
Inpatient Drug Rehab Kissimmee
Our inpatient drug rehab facility in Kissimmee is not only a safe and drug-free environment, but we provide behavioral therapy, education, counseling, and life-skills programs that will get to the root of your addiction and help build you up into the sober person you want to be. You will not just detox and be placed into the same situation you were in before. We will help you change your entire perspective, give you new recovery tools, and help you work on managing stress and triggers, providing a whole lifetime of support to you. With a stay in inpatient rehab at WhiteSands Alcohol and Drug Rehab, you will have a much lower risk of relapsing.
Outpatient Drug Rehab Kissimmee
We offer different types of outpatient rehab that you can choose between, depending on your level of comfort and need. We provide full support for up to seven days a week if you want, which is a good choice for those with a history of relapsing or those who want to take things slow.
We also offer treatments for those who want to get back to work, school, or other responsibilities. In our flexible program, we will work with you to customize a schedule that works around you. You will still have our full support when you need it, and the level of intensity can change as your needs evolve.
MAT Drug Rehab Kissimmee
Medically Assisted Treatment is a vital detox program for people quitting substances with more severe withdrawal symptoms, like opioids or alcohol, or those dealing with co-occurring conditions. Medications are given to help alleviate drug cravings, keep you comfortable throughout your withdrawal period, and keep you safe. Our clinical staff will monitor you 24 hours a day to ensure you remain safe and that the medications are doing their job.
Dual Diagnosis Treatment Kissimmee
Mental illness and addiction are often inextricably linked and need to be treated simultaneously by the same medical team in the same place. People with mental illness may begin using drugs to mask their symptoms, and some medications can trigger mental illnesses in those who are predisposed to them. With dual diagnosis treatment, we work to get to the root of the issues, provide counseling and therapy, and administer psychiatric medications alongside treatments for addiction.
Relapse Prevention Kissimmee
A sober community and a strong support system are two critical factors for people who are leaving rehab. It is much easier to talk about drug abstinence and triggers when you are not faced with them in the real world. Alongside our outpatient programs, we can also connect you with our network of alumni and provide referrals to sober living homes in your area for additional support as you transition back into your life. You will never have to be alone in your recovery.
Why Choose WhiteSands for Drug Rehab in Kissimmee
The best part about drug rehab programs at WhiteSands Alcohol and Drug Rehab is that each program is completely customized to you. We will ensure you are part of the decision-making process to choose programs that will best benefit you and give you the recovery skills you will need for the long term. This includes our unique life-skills program that will provide tools to help you with the basics, like interviewing for a job, taking care of your body through nutrition, exercise, and hygiene, or finding a place to live. Contact us today to find out more about our programs and amenities. We are here to help you.
If you or a loved one needs help with abuse and/or treatment, please call the WhiteSands Treatment at (877) 855-3470. Our addiction specialists can assess your recovery needs and help you get the addiction treatment that provides the best chance for your long-term recovery.