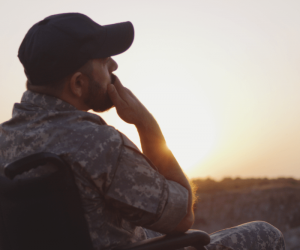 Best Alcohol Treatment Center for Veterans with PTSD
Veterans who struggle with PTSD (post-traumatic stress disorder) face a unique set of challenges, especially if they are also diagnosed with other mental health disorders. Alcohol and PTSD treatment for veterans can help these individuals navigate life with increased clarity and transparency.
WhiteSands Alcohol and Drug Rehab provides veteran-centered treatment which works to address the driving force behind addiction. We have a proven track record of success in veterans who struggle with PTSD by providing the tools and resources necessary to manage their conditions. Every patient that enters WhiteSands is supplied with a unique and personalized recovery plan that caters to their individual struggles.
If you or a loved one are struggling with addiction, call WhiteSands Alcohol and Drug Rehab today at 877.969.1993 to learn how we can help.
PTSD and Addiction in Veterans
Unfortunately, many veterans who return from deployment suffer from PTSD as a result of combat. To cope with this, they often turn to substances of abuse such as alcohol to self-medicate. Unfortunately, this is not a long-term solution and does not address the root cause of the problem at hand. Proper mental health help teaches the individual how to cope and manage their PTSD correctly is the most effective method of controlling the disorder.
Symptoms of PTSD include:
Aggression
Hopelessness
Severe flashbacks
 Low self-esteem and insecurities
Insomnia
Self-destructive behavior such as drug and alcohol abuse
Ongoing relationship issues
Symptoms can be triggered and exacerbated and lead to destructive behavior to mitigate and numb the pain and traumatic experiences. Learning how to cope with triggers through therapy, counseling, and MAT (medication-assisted treatment) can help stabilize the individual, allowing them to make sound choices when navigating their disorder.
Dual Diagnosis Treatment for Veterans With PTSD and Alcoholism
For veterans who struggle with comorbidity, dual diagnosis treatment is necessary. Dual diagnosis treatment works to stabilize the patient psychologically and physically, so they do not feel cravings and therefore do not dabble with drugs or alcohol. They will also not feel the physical side effects of withdrawal as they receive treatment that mitigates and helps to manage the physical effects of addiction. Suppressing PTSD and alcoholism with substances simply adds fuel to the fire and will only worsen both disorders. The best way to overcome and manage these is through professional treatment programs.
Some of the treatment modalities used for veterans who struggle with PTSD and alcoholism include:
Group therapy
One-on-one counseling
Inpatient treatment
Outpatient treatment
Medication-assisted treatment (MAT)
Family counseling
Once an in-depth patient assessment has been completed, a customized treatment plan will be constructed.
Healing Trauma in Addiction Treatment
Healing from the trauma of combat and addiction is possible with unique trauma-focused therapies. Some of the treatments that have proven to be effective in treating both PTSD as well as addiction are:
Emotional freedom technique (EFT)
Eye movement desensitization and reprocessing (EMDR)
Cognitive-behavioral therapy (CBT)
Cognitive processing therapy (CPT)
Prolonged exposure therapy
These specific therapy types are designed to reduce anxiety and anxious thoughts while mitigating feelings of depression. By reducing the emotional impact of symptoms, individuals can carry on in their day-to-day lives with confidence and reassurance. Through psychotherapy, patients will slowly restore stability and learn coping skills that can allow them to lead productive and fulfilled lives.
If you or a loved one is struggling with PTSD and addiction, get in touch with the WhiteSands Alcohol and Drug Rehab team today. The intake team is available on a 24/7 basis to take your call. We have helped thousands of veterans successfully overcome and manage their mental illness and we are confident that we can help you too.
If you or a loved one needs help with abuse and/or treatment, please call the WhiteSands Treatment at (877) 855-3470. Our addiction specialists can assess your recovery needs and help you get the addiction treatment that provides the best chance for your long-term recovery.