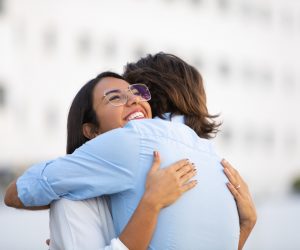 Finding Hope in Recovery Allows Patients to Navigate Sobriety With Confidence
Like many patients who agree to enter treatment, Ruth was hesitant to begin rehab because there were many unknowns. The uncertainty of how she would respond to treatment and the doubt in the efficacy of rehab added to the hesitancy. Luckily, she found solace at WhiteSands Alcohol and Drug Rehab in Plant City, Florida.
"Thanks to Whitesands, you don't have to find the path to recovery alone," she states. "I am beyond grateful and proud to have had the opportunity to find a completely different, new, and effective way to transition into my recovery," she mentions.
WhiteSands Alcohol and Drug Rehab in Plant City is committed to patient recovery and wants to see every patient succeed in long-lasting sobriety. With the proper tools and resources available to patients post-discharge from treatment, they can re-enter everyday civilian society with confidence.
Our Plant City facility has several inpatient and outpatient treatment facilities and offers all levels of care and a full continuum of treatment options. We have helped tens of thousands of individuals reach long-term sobriety and continue to help individuals reach sobriety every day.
If you or a loved one are struggling with addiction, call WhiteSands Alcohol and Drug Rehab today at 877.969.1993 to learn how we can help.
Highly-Qualified and Board-Certified Staff
Not only does WhiteSands Alcohol and Drug Rehab in Plant City have the most qualified staff on board, but we also offer a full continuum of treatment options and are at the forefront of addiction treatments' evolving modalities.
"Whitesands makes a strong commitment to choosing the right staff. My case manager, the knowledgeable nursing staff, and of course, the caring and accommodating BHT's!" says Ruth.
Our facility doesn't just hire anyone to assist patients in their recovery; a thorough vetting process is completed to ensure the highest-qualified clinicians and staff are part of the team.
Some of the treatment programs offered through WhiteSands Alcohol and Drug Rehab in Plant City are:
Dialectical Behavioral Therapy (DBT)
Cognitive Behavioral Therapy (CBT)
Dual Diagnosis Treatment
One-on-one Therapy
Medication-Assisted Treatment (MAT)
Life Skills programs
Aftercare and Relapse Prevention
When patients are provided with the individualized treatment they need to succeed in recovery; they are much more successful in long-term sobriety. Another aspect that has truly aided in patients' success at WhiteSands Alcohol and Drug Rehab in Plant City is the top-notch accommodations and on-site amenities. When patients have healthy and constructive outlets to expend pent-up energy from a long day in treatment, they are much more receptive to the recovery process.
Commitment and Dedication Prevents Relapse
Unfortunately, addiction is a chronic and relapsing disease in nature and will try to creep back into your life any chance it can. This is why staying committed to your recovery through attending relapse prevention, and aftercare support can help you stay on the promising path of sobriety. Surrounding yourself with those who genuinely care about your recovery is imperative, as these individuals have your best interest at heart.
Aftercare programs are just as important, if not more critical, than inpatient and outpatient treatment, as re-entering everyday society as a sober individual can be overwhelming. Individuals will be faced with situations that will put their sobriety at risk, and knowing how to handle these situations can be the difference between sobriety and relapse.
If you or someone you love is struggling with a drug or alcohol addiction, get in touch with the WhiteSands Alcohol and Drug Rehab intake team today. We are available on a 24/7 basis to take your call and encourage you to get help today. The longer you wait to seek help, the worse your addiction will get. The sooner you get into treatment, the faster you can live a productive and content life that is not controlled by your addiction. Call us or visit any of our Florida locations today.
If you or a loved one needs help with abuse and/or treatment, please call the WhiteSands Treatment at (877) 855-3470. Our addiction specialists can assess your recovery needs and help you get the addiction treatment that provides the best chance for your long-term recovery.