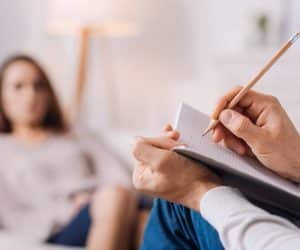 What Is an Addiction Therapist?
A licensed addiction therapist or counselor is a person who can help anybody suffering from a substance use issue manage their addiction at any stage so that they can ultimately achieve sobriety. They are there to help you decide on a treatment plan, support you through the entire treatment process, including relapse prevention plans and aftercare programs once you have completed any detox, inpatient, or outpatient programs. There are many types of addiction therapists in Gainesville who can help you.
If you or a loved one are struggling with addiction, call WhiteSands Alcohol and Drug Rehab today at 877.969.1993 to learn how we can help.
Qualities to Look for in an Addiction Therapist
Some of the qualities to look for in an addiction therapist include:
Being a good listener who is compassionate and patient
Someone who collaborates with you, helping you establish your goals for the future and take steps to get there
A person who can create a safe environment in which you feel comfortable to open up and share
Someone who has the desire and the commitment to help you move through all the stages of treatment and recovery
Therapies Used to Treat Addiction
The most common therapies used to treat addiction in Gainesville include:
Cognitive Behavioral Therapy (CBT) – teaching the relationship between thoughts and behaviors/choices/emotions
Dialectical Behavior Therapy (DBT) – teaching communication skills, and how to handle stress in healthy ways
Group Therapy and Group Exercises – providing the opportunity for expression, empathy, learning from one another, and the feeling you are not alone
Biofeedback and Neurofeedback – learning how to manipulate your brain by watching real-time displays of your brain activity as you experience changes in heart rate and muscle tension
Family Therapy Sessions – helping you repair relationships and work through issues, providing your family with communication skills to become closer and understand one another better
Holistic Therapies – a variety of therapies, from art therapy to yoga to equine therapy, that helps patients cope with strong emotions and communicate outside of a traditional therapy session
Meditation, Hypnotherapy, Guided Imagery, Mindfulness, etc. – help you focus on controlling your response to stress, relax and manage cravings and other discomforts
Nutrition and Wellness – helping your body become stronger as you gain habits that will promote health and fitness
Other types of therapy that will treat you as a "whole person", promoting wellness, healing, and sobriety in an integrated program
Benefits of Working with an Addiction Therapist
Working with an addiction therapist has many benefits, including:
They can meet you where you are in your addiction and help you from there. You do not have to be at a certain "level" of addiction to be able to speak with an addiction counselor. If you have been using substances for years, or if you are just now starting to wonder if you may have a problem, there is no wrong time to speak with an addiction therapist.
They provide a variety of treatment options that you can choose from, helping you find the best treatment route for your unique needs by conducting evaluations and substance use assessments
They provide you with "psychoeducation", helping you better understand what mental health is, and how to better understand any mental health conditions you may be experiencing along with your addiction
They can conduct family therapy sessions to help you repair relationships with loved ones and gain a better support system
They will keep you on track through periodic drug tests and check-ins, helping you follow through on your goals
If you are wondering how to find an addiction therapist in Gainesville, look no further. At WhiteSands, we can assess your needs as an individual, and help you determine which level of care may be right for you and your unique addiction issues. For many of our clients, outpatient care may be a good option, and you can participate in individual and group therapy while still living at home, and attending to important responsibilities like family, work, or school. An addiction therapist will guide you as you gain the recovery skills, coping tools you need to maintain your sobriety long-term. We even have programs that are simply one-on-one therapy a few times a week, but as each client's needs are unique, a thorough assessment will help us determine which treatment route is right for you.
Contact us today to find out more about our levels of care, from detox to inpatient treatment to our Partial Hospitalization Outpatient Program and our Intensive Outpatient Programs. No matter how severe or mild your addiction may be, our team will be able to help you determine the best next step to take.
If you or a loved one needs help with abuse and/or treatment, please call the WhiteSands Treatment at (877) 855-3470. Our addiction specialists can assess your recovery needs and help you get the addiction treatment that provides the best chance for your long-term recovery.