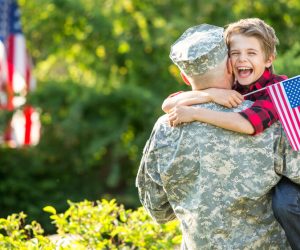 Veterans and Substance Abuse
Addiction is a complex issue that can begin early in life due to social conditioning or peer pressure. It can also stem from genetic predispositions and a family history of substance abuse. For veterans, the most common reason people begin abusing substances is to escape. Being away from home, being in combat, and being surrounded by situations those at home could never understand can cause feelings of isolation and fear, and turning to substances to dull the pain is common.
When returning home, veterans may face serious challenges with PTSD and the possibility of suffering from chronic pain due to injury, which may lead to trying to mask the physical and psychological distress with prescription pain pills, alcohol abuse, or turning to other drugs. Veterans may also be dealing with homelessness, depression, or other psychological issues. Combined with the perceived stigmas surrounding mental health disorders and the difficulty of readjusting to civilian life, these concerns can lead to unchecked substance abuse that can quickly lead to addiction, which requires alcohol rehab for veterans to heal.
If you or a loved one are struggling with addiction, call WhiteSands Alcohol and Drug Rehab today at 877.969.1993 to learn how we can help.
Veterans and Alcohol Use Disorder
It is common during active duty for service members to build unhealthy drinking habits, which can continue and even escalate after returning home, with combat exposure being a critical factor in developing an addiction. Alcohol rehab for veterans is recommended for anybody who cannot get through the day without drinking. If you have difficulty cutting back or quitting on your own, or experience withdrawal symptoms when you try to stop drinking, it may be time to seek help.
Trauma, PTSD and Addiction in Veterans
One of the veterans' major issues is trauma during military deployment and combat. This can be physical trauma like suffering a significant injury to themselves or psychological trauma causing post-traumatic stress disorder (PTSD). This difficult issue can be caused by experiencing, witnessing, or even hearing about the deaths or severe injuries of others, sexual assault, or being in other situations that cause extreme fear or distress.
PTSD, along with addiction, can make it difficult for veterans to:
Connect with others emotionally
Manage a work/life balance
Identify when substance use is becoming an issue
An integrated rehab program that offers dual diagnosis treatment can help by treating PTSD simultaneously as the substance use issue. This process is ideal, as mental health issues and addiction can feed off one another. Stopping the cycle for good is the most effective way to move forward through treatment toward long-term recovery.
Alcohol Rehab for Veterans at WhiteSands
At WhiteSands Alcohol and Drug Rehab's alcohol rehab for veterans, we offer a spectrum of alcohol rehab services that begins with our medical detox program. Designed to help patients through any withdrawal symptoms that may come up, we provide complete medical care, therapy, and counseling, so you can stop drinking without suffering physical discomfort or mental distress. We will keep you safe, using medical care and prescription doses of medications if needed, as your body adjusts to the lack of alcohol in your system.
Our inpatient rehab programs are multidisciplinary, with a 30 to a 90-day combination of traditional and holistic approaches provided within our luxury facility. During alcohol rehab for veterans, you will learn to let go of the past, address underlying issues and the root of your addiction, gain recovery and relapse prevention skills and find peace through groups, therapy, counseling, and other treatments. We provide family therapy to help rebuild relationships and case management to help you integrate back into everyday society.
Our outpatient programs are an excellent transition back to your everyday life after treatment, with full support provided in the evenings and weekends as you live at home and commute in for treatment. You will have full access to the same therapists, doctors, and treatment protocols but with more flexibility and freedom.
At WhiteSands Alcohol and Drug Rehab, all our professional and nonjudgmental staff use a trauma-informed approach to treatment. This means we ensure you always feel safe through open communication, collaboration, and informed consent. We will never force you to do anything you do not want to do, and you are always free to ask questions. We know you are a complex person with goals for the future who can make a lasting, positive change. With our whole-patient approach combining behavioral therapy, counseling, education, physical health care, and nutrition, we can help you detox and rehabilitate in a safe and comfortable environment.
For information about alcohol detox and rehab for veterans dealing with alcohol abuse, you can contact us at any time. We are only a phone call away and can help you choose a detox and rehabilitation program that is right for your unique needs.
If you or a loved one needs help with abuse and/or treatment, please call the WhiteSands Treatment at (877) 855-3470. Our addiction specialists can assess your recovery needs and help you get the addiction treatment that provides the best chance for your long-term recovery.