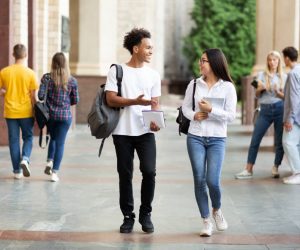 What Is Binge Drinking?
Binge drinking is harmful overconsumption of alcohol, bringing the blood alcohol content up to 0.08%, which is equivalent to:
four drinks in two hours for women

five drinks in two hours for men
If you or a loved one are struggling with addiction, call WhiteSands Alcohol and Drug Rehab today at 877.969.1993 to learn how we can help.
Prevalence of Binge Drinking Among College Students in Tampa
Binge drinking and substance abuse among American college students are exceedingly common, having become a ritual that many people believe they must perform when they go to college. According to the National Institute on Alcohol Abuse, almost 53 percent of full-time college students ages 18 to 22 drank alcohol in the past month. About 33 percent engaged in binge drinking during that same time frame.
Risks of Binge Drinking in College
Social norms in college promote binge drinking as a regular activity, and there is a high amount of peer pressure in your late teens and early 20s to drink to excess as "stress relief" or to "have fun" at parties. Some risks of college binge drinking include:
Death

Sexual assault
Physical assault
Academic issues
Mental and physical health problems
Legal troubles
Binge drinking can also lead to addiction. Many people do not realize they are developing an addiction to alcohol until it becomes a real problem in their lives. Going to an addiction treatment rehab program can help you stop drinking if you suspect you have an alcohol addiction.
To reduce your risk of binge drinking, here are some sober activities to do in Tampa:
Signs of Alcohol Poisoning (Overdose) in College Students
The signs of alcohol overdose, also known as alcohol poisoning, are:
Vomiting

Confusion
Slow or irregular breathing
Seizures
Slow heart rate
Low body temperature
Blue skin color or paleness
If you suspect somebody has alcohol poisoning, seek immediate medical attention by calling 911. Do not wait, as a person who has passed out may die.
Colleges and Universities in Tampa
Students in Tampa who are at risk of developing a drinking problem like alcohol use disorder attend all sorts of schools and live in a variety of academic environments, including:
University of South Florida

The University of Tampa
Schiller International University
Florida College
Eckerd College
Strayer University Tampa Westshore Campus
Southeastern University
Florida Southern College
Hillsborough Community College – Plant City Campus
Saint Leo University
Trinity College of Florida
South University, Tampa
Concorde Career Institute – Tampa Florida
Altierus Career College
Galen College of Nursing
Ultimate Medical Academy
A drug and alcohol rehab program for substance abuse treatment, including cognitive-behavioral therapy, can help you with alcohol abuse and see you through alcoholism's negative consequences.
Alcohol Rehab and Detox for College Students in Tampa
College students in Tampa can come to WhiteSands Alcohol and Drug Rehab for alcohol detox and rehabilitation programs, including inpatient and outpatient substance abuse treatment options. Many people with substance use issues will require a medical detox program for alcohol, usually one to two weeks in inpatient treatment.
Alcoholic patients at WhiteSands Alcohol and Drug Rehab may choose an inpatient or an outpatient treatment program after detox is complete. Rehab includes:
Therapy for addiction, including group therapies, a dialectical behavior therapy program, and cognitive behavioral therapy

Housing options
Counseling
Medical care
Nutrition and exercise programs
Dual diagnosis treatment for co-occurring mental health conditions like PTSD trauma therapy, and treatment for anxiety, depression, bipolar disorder, and others
Case management services like resume building and life-skills development programs
Tampa rehab options include:
Inpatient Rehab
You will move into a rehabilitation center for full-time treatment for 30 to 90 days, with structured daily living and full days of treatment. In the evenings, you will become our guest and be able to take advantage of our luxury accommodations and services, including a full boxing gym with trainers, a pool, delicious food, spa services, and a private room with a private bathroom. You will be living full-time in a safe and sober environment, away from temptations and triggers that may cause a relapse.
Partial Hospitalization Program 
The PHP is usually only 10 to 20 days, after which you transition into an intensive outpatient program. As you live outside the facility, this is full days of treatment, slowly transitioning you back into living on your own after inpatient detox and rehab.
Intensive Outpatient Program 
The IOP is three sessions of one-hour groups, three days or nights per week, and can be scheduled to work around your school and work schedules so you can live your everyday life. You will also have daily check-ins with a life-skills guide for 90 days to keep you on track.
Outpatient Program 
After completing an IOP, you remain in contact with our sober community, with the option to continue with specific treatments, staying connected with doctors and therapists for continuity of care.
For more information on alcohol rehab and detox programs for students, contact WhiteSands Alcohol and Drug Rehab near Tampa today. We have inpatient rehabilitation, outpatient treatments, and medically assisted treatment programs to help you stop drinking for good in a safe and measured way. You may even be able to continue going to school as you rehabilitate.
If you or a loved one needs help with abuse and/or treatment, please call the WhiteSands Treatment at (877) 855-3470. Our addiction specialists can assess your recovery needs and help you get the addiction treatment that provides the best chance for your long-term recovery.