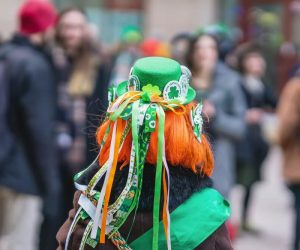 Binge Drinking and St. Patrick's Day
St. Patricks Day is a holiday that many people associate with drinking alcohol to celebrate Irish culture. When most people envision celebrating St. Patrick's Day, the first thought is going to a pub to drink green beer and take shots of whiskey, all embodying the perceived Irish spirit. This common misconception on properly celebrating St. Patrick's Day will lead to binge drinking behaviors as many believe the only way to celebrate this holiday is through excessive, heavy drinking, and wild partying behaviors. 
If you or a loved one are struggling with addiction, call WhiteSands Alcohol and Drug Rehab today at 877.969.1993 to learn how we can help.
Slainte -The Real Meaning of St. Patrick's Day 
As people drink their green beer and whisky during St. Patrick's Day celebrations, you may hear people using the Irish term "Slainte" to say "cheers." Many do not know that the true definition of Slainte translates to health, and in fact, it derives from the Irish saying "sláinte is táinte" meaning health is wealth. If you are preparing to celebrate St. Patrick's Day without drinking alcohol, remember that you embody the Irish spirit by celebrating your health and well-being through sober, fun festivities.
See what happens to your body when you stop drinking suddenly in our blog below:
https://whitesandstreatment.com/2018/12/10/what-happens-when-you-stop-drinking-alcohol-suddenly/
6 Ways to Celebrate St. Patrick's Day Without Drinking
There are many ways to celebrate St. Patrick's Day that do not have to involve drinking alcohol. There are ample opportunities to celebrate the luck of the Irish and the joyful spirit of the holiday while remaining sober and healthy while still engaging in fun activities around your city. Gather your friends and family and enjoy these various ways to celebrate St. Patrick's Day in a healthy, sober manner. 
Go To a Parade
Cities across the United States host annual St Patrick's Day parades that are fun to enjoy. With various entertainment throughout the parade, it is an enjoyable event for all ages that celebrates the Irish spirit through fun, engaging, and cheerful festivities. Whether you enjoy fun, colorful floats driving by or live music, or dance shows, there is something for everyone within a parade. Children can enjoy engaging with performers throughout the parade while also getting candy and treats along the way. Parades are a tremendous sober-friendly activity as they are removed from the bar scene, allowing you to feel confident in your ability to remain sober and free of temptation throughout the parade.
Go See an Irish Band
The Irish spirit is so much more than just drinking alcohol. Irish culture has some lively, upbeat music that will be sure to raise anyone's spirit and get you dancing. There are plenty of opportunities to hear some live Irish music throughout many cities, including outdoor venues away from the local pubs or bars. 
Learn an Irish Dance
Ireland is well known for its incredible, traditional dancing that is exhilarating to watch. An Irish dance consists of jigs, reels, intricate footwork that is stunning to the eyes throughout cities in the United States. On St. Patrick's Day, there are ample opportunities to watch Irish dance performances and witness the magic and spirit of traditional Irish dance. If you feel adventurous, you could sign up and try an Irish dance class by yourself or with a friend or family member. 
Eat a Traditional Irish Meal
Nothing brings people together for a holiday better than getting together to enjoy a meal. On St. Patrick's Day, why not get a group of your family and friends together to share a traditional Irish meal. Whether you go out to a restaurant or cook a traditional meal at your home, you and your loved ones can enjoy Irish meals such as Irish stew, barmbrack, boxty, and coddle. 
Join a St. Patrick's Day Run
There are annual St. Patrick's Day marathon runs in many major cities and towns across the United States. These are fun and active ways to enjoy the holiday with others while taking care of your physical and emotional health. Participants in these runs make the most of the Irish spirit and will dress up or paint themselves green to get into the spirit of the Irish. 
Enjoy the Day With Other Sober People
What matters most on holidays is that you can enjoy the company you keep. Whatever you choose to do on St. Patrick's Day, you must spend the day with people who share your goals and values around remaining sober throughout this holiday. 
Preparing to Stay Sober on St. Patrick's Day
Holidays can create challenges for individuals who are new to addiction recovery. The best thing you can do to set yourself up for success in remaining true to your goals for sobriety is to plan and prepare. Some ideas to help keep you on track to maintain your sobriety and stick with your addiction recovery program are:
Contact your sponsor or support group if you are feeling triggered or just need someone to talk to 

Attend a recovery community meeting to keep you focused on your sobriety

Set boundaries with your friends and family about activities that you will participate in and ones that you will not, such as parties or functions with alcohol or drugs present 

Surround yourself with sober friends who will share in the same values of enjoying the holiday while remaining abstinent 
Recovery Support and Addiction Treatment at WhiteSands
WhiteSands Alcohol and Drug Rehab is dedicated to providing patients with a continuum of care to ensure long-term success in sobriety. We offer inpatient drug or alcohol rehab, intensive outpatient treatment, and aftercare rehab programs that will help you develop a new life foundation of sobriety, health, and happiness. If you or someone you love is ready to address their alcohol or drug addiction, contact one of our friendly staff today to learn more about our recovery center's life-changing rehab programs. 
If you or a loved one needs help with abuse and/or treatment, please call the WhiteSands Treatment at (877) 855-3470. Our addiction specialists can assess your recovery needs and help you get the addiction treatment that provides the best chance for your long-term recovery.