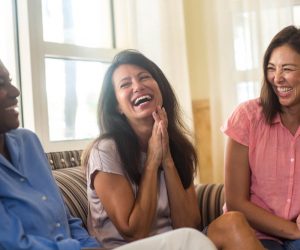 What Is a Sober Living Home?
Many believe that attending an inpatient residential treatment center for addiction treatment will provide ample time and opportunity to heal from your drug or alcohol addiction while creating a new healthy, sober lifestyle for yourself. While inpatient rehab is a crucial first step towards a life in addiction recovery, it is the first step towards your newfound life in sobriety. Inpatient rehab invites patients to examine the root causes of their addiction while teaching new life skills for living sober. Still, the transition from a structured inpatient setting back into a home environment can present unique challenges if you do not have the proper support.
A sober living home allows patients to have a smooth transition from the structured, supportive residential treatment environment into a transitional home that resembles some of the structure and rules of inpatient treatment. It also allows individuals to go out into the community to adjust to living a life of sober living within their home environment. 
If you or a loved one are struggling with addiction, call WhiteSands Alcohol and Drug Rehab today at 877.969.1993 to learn how we can help.
Benefits of Staying in a Sober Living Home
Individuals that choose to transition into a sober living home will experience the following benefits while residing within the sober living environment:
Peace of mind in knowing that your surroundings and environment will be free of alcohol and drugs 

Encouragement to begin to build your addiction recovery community by attending 12-step meetings 

Support in reestablishing relationships with your friends, family, and loved ones 

Developing life skills that support a life of sober living, including paying rent, maintaining household chores and responsibilities

Having peer support from other residents within the sober living facility that has the potential to become lifelong friends and supports 

Support in finding employment or housing once you are ready to transition from the sober living environment 

Developing relapse prevention plans, including fostering relationships that you can rely on when you need support to overcome triggers 
How Sober Living and Outpatient Rehab Work Together
To help ensure you have long-lasting success during your newfound life in addiction recovery, it is essential to develop a strong aftercare plan that incorporates the support of an outpatient rehab program while residing within a sober living home. An outpatient rehab program supports individuals by having access to addiction counselors for one-on-one sessions that will help you process any challenges or triggers that may arise so you can receive emotional support while developing further skills for relapse prevention. In conjunction with a sober living home, individuals will be able to minimize potential triggers or distractions by providing a safe, sober environment surrounded by others who share the same goals of maintaining a balanced, healthy life in addiction recovery. 
Learn about the process of removing crack from your system in our blog below:
https://whitesandstreatment.com/2017/03/16/how-to-get-crack-out-of-your-system/amp/
Sober Living Success Rates
In one longitudinal study from Berkeley, California, it was shown that the rate of individuals remaining sober after staying within a sober living home for 6 to 12 months had a 66% increase in success rates of maintaining abstinence. 

Another study demonstrated a 61% to 94% success rate within a halfway house for sober living due to the structured rules and programming offered within the recovery facility. 

A study looking at the sober living houses within Washington state, including Oxford Houses, demonstrated an 

85% success rate

 for individuals residing in their homes. 
How Long Should You Stay in a Sober Home?
Each person will have their own unique history with addiction, and the length of time you should reside within a sober home will vary depending on your needs. This is typically the last transition for individuals before returning home, and you must take the time you need to solidify the tools and life skills you are developing within addiction treatment and your sober home to ensure you can maintain your life in addiction recovery without falling trap to relapse behavior or triggers. 
Sober Living, Outpatient Rehab, and Aftercare at WhiteSands
WhiteSands Alcohol and Drug Rehab understands that getting sober requires a long-term commitment, including specific aftercare treatment plans that will support you in achieving your overarching goals of maintaining sober living. We offer a variety of treatment programs, including inpatient rehab, outpatient rehab, and sober living program that will help you overcome any future triggers and remain focused on being alcohol and drug-free. Contact WhiteSands Alcohol and Drug Rehab today to hear more about the various treatment programs offered and make a plan to tackle your drug or alcohol addiction today to obtain a positive, healthy future in addiction recovery.
If you or a loved one needs help with abuse and/or treatment, please call the WhiteSands Treatment at (877) 855-3470. Our addiction specialists can assess your recovery needs and help you get the addiction treatment that provides the best chance for your long-term recovery.