Can You Go to NA Meetings While Receiving MAT?
Drug Treatment • RehabCan You Go to NA Meetings While Receiving MAT?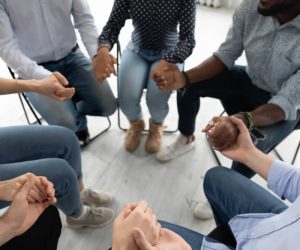 About Narcotics Anonymous
Narcotics Anonymous (NA) is a nonprofit fellowship that supports individuals in achieving abstinence from drugs or mood-altering substances, including alcohol. NA holds meetings for individuals that provide a safe space to share your experiences of strength, resilience, and hope for your ability to overcome your substance use disorder. Individuals will have the opportunity to engage in recovery support groups through meetings held and led by peers in recovery as well. 
Additionally, NA provides a support structure for working through the 12 steps of narcotics anonymous that are derived from the 12 steps of alcoholics anonymous. The 12 steps provide individuals with a set of principles and guidelines that will assist individuals in healing from their drug addiction by releasing the feelings of shame and resentment by connecting with a higher power of each individual's understanding. The only requirement for membership within Narcotics Anonymous is a desire to stop using, and NA does not discriminate against someone's age, race, religious beliefs, or gender/sexual identity. 
If you or a loved one are struggling with addiction, call WhiteSands Alcohol and Drug Rehab today at 877.969.1993 to learn how we can help.
What to Expect at an NA Meeting
Narcotics Anonymous meetings have their own specific culture, verbiage, and norms that may be unfamiliar to some addicts attending their first NA meeting. Individuals attending the groups will read literature based on the 12 steps of narcotics anonymous, sharing from group members who first identify themselves by name and as an addict. People share their experiences with addiction, recovery, and personal experiences within the 12-step groups during the shares. There is no obligation to speak at NA Meetings if you aren't ready to do so.  You can share when the time is right for you.  Until then, you are welcome to attend and just listen. 
Addicts will support the newcomers attending the meetings for the first, second, or third meeting by providing information on upcoming meetings and supporting them in finding a sponsor to help them maintain their sobriety. Typically, at the end of each session, there is space for individuals to celebrate how long they have for a clean time by collecting key tags for various lengths of time, honoring the milestones in their first year of recovery and beyond. 
What Is MAT?
Medication-Assisted Treatment (MAT) is an addiction recovery program that supports patients in overcoming opioid addiction long term. Medications are provided to allow patients to slowly taper off opioids/opiates while seeing a medical provider weekly.  Individuals who use typically MAT have the ultimate goal of getting off all addictive substances, the use of medications helps reduce the severity of drug withdrawal symptoms and lessen the onset of drug cravings to assist individuals in staying focused and motivated to reach their overarching goal of remaining clean and sober. 
Medications Used in MAT
Common medications used in MAT are:
Buprenorphine: This medication assists individuals in overcoming an opioid addiction by reducing opioid cravings and lessening the severe withdrawal symptoms to a mild or moderate level.

Methadone: A full opioid agonist that helps to eliminate drug cravings and significantly reduce withdrawal symptoms to allow patients to remain safe and comfortable within their drug detox process. 

Naltrexone and Suboxone: Support individuals in overcoming opioid addiction by reducing cravings and blocking the effects of substance abuse, acting as a tool for relapse prevention. 
Learn about the most common illegal drugs in our blog below:
https://whitesandstreatment.com/2016/10/26/most-common-illegal-drugs/amp/
NA and People on Medication-Assisted Treatment
Since the drugs used in MAT carry some potential for abuse and addiction themselves, many people wonder if they can participate in Narcotics Anonymous (a program of complete abstinence) while receiving MAT.  As an organization, NA does not express opinions -either pro or con – on anything outside of its sphere of activity.  That includes medical treatments such as MAT.  One of the traditions of NA is that "the only requirement for membership is a desire to stop using".  The Narcotics Anonymous website states "Since the only requirement for membership is a desire to stop using, we as members have no reason to judge each other.  Desire is not a measurable commodity.  It lives in the heart of each individual."  By neither endorsing or opposing any other organization's philosophy or methodology, NA remains free from distractions of controversy so that participants can focus all their energy on the organization's primary purpose, carrying a message of recovery.  
Benefits of Going to NA Meetings While Receiving MAT
Attending NA meetings while participating in an MAT program has many benefits.  Some people may need the support of medications as they move toward a life of total abstinence from drugs. Going to  NA meetings while receiving MAT allows individuals to receive peer support from other addicts who will provide encouragement and support to overcome their addiction and live a full, happy life in addiction recovery. 
The benefits of combining NA Meetings with MAT include:
Receiving support from peers who have had similar life experiences battling drug addiction and learning from their experiences in how they have overcome their addiction

Having a set of guidelines to follow through the 12 steps will help you address some of the deep-rooted emotions or attitudes that have influenced or impacted your drug addiction. 

Having one on one peer support through a sponsor that will assist you in working through the 12 steps 

Having accountability by attending regular peer support meetings through narcotics anonymous meetings 

Helping you to find a belief system within a higher power of your understanding that assists in providing peace and faith in something greater than yourself to guide you to addiction recovery. 
MAT Drug Rehab at WhiteSands
Patients receiving MAT treatment at WhiteSands get the intensive medical support they need to overcome their physical addiction to drugs.  Along with medications that address the physical aspects of addiction, you will have access to the comprehensive, evidence-based methods of addiction therapy and the support of the 12-step community to ensure you make a long-lasting change toward a life of sobriety. Contact one of our friendly staff members at WhiteSands Alcohol and Drug Rehab to have all of your MAT questions answered to feel confident in your decision to tackle your drug addiction to obtain the life of sobriety you have always wanted. 
If you or a loved one needs help with abuse and/or treatment, please call the WhiteSands Treatment at (877) 855-3470. Our addiction specialists can assess your recovery needs and help you get the addiction treatment that provides the best chance for your long-term recovery.