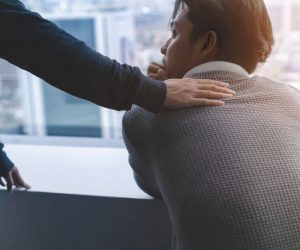 The State of Mental Health in America
Millions of Americans live with or love someone with a mental health condition. In the United States, roughly one in five adults will experience a mental health condition such as anxiety, depression, or post-traumatic stress disorder. Unfortunately, many people who experience symptoms of a mental health disorder do not seek treatment or they may attempt to self-medicate using alcohol or even drugs. Both mental health conditions and substance use disorders can be managed with treatment. May is Mental Health Awareness Month; its goal is to persuade people suffering from a mental or mood health disturbance to seek treatment for relief and to prevent their condition from worsening.
If you or a loved one are struggling with addiction, call WhiteSands Alcohol and Drug Rehab today at 877.969.1993 to learn how we can help.
What Is Mental Health Awareness Month?
Mental Health Awareness Month is observed every year in May and serves to help raise awareness of mental health and effective treatment options.  This year's theme is, "Together for Mental Health." The theme illustrates how we are all connected. Many of us either suffer from a mental health condition, have experienced symptoms of a mental health disturbance, or care about someone who has a mental illness. Increased awareness of mental health disorders is the first step toward recognizing symptoms. People suffering from mental health symptoms might not always be aware when their symptoms have crossed the line to become clinical in nature–meaning they require medical treatment. However, if loved ones know what to look for, they may recognize the symptoms and counsel them to seek help. With increased education and recognition of mental health and the role it plays in all of our lives, we can, together, help to reduce the stigma around mental illness.
Facts about Mental Health and Substance Use Disorders
In a given year, nearly 15,000 people in the U.S. will experience some type of mental health disorder. Unfortunately, the average time period between symptoms onset and treatment is 11 years, according to the National Alliance on Mental Illness (NAMI). In other words, people may live with their mental health symptoms for a decade before they get help from their doctor or a mental healthcare specialist. Many people who suffer from a mental illness turn to drugs or alcohol to soothe their symptoms, but this is an unhealthy strategy for coping and paves the way to addiction. About a third of people who are addicted to alcohol or drugs also have a mental illness.  When a person is diagnosed with substance use disorder and one or more mental health conditions, this is referred to as a dual diagnosis.
How to Get Involved with Mental Health Awareness
By getting involved, you can support mental health treatment progress. With greater awareness, people suffering from mental illness and those who care for them can reduce the stigma of a mental disorder diagnosis and encourage those who need treatment to get it.
Find a NAMIWalk – NAMI is committed to raising awareness about mental health. It uses a diverse range of methods for generating awareness, including NAMIWalks. You can participate in a walk for mental health awareness to help reduce the stigma and to advocate for improved mental health care and accessibility.
Attend a NAMI National Convention – NAMI hosts a national convention each year to provide education and information about mental illness, new treatments, and issues related to mental health care.
Support a Fundraiser – You can initiate or support a fundraiser for NAMI. Local concerts, bake sales, or other events can raise funds to help NAMI in its efforts to improve mental health awareness and suicide prevention.
Pledge to Be StigmaFree – Making a public pledge to be "stigma-free" is a signal to the community–your friends and family–that you are an advocate for mental health. Whether you suffer from or care for others with a mental illness, your pledge normalizes mental illness, which is incredibly common, and its treatment.
Advocate – Speaking out in support of mental illness sufferers or campaigning to win better support like treatment accessibility and protections for mental illness sufferers makes you a valuable mental health advocate.
Share Your Story – Millions of people have suffered from mental health conditions, but everyone's story is unique. By sharing your story, you help normalize the experience of mental disturbance or illness and inspire others to connect and share their stories too.
Treatment for Substance Use and Mental Health Disorders at WhiteSands
If you abuse drugs or alcohol and also suffer from mental health symptoms like anxiety or depression, treatment can help. Today, many high-quality treatment centers like WhiteSands offer dual diagnosis treatment. Getting simultaneous treatment for addiction and mental illness is the best way to manage both conditions. Contact WhiteSands to discuss how their treatment programs can help you.
If you or a loved one needs help with abuse and/or treatment, please call the WhiteSands Treatment at (877) 855-3470. Our addiction specialists can assess your recovery needs and help you get the addiction treatment that provides the best chance for your long-term recovery.