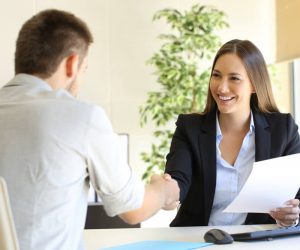 WhiteSands Can Help Connect You to a Potential Future Employer
At WhiteSands Alcohol and Drug Rehab in Fort Myers and Sarasota, patients participating in our outpatient programs, as well as alumni, are welcome to attend job fairs hosted by the facility to get them employment directly after inpatient and outpatient treatment. Several potential employers in the area hire WhiteSands alumni, and by attending these job fairs, patients can meet one-on-one with the employers, giving them an excellent opportunity for employment post-treatment.
Life after substance abuse can be a tough adjustment. We are here to help ease the transition between substance use disorders and addiction and recovery, which is why we do everything we can to help patients find employment once they are ready. Please take advantage of our assistance programs and create the life you want.
If you or a loved one are struggling with addiction, call WhiteSands Alcohol and Drug Rehab today at 877.969.1993 to learn how we can help.
Finding Employment Is Tough: WhiteSands Offers Opportunities 
Employers are struggling to fill jobs right now, and people coming out of rehab are looking for a fresh start. At WhiteSands Alcohol and Drug Rehab, we offer transportation, clothing, secure housing, and counseling for outpatients looking to start working again. For patients and alumni, this helps ensure their success as they re-enter the workforce.  For employers, this is a lot of support that helps them feel confident that they are hiring a reliable new employee.  Outpatient treatment, sober living, and alumni programs are part of the levels of care we offer for patients who have successfully completed their inpatient rehabilitation treatment programs. 
If patients are in therapy or attending our outpatient treatment program, Chris, our in-house Alumni Coordinator, who also runs the sober homes here, can help facilitate the process. It truly is a win-win for both employers as well as patients. Reentering the workforce can be challenging and can come with some hesitation, but we are here to help you every step of the way. 
We understand that mental health issues can sometimes hold people back from finding employment after rehab. Some of the mental illnesses that we can help treat through dual diagnosis at our rehab centers include:
Bipolar disorder 

PTSD treatment 

OCD

Generalized anxiety

Clinical depression
Some of the addictions that we can help treat at our treatment facility include:
Adderall addiction

Xanax addiction 

Fentanyl addiction 

Opioid addiction

Crack cocaine addiction 

Addiction to sleeping pills
Even if you have a criminal record, we can help you navigate the job market to find something that works for you. Employment opportunities are available after addiction rehab; allow our treatment center to help you.
Through a tailored rehab program, including partial hospitalization (PHP), cognitive behavioral therapy (CBT), motivational interviewing, intensive outpatient, and aftercare program (alcoholics anonymous and narcotics anonymous), addiction recovery at our recovery center is possible. 
Learn more about which drugs recovering addicts may find tempting to use while back at home here:
https://whitesandstreatment.com/2017/05/08/top-10-most-common-drugs-household/
Don't Let Your Past Addiction Define Your Future
Recovering addicts in remission from drug or alcohol addiction mustn't allow their history to hold them back. Being patient with yourself is critical, as getting discouraged or losing hope is easy. We offer many career resources for alumni serious about employment after rehab and are here to provide tips for finding work after drug or alcohol addiction. 
The time to seek help is now, as addiction is a disease that worsens with time. If you or a loved one is struggling with drug or alcohol addiction or requires assistance in regaining control of their life, call the team at WhiteSands Alcohol and Drug Rehab today. We have several inpatient and outpatient facilities throughout Florida and can help you find one that is closest to home.
We can help you navigate rehab insurance and look into insurance treatment providers. Prioritizing your recovery is essential to last sobriety and sustained employment, and we are here to help you find a sense of purpose so you can live the life you intended for yourself. Addiction will control your life if you allow it; the key is to learn to manage the disease so that it does not have power over your life.
If you or a loved one needs help with abuse and/or treatment, please call the WhiteSands Treatment at (877) 855-3470. Our addiction specialists can assess your recovery needs and help you get the addiction treatment that provides the best chance for your long-term recovery.