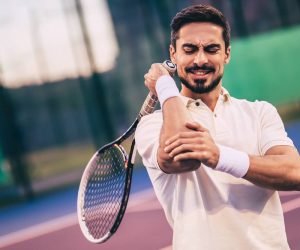 Athletes and Pain Pills
Athletes, from NFL players to the NBA, MLB, and even college athletes, put a tremendous amount of pressure and stress on their bodies for peak performance. Unfortunately, many athletes sustain injuries that can cause chronic pain, inevitably affecting their performance. Because their career is on the line and so important, they are often prescribed pain pills to help manage their pain so they can continue playing the sport. 
Prescription opioids have become common when a professional athlete is admitted for an injury. Sadly, due to the addictive nature of a prescription painkiller, many athletes admit to misusing opioids and run the risk of being a victim of opioid addiction if they haven't already. 
If you or a loved one are struggling with addiction, call WhiteSands Alcohol and Drug Rehab today at (877) 640-7820 to learn how we can help.
How Pain Pill Addiction Occurs in Athletes 
In the past, the team doctor would typically prescribe Tylenol and ice when a patient had sustained a minor or even substantial injury. Now, more individuals are getting prescribed prescription opioids, and prescribing opioids to injured athletes have become too commonplace among medical professionals. The rate of addiction and substance abuse among athletes has skyrocketed in the last few decades. When an individual becomes addicted to painkillers, they require opioid addiction treatment to recover.
Painkiller addiction in a professional athlete can develop in different ways. As a means of pain management, many athletes are prescribed addictive and habit-forming drugs due to a sporting injury. This increases their risk of addiction, as these medications are highly addictive. As they become dependent on opioid medications, they experience withdrawal symptoms if they do not get their daily dose. Opioid misuse, then, can develop into opioid use disorder (OUD), a common risk factor of prescription drugs with long-term effects.
For a list of opioids, check out our blog below:
Pressure and Mental Health in Sports
When you are a professional athlete, the pressure to perform is high. Your reputation is on the line and people are counting on you to achieve your absolute best. While this may be admiring for some, athletes feel the pressure of the game physically and emotionally. Both student-athletes, as well as those who have made it to Sports Illustrated, are not immune from substance abuse and opioid addiction. While it's not often spoken about, many athletes struggle with mental illness and require a dual diagnosis to manage it properly.
Some of the common mental illnesses that athletes are susceptible to in professional sports include: 
Depression

Anxiety 

Eating disorders

ADHD
If you feel like the pressures of being in professional sports are taking a toll on your mental health, get in touch with WhiteSands Alcohol and Drug Rehab today to discuss rehab for athletes. Not only do we offer addiction services, but we also offer mental health services. Frequently, the root cause and driving force behind addiction to drugs or alcohol is an undiagnosed mental illness. When this is brought to the forefront, a solid foundation for recovery can be made.
Treatment for Athletes With Pain Pill Addiction 
The opioid epidemic is a true public health crisis, and the Center for Disease Control and Prevention has seen a spike in the prescribing and misuse of opioid drugs, draining the health system. If you are an injured athlete, it's vital that if you are prescribed medications, you take them as directed for the length of time stated to lessen the chances of misuse. Drug misuse leads to dependency, and dependency leads to addiction. Once an individual becomes addicted, they require a medical detox, inpatient treatment, and outpatient treatment.
If you are a retired athlete, a current athlete, or know an athlete who is struggling with substance abuse as a result of chronic or severe pain from sports injuries, get in touch with our recovery center today. We will conduct an insurance verification to see if your health benefits cover drug rehab, family therapy, and other types of special programs for opioid addiction. We have several inpatient and outpatient recovery centers throughout the state of Florida and can determine the closest one for you.
If you or a loved one needs help with abuse and/or treatment, please call the WhiteSands Treatment at (877) 855-3470. Our addiction specialists can assess your recovery needs and help you get the addiction treatment that provides the best chance for your long-term recovery.