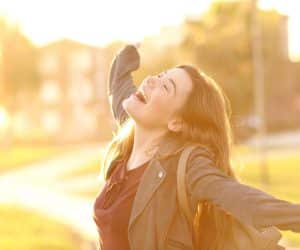 Our Clinical Staff and Addiction Therapists Demonstrated Unwavering Compassion at WhiteSands Recovery Center
When Michelle came to WhiteSands Alcohol and Drug Rehab in Orlando for addiction recovery, she was at rock bottom and didn't have much confidence she could find proper addiction treatment help. 
"When I came to WhiteSands I was broken, lost, and severely depressed," she says. "Had no hope, and doubted my ability to get sober." 
Many patients who enter addiction treatment are at a point in their drug or alcohol addiction where it's either now or never. With specialized treatment programs for those struggling with drugs and alcohol, patients will have every opportunity for success in drug and alcohol abuse recovery. The rehab center in Orlando offers a range of care options to ensure patients receive the proper treatment for their needs.
"While in detox I was taken care of by such a compassionate, and loving clinical team that made the process more bearable," Michelle says. The center provides an unwavering commitment to patient recovery and ensures the comfort and well-being of patients throughout their time at the rehab facility. 
If you or a loved one are struggling with addiction, call WhiteSands Alcohol and Drug Rehab today at (877) 640-7820 to learn how we can help.
Various Levels of Care and Treatment Programs
Our addiction recovery centers are unique because we provide a full continuum of treatment options for both drug and alcohol abuse. When the admissions process is complete at intake, an individual therapy program will be crafted. Our recovery centers can provide:
Medically assisted detox (alcohol and drug detox)

Residential treatment/inpatient rehab

Dual diagnosis

Intensive outpatient treatment 

Behavioral therapy

Partial hospitalization 

Relapse prevention and aftercare 

Life skills 

Family therapy

Facilitation of recovery meetings 
Whether in Pompano Beach, Boca Raton, Orange County, Hyde Park, Cape Coral, or Orlando, we can arrange alcohol and drug abuse treatment for you. The on-site, full-time medical director will determine the best treatment plan for each patient and address any mental health issues. Every patient will be treated with a custom treatment program unique to their specific needs. WhiteSands Alcohol and Drug Rehab in Orlando doesn't institutionalize treatment, nor do they leverage a one-size-fits-all treatment method. Each patient is treated individually, so they have an excellent opportunity for success in addiction recovery.  
Learn more about the common illegal drugs that can be abused here:
Get Substance Abuse Treatment Today
WhiteSands Alcohol and Drug Rehab is now accepting patients, so if you are struggling with addiction and co-occurring disorders, contact our intake team today. Substance abuse treatment at the premier rehab facility can help patients on the path toward recovery. Our residential treatment provides on-site and off-site activities for patients to enjoy as WhiteSands understands the need for patients to participate in hobbies while developing new habits and amusement. Throughout therapy sessions, patients will work through their addiction and co-occurring mental illness as they journey toward recovery. 
"If I could give them a higher rating than 5 stars, I would," Michelle says. "If you are looking for help getting sober, look no further than WhiteSands."
It's time to get help if you are struggling with mental illness or addiction. Contact our team today to learn more about our residential program as well as our outpatient rehab program. Our center has a high success rate of individuals who sustain their sobriety long-term. Alcohol and drug treatment can truly change your life, and there is no better place to do so than at one of the WhiteSands addiction treatment centers. 
If you or a loved one needs help with abuse and/or treatment, please call the WhiteSands Treatment at (877) 855-3470. Our addiction specialists can assess your recovery needs and help you get the addiction treatment that provides the best chance for your long-term recovery.