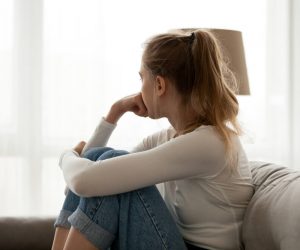 How Anxiety Can Lead to Substance Abuse and Addiction
Symptoms of anxiety include but are not limited to the feeling of dread, stress, uneasiness, and panic. Similarly, those diagnosed with anxiety or stress disorders, such as generalized anxiety, social anxiety, or panic disorder, also experience these emotions; however, their lives and behavioral health are characteristically impacted by the stress they experience. Other symptoms associated with an anxiety disorder include:
Difficulty concentrating

Lack of sleep or sleep disorders

Nausea

Irritability

Increased heart rate and rapid breathing

Panic attacks
These anxiety symptoms can make alcohol or drug use appealing, as it can work as a temporary aid to or distraction from the stress and other symptoms that accompany anxiety disorder. Substances offer those with anxiety disorders an escape from symptoms they struggle with daily, which becomes highly addictive. After using drugs to fulfill these needs, the body becomes used to and dependent on their effects, leading to addiction. 
If you or a loved one are struggling with addiction, call WhiteSands Alcohol and Drug Rehab today at (877) 640-7820 to learn how we can help.
How Substance Abuse and Addiction Can Lead to Anxiety
As anxiety can lead to substance abuse, the reversal is true. Substance use disorders can cause generalized anxiety disorder. As mentioned previously, the frequent use and abuse of alcohol and drugs can lead to addiction. Once addicted, the body becomes dependent on the substance to feel the effects of the drug. Without the drug, the body will struggle to feel normal or at ease. Because of this, addiction to substances can cause anxiety due to withdrawals. 
For instance, one drug associated with chemically decreasing stress is cocaine. Cocaine addiction and other similar drug dependencies cause your body to depend on the drug to feel stress relief. This can intensify existing anxiety disorders and lead to disorders in individuals that otherwise did not struggle with anxiety.
Common Risk Factors for Anxiety and Addiction
A risk factor is a quality that increases the likelihood of something, such as diseases, disorders, or substance abuse potential. Drug abuse and anxiety often go hand-in-hand, but they also share many risk factors. 
Risk factors for anxiety include:
Chemical imbalances

Trauma

Substance abuse

Genetics

High-stress levels

Other mental health disorders
Risk factors for addiction include:
Chemical imbalances

Trauma

Mental health disorders like anxiety and depression

Social factors

Drug traits
Because they do share similar risk factors, one may likely cause the other, but they may also cohabitate, becoming a co-occurring disorder. 
Learn about the musicians lost to drugs here:
Dual Diagnosis Treatment for Anxiety and Addiction
WhiteSands Alcohol and Drug Rehab is a dual diagnosis treatment center with specialized recovery programs. These programs involve careful treatment of both mental disorders and drug and alcohol abuse, allowing us to offer treatment for anxiety and addiction. At WhiteSands Alcohol and Drug Rehab, we provide high-quality drug abuse treatment services not offered by other dual diagnosis rehab centers. Some of the treatment plan services we provide at our accredited facility include:
Detox Process: 

Gradually wean off drugs or alcohol safely, controlled, and constantly monitored by our team of health experts specializing in addiction treatments.

Appropriate Medication for Mood Disorder: 

We find the proper medication and dosage to treat anxiety and get your most troubling symptoms under control.

Psychotherapy and Cognitive Behavioral Therapy:

 Receive help with anxiety and substance abuse administered by our professional addiction counselors. Explore why you turned to alcohol or drugs for relief and learn alternative coping mechanisms.

Education Programs:

 Focus on exposing mood disorders and addiction and how the two can interact.

Family Therapy

: Address any relationship problems that have arisen because of drug or alcohol addiction as well as mood disorders. Discussing your issues in a safe environment allows you to process the past and move on.

Holistic Treatments:

 Our supportive, welcoming community is part of our comprehensive approach. Some examples of these treatments include exercise plans, creative activities, and meditation.

Aftercare Options:

 Transition safely back to your everyday life with our help in relapse prevention. When you are truly ready to leave our dual diagnosis treatment center, we will help you find community support groups such as Alcoholics Anonymous that can play a critical role in helping you remain sober.
If you've noticed the signs of anxiety disorder and substance abuse in yourself or your loved ones, don't wait another day to seek help, anxiety treatment, and addiction recovery. Call today to speak to our team of mental health professionals about a treatment plan. We can answer your questions about our dual diagnosis treatment facility, our philosophy, and the types of therapy and programs offered. Recovery is possible. With the help of WhiteSands, one of the country's best dual diagnosis treatment centers, you can live full and happy lives with a treatment plan designed for you.
If you or a loved one needs help with abuse and/or treatment, please call the WhiteSands Treatment at (877) 855-3470. Our addiction specialists can assess your recovery needs and help you get the addiction treatment that provides the best chance for your long-term recovery.