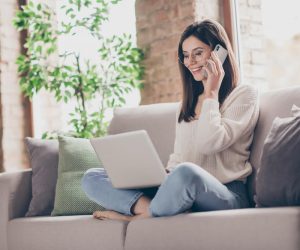 Can You Keep Your Cell Phone in Drug Rehab?
The WhiteSands Treatment Center is one of the few rehabs that allow the use of cell phones. Cell phones in rehab, namely inpatient and residential treatment, enable patients to stay connected with friends and loved ones. Allowing cell phones will help patients to keep close family and friends up-to-date during inpatient rehab.
Seeking treatment is hard enough, but to strip patients of all creature comforts adds insult to injury. Providing the comforts of home during addiction recovery creates a less institutionalized approach where patients understand that their needs are met. Alcohol and drug rehabs that allow personal electronic devices tend to have a higher admittance rate and happier patients. Connecting to the outside world is essential and creates a better rehab experience. This is why, at WhiteSands Alcohol and Drug Rehab, we allow the use of cell phones during our residential program.
If you or a loved one are struggling with addiction, call WhiteSands Alcohol and Drug Rehab today at (877) 640-7820 to learn how we can help.
Why WhiteSands Lets Patients Keep Their Cell Phones and Laptops
At the WhiteSands Treatment Center, we believe that using cell phones in rehab allows patients to get the support they need from loved ones. Our electronic-friendly rehab center promotes wellness, providing patients with the tools that will help provide that. When patients can keep their close friends and family updated on their recovery progress, they can obtain the support they require to continue the rehab experience.
Relapse prevention is lessened when patients do not feel that every comfort of home is taken from them. While most treatment facilities believe that personal electronic devices are a distraction, we believe that access to them is an essential part of substance abuse recovery.
Other Ways WhiteSands Improves Patients' Comfort
There are so many ways in which WhiteSands Alcohol and Drug Rehab improves the comfort of patients in both inpatient treatment and outpatient treatment. We do not have an institutionalized, standardized approach to addiction recovery as this does not consider the well-being and overall happiness of patients experience during their time in recovery. We work endlessly to ensure that patients have a positive and constructive experience at our facility. Some of the ways that we provide patient comfort include:
Private Rooms
The laptop-friendly policy, as well as phone access/cell phone accessibility, allows patients to use their personal electronic devices in the privacy of their own rooms. Private rooms are essential, as alcohol and drug addiction treatment is intensive in nature. Having a spot to go 'home' to that is solely yours at the end of the day promotes peace and relaxation.
Luxury Amenities
Some of the amenities at our rehab facility for patients to enjoy include an athletic complex, a fitness program (including a boxing program), and a recreation center. After a full day in therapy, patients must have a healthy outlet. Providing amenities that promote physical and mental exercise has proven to be inherently effective in lasting addiction recovery.
Learn about other amenities offered during rehab here:
Lots of Outdoor Space
Part of the rehab program experience is developing new healthy, constructive hobbies. WhiteSands Alcohol and Drug Rehab in Plant City is situated on a 10-acre campus where patients are free to take walks on the walking paths and hang out in the various seating areas and pavilions. Exercise is a crucial part of the addiction recovery process and has proven to be effective in calming the mind and alleviating stress.
Our facility also has a roster of full-time clinicians, therapists, counselors, nurses, and a medical doctor on-site. Unlike standard treatment facilities that rotate their staff, WhiteSands hires its staff full-time. Having treatment specialists that can build a trusting and caring working relationship with patients is key to overall recovery and behavioral health.
WhiteSands Alcohol and Drug Rehab ensures that each patient who completes treatment has proper sober living accommodations once discharged. We genuinely care about patients' success once they leave our facility and will provide a relapse prevention plan and facilitate and coordinate an intensive outpatient program for each patient.
If you or someone close to you is struggling with drug or alcohol addiction, get in touch with the WhiteSands Alcohol and Drug Rehab intake team today. We can help guide you toward recovery and can help get you into treatment immediately. Treatment and recovery are possible with compassionate care during substance abuse treatment. We accept many insurance plans, including Blue Cross Blue Shield, and will let you know precisely what your policy covers.
If you or a loved one needs help with abuse and/or treatment, please call the WhiteSands Treatment at (877) 855-3470. Our addiction specialists can assess your recovery needs and help you get the addiction treatment that provides the best chance for your long-term recovery.