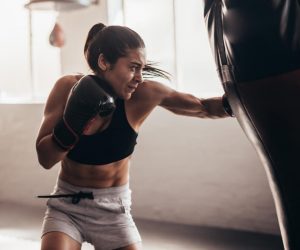 How Exercise Benefits Mental Health 
It's commonly known that exercise can boost mental health, but how exactly does it work? When you take part in physical activity, it boosts the amount of 'feel-good' chemicals that are released by the brain. These hormones are responsible for the euphoria felt after a fantastic workout, a run, or aerobic activity. It is a natural 'high' that individuals experience when they partake in physical activity. 
The three main chemicals produced by the brain that boost mental health and can be experienced when physical activity occurs include:
Dopamine

Serotonin

Endorphins 
These chemicals attach to the brain's reward center, transporting signals throughout your nervous system. They have the power to transform your state of mind and put you in a better overall mood.
Since these chemicals mentally stabilize us and improve our mood and well-being, it's essential to participate in activities that release these chemicals into our brains. Endorphins help with pain relief and stress reduction, so it is vital that as you transition into sobriety from drug or alcohol addiction, you take up constructive and healthy hobbies that include daily physical activity.
If you or a loved one are struggling with addiction, call WhiteSands Alcohol and Drug Rehab today at (877) 640-7820 to learn how we can help.
Top 5 Exercises for Mental Health 
You can do many exercises that don't require a gym membership. Let's take a look at some of the best forms of exercise for mental health and well-being:
1. Boxing
WhiteSands Alcohol and Drug Rehab offers a boxing program for patients where they can train with professional boxers. Patients of the WhiteSands boxing program report feeling a surge of energy after their boxing session and say it helps them release pent-up energy, feelings, and emotions healthily.
2. Walking, jogging, hiking, and running
A simple 30-minute walk, jog, or run can drastically improve your mood. You don't have time to stress about anything when you are hyper-focused on enhancing your abilities. Additionally, these activities are proven to boost your mood by releasing endorphins.
3. Swimming or water aerobics 
Swimming is extremely easy on the joints and is a low-impact way to retain heart strength and health. It is also a great way to better your breathing pattern, which takes utmost focus and alertness. 

4. Cycling
Cycling and biking are aerobic exercises that are fantastic for mental health. There is robust evidence that indicates the inherent benefit of aerobic exercises in relieving the symptoms of depression. 
5. Dancing
Cardiovascular activity can boost the release of dopamine throughout the body, a neurotransmitter vital to mood and well-being.
Exercise has been proven to increase blood circulation and put the limbic system into action, which is responsible for mood and motivation. Moderate-intensity workouts daily will gradually build up stamina. 
Some of the benefits of exercise include:
Better sleep patterns

Improved endurance

Boosted energy levels 

Improved stamina 

Promote a healthy weight

Improved cardiovascular health 
Learn about the musicians lost to drugs here:
Exercise, Mental Health, and Addiction Treatment
Exercise has proven to ease the symptoms of depression and anxiety, mental health conditions that many people across the nation battle each day. Reducing unfavorable symptoms through simple and attainable lifestyle changes can improve the quality of your life. Exercise is good in regulating and stabilizing patients on a psychological level and is highly beneficial for those struggling with drug and alcohol addiction. 
If you are struggling with a diagnosed mental health disorder to drug and alcohol addiction, get in touch with WhiteSands Alcohol and Drug Rehab today. They can help you better understand the benefits of exercise on mental health and addiction and incorporate exercise in patients' treatment programs. Evidence-based therapy combined with physical activity can vastly improve mental health and the associated symptoms. 
If you or a loved one needs help with abuse and/or treatment, please call the WhiteSands Treatment at (877) 855-3470. Our addiction specialists can assess your recovery needs and help you get the addiction treatment that provides the best chance for your long-term recovery.