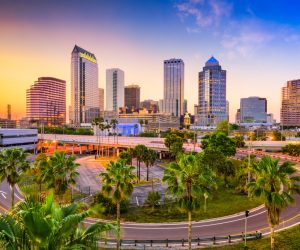 Benefits of Sober Living in Tampa
A sober living home (sometimes called a "halfway house") is a residence you can move into if you want to live in a supportive and structured environment while in recovery. These homes are found throughout the country, usually in quiet neighborhoods, to promote healing and serve as a transitional housing arrangement, helping you adjust to living out in the world as a sober individual. You will be renting a room in a house with several other sober roommates, living a normal life, working, going to school, and visiting with family and friends, etc., while continuing your work on sobriety through outpatient programs or support groups.
Some of the benefits of sober living in Tampa include the following:
A 100% drug- and alcohol-free environment that reinforces your sobriety by holding you accountable and building you up through encouragement and support, promoting emotional health

Removing relapse triggers from your life, taking away the temptations to relapse that may present themselves in other environments

A structured environment that promotes empowerment, healthy living, and taking care of yourself

They are a stable and safe place to call home without fear of violence or becoming suddenly unhoused.

You will gain a newfound sense of independence, taking life back into your own hands, with the freedom to shop for yourself and cook your own meals, establish your own healthy routines, and rebuild your life the way you want it to be

The ability to hold down a job, visit friends, etc., with a safe, sober place to return to at the end of the night, limiting temptations

Easier access to guidance, recovery resources, and support services as you begin to transition back to mainstream life
If you or a loved one are struggling with addiction, call WhiteSands Alcohol and Drug Rehab today at (877) 640-7820 to learn how we can help.
What You Can Expect During Sober Living
When you move into a sober living Tampa residence, you will be expected to follow the rules set out by the facility manager. There will be zero tolerance for drugs and alcohol on the premises, and many sober homes enforce mandatory drug tests as part of your contract for being able to stay there.
 You will be expected to take care of the house, including keeping your room clean, and helping around the house with cooking, cleaning, paying bills, etc. Living in a sober home is a "bridge" back to your regular life after rehab, so getting used to taking responsibility for yourself and your own actions, even in small ways like cleaning up after yourself, is an important skill to reinforce.
Sober living home residents may also be subject to rules about:
How many nights per week do you sleep in the home

Having visitors and/or needing visitors to be approved

Participating in house chores and meetings

Paying rent and fees on time

Respecting one another in the home

Having pets

Having a job or going to school

Attending ongoing recovery meetings or rehab programs

Prohibited items like weapons, drug paraphernalia, pornographic material, etc.

Following daily routines, like quiet hours or meal times
Each home is different, with some being casual places where you can come and go as you please, like any other home, and others with curfews and rules around houseguests. Some sober homes offer additional care like a live-in medical caregiver or visits from a psychologist, while others are simple residences you share with like-minded roommates. When choosing a sober home for yourself, it is important to consider what type of home would be most beneficial to maintaining your health and your sobriety long-term.
See things to do in Tampa here:
Is Sober Living Right for Me?
Sober living might be the right move for you if you:
Do not have a sober-friendly, drug- and alcohol-free place to live while in recovery (for example, if your roommates or family keep alcohol in the house or use drugs)

Do not have a supportive community that will encourage your sobriety.

Are you dealing with housing insecurity due to addiction struggles?

Want to live an independent life but still need a strong structure with real consequences to avoid relapsing
Ways to Make the Most Out of Your Time in Sober Living
Some of the ways you can make the most out of your time in sober living include:
Build meaningful sober relationships with your housemates, people in your group therapy and peer groups, and your rehab alumni gatherings. 

Loneliness and isolation can contribute to relapse, so having people around you who "get it" can be immensely helpful.

Work hard to maintain the good habits you learned in rehab and other recovery programming. 

Continue exercising, get a good night's sleep, eat healthy food, practice good hygiene, and incorporate mental wellness and self-care into your everyday routine. This way, it will become part of your normal life, helping you maintain long-term sobriety.

Understand and abide by the rules of the house. The last thing you want to do is jeopardize your place in the home by making a mistake that could have been avoided if you had paid better attention.

Respect other residents' space in the home. This means cleaning up after yourself, limiting your use of public spaces in the home so others can have a chance, making sure you aren't playing your music or the TV too loudly, etc. If you disagree with somebody, try to resolve the issue right away by talking it through rather than letting it become a problem.
Participate in the activities and programming you are offered. Spending time with your peer group, going to optional group meetings and activities, getting to know others, and working on your own well-being will reinforce your sobriety, provide further addiction education and sobriety tips, and help you integrate back into life with confidence down the road.
Ask for help when you need it. Continue talking to a counselor, go to meetings, find a sponsor, or talk to friends and family if you are having a difficult time. Recovery is a long process, with many hills and valleys, but you are not alone, and there are plenty of people out there who you can talk to if you are feeling stressed out or feel you want to drink or use drugs again.
Learn More About the Sober Living Program at WhiteSands
Please contact WhiteSands Alcohol and Drug Rehab today to learn more about sober living Tampa options near you. We offer connections to trusted homes in your area as you undergo addiction treatments through our outpatient treatment plans like the intensive outpatient program (IOP), the partial hospitalization program (PHP), or a customized aftercare outpatient treatment plan. When you join us at WhiteSands Alcohol and Drug Rehab for outpatient care, you will have access to treatments like:
Counseling and one-on-one therapy

Behavioral therapy

Group therapy

Family therapy

Medication management and medical treatments, if needed

Mental health care and psychiatric services (dual diagnosis treatments)

Connections to local support groups and alumni groups

Relapse prevention training, case management, and life skills programs
Consider our inpatient rehab program if you are looking for a luxury inpatient rehab clinic where you can live full-time while receiving intensive treatments. Along with safe and effective medical detox programs, we have 30 to 90-day residential rehab plans that provide comfortable accommodations, delicious and healthy food, and access to amenities like a holistic spa, a full boxing gym, a swimming pool, and our recreation center.
Please contact us at any time if you want to know more about our inpatient and outpatient levels of care or if you are considering addiction treatment. We can help you decide which types of treatment will work best for you and whether you may benefit from living in a sober living home with outpatient treatment and support over inpatient rehab. Our team is nonjudgmental, caring, and dedicated to helping anybody who reaches out, and we are ready to take your call now.
If you or a loved one needs help with abuse and/or treatment, please call the WhiteSands Treatment at (877) 855-3470. Our addiction specialists can assess your recovery needs and help you get the addiction treatment that provides the best chance for your long-term recovery.