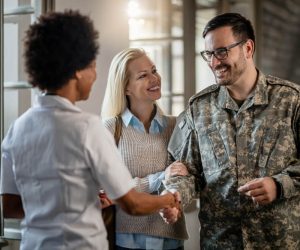 What Is Tricare?
Tricare is a government-run healthcare benefit program offered and partially funded by the Defense Military Health System. The system provides health benefits specifically for U.S Armed Forces military personnel and veterans, as well as their dependents, such as a spouse or child. Many individuals, including veterans, who want to seek help for substance abuse treatment often wonder, 'does Tricare cover rehab?' Tricare covers drug and alcohol rehab and mental health treatment for eligible people.
Veterans who meet the criteria for substance abuse and mental health treatment may have the opportunity to receive both inpatient and outpatient care through Tricare. Medical detox, an imperative component of treatment, may also be covered. Unfortunately, many individuals who return from deployment experience post-traumatic stress disorder (PTSD) which is one of the leading causes of substance abuse in veterans. To suppress the side effects of a mental disorder, veterans often turn to drugs and alcohol as a means to cope. This self-destructive habit only adds insult to injury and makes matters worse. The best way to overcome and manage mental illness and addiction is through dual diagnosis treatment.
If you or a loved one are struggling with addiction, call WhiteSands Alcohol and Drug Rehab today at (877) 640-7820 to learn how we can help.
Who Is Eligible for Tricare Benefits?
There are certain factors at play when it comes to who is eligible for Tricare benefits. Certain criteria must be met for individuals to qualify for treatment through Tricare. The two types of eligible beneficiaries for Tricare are sponsors (active duty, retired, and guard/reserve members) and family members (spouses and children). Depending on the beneficiary category, eligibility will vary. Select individuals are eligible for Tricare benefits, and some of these personnel include:
Retirees
Active duty personnel
Military members
Military family members (spouse, children)
Reserve members
Individuals enrolled in the Defense Enrollment Eligibility Reporting System (DEERS)
The program is managed by the Defense Health Agency for the Department of Defense (DOD) and provides care for individuals across the entire world, not just on a national level. This is what makes Tricare so unique. Tricare military healthcare aims to help active and retired service members and their families get the care they need regardless of location.
Active duty military personnel may enroll in one of four Tricare Prime options which include:
Tricare Prime
Tricare Prime Remote
Tricare Prime Overseas
Tricare Prime Remote Overseas
Some of the other Tricare plans currently being offered by the Department of Defense include:
Tricare Select
Tricare For Life
Tricare Reserve Select
Tricare Young Adult
The right Tricare Prime and Select options will be presented and discussed with you during the initial patient consultation. Because substance abuse can often occur alongside an underlying mental illness, whether it is disclosed or undisclosed, many behavioral therapies and mental health services are also covered under Tricare plans and policies. An integrated approach to addiction and mental health can truly be life-changing.
Psychotherapy is also covered under Tricare which includes personalized counseling and one-on-one therapy. Those with an undiagnosed mental illness can undergo certain assessments to determine if comorbidity is the root cause of their addiction. If the driving force behind the addiction is not addressed, treatment will not be successful as recovery needs to be built on a solid foundation.
Tricare Coverage for Alcohol and Drug Rehab
Tricare covers alcohol and drug rehab and various treatment programs under certain plans. Tricare is widely accepted at many addiction treatment centers. However, there are some variables to consider, such as what is covered under your unique health plan. WhiteSands and their intake team will help organize and coordinate what is covered so that you have a clear idea and are fully informed.
Substance use disorder (SUD) can negatively affect veterans, retired service members, and their families. Without the proper help, the disorder can spiral into something even worse. Tricare coverage for alcohol and drug abuse is available through an in-network provider. An expansive range of treatment and mental health services offered through Tricare can help veterans, and their families receive the highest quality care and support. The financial aspect of drug and alcohol rehab can often be a deterrent to help which is why Tricare can supplement treatment for those in need.
Learn about the weakest and strongest opioids here:
5 Things to Consider When Choosing a Rehab With Tricare
Not every treatment center that accepts Tricare is the same. Additionally, just because a treatment center accepts Tricare does not mean that every element or level of care is covered under the Tricare plans.
Some questions to consider when choosing a rehab that offers Tricare benefits include the following:
Does the facility provide custom, tailored, and personalized treatment programs that are covered under Tricare?
Are all levels of care included and are they covered under Tricare?
Is a full continuum of treatment options including treatment for mental health offered?
Does Tricare cover medical detox including medications such as Suboxone and Methadone?
Do you need a doctor's recommendation before seeking addiction treatment through Tricare?
If you are unsure whether your Tricare plan covers drug or alcohol rehab and want to find out, give WhiteSands Treatment a call. We understand that navigating the health insurance and treatment sector is difficult. This is why we offer 24/7 care so patients can get the help and guidance they need when they need it most. The programs offered through Tricare vary in cost and the coverage levels differ based on several factors. Your Tricare benefits will depend on the select plan that you have as well as what facility you seek treatment from. Not all facilities accept Tricare. However, WhiteSands Alcohol and Drug Rehab do.
WhiteSands Alcohol & Drug Rehab Can Help Tricare Patients Find Recovery
Our team at WhiteSands Alcohol and Drug Rehab would like to help you get the care and support you need promptly and professionally. We will do an insurance verification to determine what is covered under your Tricare plan so that you can have peace of mind knowing what sort of treatment and therapy you're eligible to receive. We will also let you know if you will have to pay for anything out of pocket. This is all part of the initial intake process and patient assessment that is conducted as a first step.
The facility offers a comfortable environment that fosters addiction recovery. Each patient will enjoy a private room complete with a private bathroom, a television, and an internet connection. The environment is conducive to sobriety and provides the much-needed nurturing and support veterans need. Active duty and retired service members now have access to quality care from clinicians who make it their mission to help.
If you are an active duty or retired veteran or know someone who is, and substance abuse is taking its toll, it's time to get help. The WhiteSands Alcohol and Drug Rehab intake team is available on a 24/7 basis to take your call. Our team will immediately evaluate your Tricare policy to see what treatment is covered. WhiteSands Alcohol and Drug Rehab is one of the nation's top-rated addiction and mental health rehabs and wants to help you recover. The time is now.
If you or a loved one needs help with abuse and/or treatment, please call the WhiteSands Treatment at (877) 855-3470. Our addiction specialists can assess your recovery needs and help you get the addiction treatment that provides the best chance for your long-term recovery.