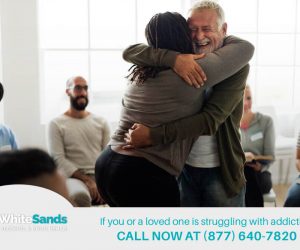 All Levels Of Care Means The Patient Is Guided Throughout Each Stage of Recovery
Cindy, a patient who just completed outpatient treatment in Lakeland at WhiteSands Alcohol and Drug Rehab is enthusiastic about her new lease on life.
"This program provides a safe, confidential, and no judgment environment in which to begin your journey of recovery," Cindy says.
Traversing the difficult road of addiction can be a lonely and isolating experience, making the dedicated specialists at WhiteSands Alcohol and Drug Rehab a vital part of the recovery process. During outpatient treatment in Lakeland, our compassionate staff members truly care about their patients and are essential for guiding those suffering from substance abuse to make healthy decisions and identify life-changing solutions. With the help of board-certified addiction treatment specialists that take personal responsibility for their patient's well-being, lasting progress with addiction becomes possible.
If you or a loved one are struggling with addiction, call WhiteSands Alcohol and Drug Rehab today at (877) 640-7820 to learn how we can help.
Outpatient Treatment in Lakeland: Compassionate Staff Who Truly Care
During outpatient treatment in Lakeland, compassionate addiction treatment staff can make all the difference in a person's recovery journey. The team of dedicated addiction specialists at WhiteSands Alcohol and Drug Rehab work tirelessly to help those struggling with substance abuse and addiction receive the care and support they need. We provide a safe, welcoming atmosphere and understand how difficult it can be to take the brave step toward addiction recovery.
"The level of compassion, support and information provided was absolutely outstanding," mentions Cindy.
Clinicians, therapists, and counselors at WhieSands focus on the following:
Providing empathy
Guidance
Support and direction providing evidence-based interventions
With such committed clinicians, caring for patients' needs and offering encouragement can motivate individuals to say on the road to addiction recovery. Healing and leading a healthy, substance-free life again is possible. ​​Evidence-based treatment for addiction to drugs and alcohol is an important part of recovery. The management of addiction during outpatient treatment in Lakeland can be attainable through dual diagnosis, unique and personalized treatment modalities, and one-on-one counseling with a certified therapist.
In addition to helping individuals achieve sobriety, evidence-based addiction treatments can also improve the following:
Physical health
Reduce mental health issues
Promote better relationships with peers and family members
Set the stage for a successful transition into post-treatment life
WhiteSands Alcohol and Drug Rehab also ensures a seamless transition between all levels of addiction treatment as they understand this is paramount for patients' long-term success. When patients can transfer from one level of care to the next without leaving a familiar environment, they are much more comfortable and successful in completing the treatment program.
Learn about holistic therapies for addiction here:
Outpatient Treatment in Lakeland: Get In Touch With WhiteSands Now
At WhiteSands Alcohol and Drug Rehab, addiction treatment is our expertise. Our compassionate staff will provide you and your family with the tools needed to succeed in addiction recovery and regain control of your life. Our specialists understand addiction, mental health conditions, and dual-diagnosis cases and are ready to provide individualized treatment plans tailored to each person's needs.
"I highly recommend this program without hesitation!!" states Cindy.
Substance abuse can be a difficult problem to face alone – let the team at WhiteSands Alcohol and Drug Rehab help you through the process. Don't wait any longer, contact the intake team at WhiteSands now for addiction and substance abuse treatment assistance and to learn about finding professional outpatient treatment in Lakeland.
If you or a loved one needs help with abuse and/or treatment, please call the WhiteSands Treatment at (877) 855-3470. Our addiction specialists can assess your recovery needs and help you get the addiction treatment that provides the best chance for your long-term recovery.