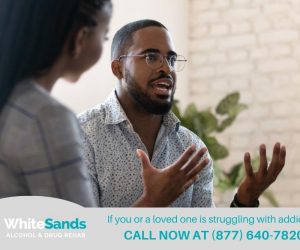 How Is a Drug Overdose Defined?
Simply put, a drug overdose is defined as taking too many drugs with negative repercussions to your health. You can overdose on illegal drugs like heroin and suffer the effects of a drug overdose if you take too many prescriptions or over-the-counter drugs like Xanax or even Tylenol. The body is limited to the amount of any chemical it can process through the liver and kidneys before it becomes overwhelming. Overdosing can lead to serious medical complications, leading to death without help at a Naples substance abuse treatment center. The severity of an overdose depends on the type of drug used, the amount taken, and the medical history of the person who has taken the drugs. For example, someone with active liver failure can overdose much easier than the average person.
If you or a loved one are struggling with addiction, call WhiteSands Alcohol and Drug Rehab today at (877) 640-7820 to learn how we can help.
Who Is at Risk for a Drug Overdose?
There is a fentanyl crisis throughout the United States, an extremely potent drug that, in 2022, killed 110,236 Americans. Drug traffickers have been adding fentanyl to cocaine, heroin, ecstasy, and counterfeit Xanax and oxycontin pills to pad their own pockets, selling fatal amounts to unsuspecting dealers and buyers. Anybody who buys drugs on the street is at risk of accidentally taking a deadly amount of fentanyl.
The truth is that anybody who takes prescription medications or uses alcohol or illegal drugs has the potential to overdose if instructions are not followed properly accidentally. The National Institute on Drug Abuse has reported that drug overdoses have risen sharply over the past decade, especially in those using illegal opioid drugs and other pressed pills and powders of unknown origin.
Some common risk factors that can lead to an accidental overdose without help at a Naples substance abuse treatment center include:
Improper medication storage or leaving illegal drugs out where children or unsuspecting adults can find them. This is often an issue with substances that could be mistaken for other substances or candy-colored medications tempting children into eating them
Not following dosage instructions, accidentally taking too much of a medication, or making a guess at what a safe dosage is
Mixing two or more medications and/or illegal drugs. Many people do not realize the complications that can arise if they take too many drugs at one time. Even using certain herbal remedies, over-the-counter painkillers, and/or cold medication together can be fatal
Drinking while on medication or drugs can cause respiratory failure, liver issues, and more
Having a history of drug addiction or drug abuse can lead people to take higher doses than what is safe or mix medications in an attempt to get high
Having a history of mental disorders, especially if a person has been known to have untreated depression and suicidal thoughts
15 Effects of a Drug Overdose
The effects of a drug overdose differ depending on what you were using. If you overdose on stimulants like amphetamines, you may have symptoms like:
Drug-induced psychosis
Disorientation and confusion
Overheating
Anxiety and paranoia
Difficulty breathing
Chest pain
Hallucinations
Seizures
Severe headache
Unconsciousness
If you overdose on depressants like benzodiazepines, opioids, or alcohol, you may have symptoms like:
Confusion and disorientation
Gurgling or snoring sounds
Shallow breathing or breathing completely stops
Unconsciousness with no response to shouting or pain
Blue lips, gums, or fingertips
Overdoses can lead to long-term health issues, heart failure, brain damage, coma, and death without help at a Naples substance abuse treatment center. An overdose can take minutes or hours, so medical action should happen immediately if you notice a person is overdosing. Administering Naloxone to a person overdosing on opioid drugs can be a life-saving measure, but medical care should still be a priority, as Naloxone is a temporary treatment that wears off.
Learn about the drug overdose side effects on your body here:
Naples Substance Abuse Treatment Center: Put Drug Overdoses in the Past With Help From WhiteSands
If you have ever suffered the effects of a drug overdose, you know that it is something you never want to go through again. The only way to be certain you will avoid an overdose is to quit using drugs and only take certain medications under the watchful supervision of a doctor.
Overdose is a serious consequence of substance abuse that takes a toll on the body, as well as on your mental health and your outlook on life. If you come to WhiteSands Alcohol and Drug Rehab for inpatient treatment, you can access safe, secure, and supportive care inside a luxury addiction treatment facility in Naples is designed to be a positive and healing environment. All treatment is provided by licensed and experienced medical doctors, nurses, psychologists, therapists, and addictionologist.
You are so much more than your addiction, so we make sure to get to know you as a person, providing a well-rounded program that includes the following:
Full-time medical care and oversight, with doctors and/or nurses available 24 hours a day
Medical detox services and medication-assisted treatment (MAT) programs
Living in a comfortable private room with a private bathroom and satellite TV
Delicious, healthy meals cooked by private chefs
A full, busy schedule each day from 6 am to 4:30 pm, with one-on-one therapy, family therapy, behavioral therapy, motivation therapy, exercise, medical appointments, education, and other treatments
Group therapy and peer support groups like 12-step programs or SMART recovery groups
Dual diagnosis treatments for those dealing with co-occurring mental illness or PTSD
Relapse prevention and case management services, with aftercare planning
Amenities like spa services, a fitness center and a boxing gym, games, arts and crafts, yoga classes, massage therapy, chiropractor services, a swimming pool, and beautiful walking paths on the grounds
We also offer outpatient rehab programs at our Naples substance abuse treatment center, not only for those who have completed inpatient rehab but also for anybody who wants addiction treatment but whose life circumstances will not allow them to be away from home, work, or school for 30+ days. When you are in outpatient rehab, you can live at home or move into a sober living home as you get the treatment you need and work toward integrating sober living into your normal life.
The outpatient programs we offer are:
In the Partial Hospitalization Program (PHP), you come in for group therapy five hours per day, five or six days a week. You will also have multiple individual therapy sessions and a psychiatrist visit weekly. You will slowly take on responsibilities like administering your own medication and have access to some of the luxury facilities available in inpatient rehab. Lunch is provided.
The Intensive Outpatient Program (IOP) offers three one-hour group therapy sessions three nights a week, along with individual therapist and psychiatrist appointments. You will have continued medical care and prescription refills, with case management services and a life-skills guide for up to 90 days.
The Outpatient Program (OP) is a customizable long-term treatment program after you have been through your IOP plan. You will take control over scheduling your doctor, therapist, and group appointments, attending 12-step and SMART recovery groups on your own terms, and keeping connected to a supportive community as you transition back into normal life
If you or a loved one is experiencing addiction or needs help with substance abuse, please contact WhiteSands Alcohol and Drug Rehab today. We have addiction specialists available now to assess your recovery needs and get you into an appropriate treatment plan to give you the best possible chance at long-term recovery.
If you or a loved one needs help with abuse and/or treatment, please call the WhiteSands Treatment at (877) 855-3470. Our addiction specialists can assess your recovery needs and help you get the addiction treatment that provides the best chance for your long-term recovery.