After Trying Several Treatment Programs at Other Facilities, Patient Found Success at WhiteSands
addiction and recovery • Addiction TreatmentAfter Trying Several Treatment Programs at Other Facilities, Patient Found Success at WhiteSands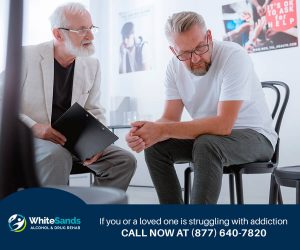 The Facility Offers a Unique and Bespoke Approach to Addiction Recovery
WhiteSands St. Pete patient, Jon, says that the facility "saved his life". WhiteSands Treatment Center is committed to delivering individualized care and successful outcomes for addiction recovery. One of the key elements of their approach involves uncovering the driving force and root cause behind an individual's addiction. For many patients, there is an undiagnosed mental illness that underpins their addiction. 
By identifying this root cause and developing a comprehensive treatment approach, the staff at WhiteSands Treatment Center can offer effective treatment that helps patients sustain long-term sobriety.
Uncovering the Driving Force of Drug and Alcohol Addiction
At WhiteSands Treatment Center, the staff understands that drug and alcohol addiction is not just a physical dependency but a mental and emotional one. Addiction cannot be treated solely by focusing on the symptoms, and addressing the root cause is just as significant. The team of professionals explores an individual's past, present, and environment to identify the driving forces of addiction. This method enables them to develop a program that targets the root cause of an individual's addiction, which improves the likelihood of a successful outcome.
Undiagnosed Mental Illness and Addiction
Undiagnosed mental illness could fuel addiction. At WhiteSands Treatment Center, the team of experts conducts a comprehensive examination to determine the presence of mental health issues such as:
Depression

Anxiety

Bipolar disorder

Post-traumatic stress disorder (PTSD) 
A thorough diagnosis of mental health disorders helps create a program that includes mental health therapy and medication should treatment be available. "At WhiteSands, they take it a step further by working with you to figure out the root causes of why you "use" in the first place", says Jon. Oftentimes, this is an undiagnosed mental illness.
A Comprehensive Approach Towards Recovery
WhiteSands Treatment drug rehab Center takes a more comprehensive approach to addiction recovery. By addressing the physical, mental, and emotional components of addiction, including underlying mental illness, the team can formulate individualized treatment programs that offer the best possible chance of long-term success. From medical detoxification to behavioral therapies to holistic treatments as well as aftercare services, patients receive complete support from diagnosis to treatment of the underlying issues.
If you or a loved one is struggling with addiction, contact WhiteSands Treatment today. Their team of experienced professionals is dedicated to providing personalized care that addresses the unique needs of each patient. Whether you are searching for yourself, a friend, or a family member, WhiteSands is here to support you on the journey toward recovery. Call today to speak to a specialist today to learn about their various rehab programs.
Get Quality Addiction and Mental Health Care, Today
WhiteSands Treatment Center is committed to identifying and targeting the root causes of addiction and providing evidence-based treatments tailored to each patient's needs. The center specializes in identifying undiagnosed mental health disorders that may fuel addiction. With comprehensive therapy modalities, supportive aftercare, and compassionate care, WhiteSands provides patients with the resources they need to sustain long-term sobriety. If you're searching for individualized addiction treatment, reach out to the intake team today at 727-513-1640. 
If you or a loved one needs help with abuse and/or treatment, please call the WhiteSands Treatment at (877) 855-3470. Our addiction specialists can assess your recovery needs and help you get the addiction treatment that provides the best chance for your long-term recovery.