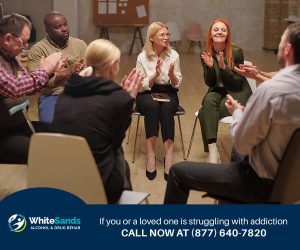 If you or a loved one are struggling with chemical dependency, it's important to know that help is available. Jacksonville, Florida offers a variety of treatment options for those seeking to overcome addiction. It's important to understand why seeking help is critical, the benefits of inpatient treatment, what to look for when choosing a rehab facility, and whether insurance can help cover the cost of treatment and therapy. If you're ready to take the first step towards lasting recovery, call WhiteSands today for help with Jacksonville chemical dependency treatment.
Help is Available in Florida
Jacksonville, Florida is home to a variety of treatment centers offering chemical dependency treatment. Whether you're looking for inpatient or outpatient care, options are available to meet your needs. WhiteSands Treatment offers individualized recovery plans for each patient who walks through the doors, ensuring they receive the support needed to overcome addiction.
If you or someone you know is struggling with chemical dependency, there is hope for recovery. WhiteSands proudly offers comprehensive, personalized addiction and mental health treatment that help individuals overcome and manage their addiction while teaching them coping mechanisms and trigger management skills. Our experienced team of medical professionals and addiction specialists is dedicated to providing patients the highest level of care and support with locations throughout Florida, including Jacksonville, we offer convenient access to effective addiction treatment and mental health services.
How Does Chemical Dependency Treatment Work?
Chemical dependency treatment typically involves a combination of counseling, therapy, and medication-assisted treatment (MAT). Treatment plans are personalized based on the individual's unique needs and may include a variety of therapies such as cognitive-behavioral therapy (CBT), motivational interviewing, and family therapy.
In CBT, patients learn to identify and change negative thought patterns and behaviors that contribute to addiction. Motivational interviewing helps patients find the motivation to make positive changes in their lives. Family therapy involves working with loved ones to help them understand and support the patient's recovery.
What are the Benefits of Inpatient Chemical Dependency Treatment?
Inpatient chemical dependency treatment in Jacksonville offers several benefits for those seeking to overcome addiction. These benefits include:
24/7 medical supervision and support

A safe and structured environment

Access to a variety of therapies and treatment options

The opportunity to focus solely on recovery without distractions
Chemical dependency treatment works by providing patients with the tools and support they need to overcome their addiction and achieve lasting recovery. By addressing the underlying causes of addiction, providing counseling and therapy, and using medication-assisted treatment when necessary, patients can learn to manage their addiction and live healthy, sober life.
4 Things to Look for When Choosing a Drug and Alcohol Rehab
When selecting a drug and alcohol rehab facility, it's important to consider several factors to ensure that you receive the appropriate care and support for your recovery. Here are some further details on the four things to look for when choosing a rehab facility:
Accreditation:

It's essential to choose a rehab facility that is accredited by a recognized organization such as the Joint Commission. Accreditation ensures that the facility has met specific standards of care and safety.

Experience:

Different rehab centers have varying levels of experience treating different types of addictions. Look for a facility that has experience treating your specific type of addiction to ensure that they have the necessary expertise to help you through the recovery process.

Personalized, tailored care:

Every individual's journey through addiction and recovery is unique. A facility that offers customized treatment plans tailored to your needs can help you achieve your recovery goals more effectively.

Aftercare Support:

Maintaining sobriety after treatment can be challenging. Look for a rehab facility that offers aftercare support, such as sober living arrangements, counseling, and support groups, to help you stay on track and prevent relapse.
Choosing the right drug and alcohol rehab facility can make a significant difference in your recovery journey and can truly be the difference between relapse and lasting recovery. By considering these four factors and researching different options, you can find a rehab center that best suits your needs and sets you up for long-term success in maintaining sobriety.
Will Insurance Help Cover Jacksonville Chemical Dependency Treatment?
At WhiteSands Treatment, we understand that navigating insurance coverage can be overwhelming and confusing. That's why our intake team is available to help you understand your insurance policy and determine what sort of therapies and help are covered. We work with a wide range of insurance providers and will do our best to ensure that you receive the maximum benefits available under your plan.
If you don't have insurance, we offer a range of payment options, plans, and financial assistance to help make treatment more affordable. Our intake team will take a look at your situation and work with you to find a plan that fits your budget. The most important thing to us is that you get into treatment, and we will do whatever it takes to get you there.
It's important to remember that seeking treatment for chemical dependency is an investment in your health and future. Don't let concerns about finances hold you back from seeking the help you need. Contact our intake team today to discuss your options and start your journey toward recovery.
Call WhiteSands and Get Help with Jacksonville Chemical Dependency Treatment
If you or a loved one are struggling with addiction, don't wait any longer. Contact WhiteSands today to learn more about our Jacksonville chemical dependency treatment options. Our team of experienced professionals is here to support you every step of the way on your journey to recovery. Through an initial patient consultation, our intake team will learn more about your addiction and mental health so that we can determine the first steps required for your recovery. 
Substance abuse is a progressive and chronic disease that can have devastating effects on individuals and their families. Recognizing the urgency of addressing this issue, WhiteSands offers a comprehensive range of treatment options tailored to meet each person's unique needs. By reaching out to WhiteSands today, you can access a team of dedicated professionals who are committed to your well-being and recovery. They will provide you with information about the different treatment programs available and guide you in choosing the most appropriate one.
WhiteSands understands that substance abuse often co-occurs with mental health conditions. Their integrated approach focuses not only on addiction treatment but also on addressing underlying mental health issues that may contribute to the cycle of addiction. By treating both aspects simultaneously, WhiteSands promotes long-term recovery and improved overall well-being. Getting in touch with the team at WhiteSands is the crucial first step towards reclaiming your life from the grips of substance abuse. The compassionate staff will listen to your concerns, answer your questions, and provide you with the necessary guidance to embark on a path to recovery.
Remember, seeking help is a sign of strength, and you don't have to face this journey alone. WhiteSands is dedicated to supporting you every step of the way, from initial consultation to aftercare services.
Don't let substance abuse continue to control your life. Reach out to WhiteSands today at 352-414-4030 and take the first step towards a healthier and happier future. There's no better time than now to prioritize your well-being and start your journey toward recovery.
If you or a loved one needs help with abuse and/or treatment, please call the WhiteSands Treatment at (877) 855-3470. Our addiction specialists can assess your recovery needs and help you get the addiction treatment that provides the best chance for your long-term recovery.