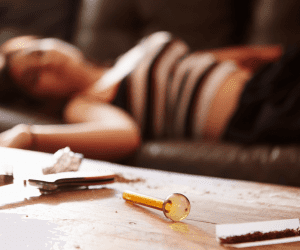 Crystal meth (or methamphetamine) is a highly addictive substance taken by smoking, snorting, or injecting it with a needle. It causes a strong rush of euphoria to the brain and the user immediately feels happy, confident, and energetic. The drug's effects can last anywhere from 6 to 12 hours, and it begins to destroy the body from the first time it is used. Crystal meth causes memory loss, aggression, heart and brain damage, and psychotic behavior. It can also quickly destroy the user's physical appearance. It can be extremely challenging to detox from meth because of how fast and strong the addiction happens. If you or anyone you know is struggling with a meth addiction, it is important to make the decision to detox. Meth users attempting to detox may experience intense symptoms such as heightened anxiety, depression, psychosis, paranoia, increased appetite, and/or lethargy. The depression caused from crystal meth withdrawal is especially dangerous, which is why it's very important to experience crystal meth detox in a monitored, clinical setting.
At WhiteSands Treatment, our team of board-certified doctors, professional counselors, attentive nurses, and medical psychiatrists watch each patient closely during the withdrawal period to make their experience as safe and comfortable as possible.
Detox from Meth at WhiteSands Treatment
Because cravings are very strong while one goes through detox, meth users struggling with addiction will greatly benefit from spending time at WhiteSands Treatment. At WhiteSands, our team of doctors and counselors take the time to get to know our patients and create a fully customized addiction treatment plan designed to help them on their path to sobriety. Each personalized plan takes into account the patient's personal struggles with drug or alcohol addiction, their medical history, and any special mental health needs. We offer a thorough dual-diagnosis rehabilitation program for patients struggling with mental disorders, such as bipolar or depression, on top of their substance addiction. At WhiteSands Treatment, we strongly believe that addiction can only be conquered when the whole person is treated.
Why Choose WhiteSands Treatment?
WhiteSands Treatment Centers are a private, accredited drug and alcohol rehab facilitieslocated in Plant City and Fort Myers, Florida. It has often been said that a connection to nature is helpful when going through recovery, which is why our facility is located near the beautiful gulf coast. The staff at WhiteSands Treatment believe that everyone should have access to high-quality, effective addiction care, which is why our programs are customized, flexible, and open to everyone interested in overcoming their drug or alcohol addiction. We accept most insurance providers; just give us a call to see if yours is accepted.
Commit to Sober Living Today
If you or someone you love is ready to get help, simply fill out our form and a friendly staff member to contact you. We care deeply about your success and want to help you every step of the way. Remember that you do not have to live like this any longer; sobriety is possible! Let the team at WhiteSands Treatment help you on your path to a better life.