Indiana Drug and Alcohol Treatment Programs
Indiana Drug and Alcohol Treatment Programs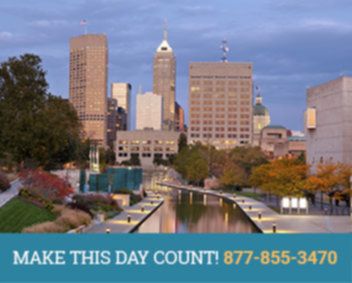 Indiana drug rehab and alcohol treatment facilities can help you begin the path to recovery today. Call us directly and we can locate an Indiana treatment program based on your specific needs. Do not let addiction dictate your life for one more day, call us now. The Lake County Substance Abuse Council (LCSAC), located in Indiana, is committed to supplying the public with substance abuse programs and resources so that addicts can have access to help when they need it most.
Alcohol Treatment
Indiana alcohol treatment includes an initial consultation and evaluation to determine your personalized care plan. One of the first steps in attending an Indiana drug rehab is to decide whether you need inpatient or outpatient treatment plan. Even those seeking outpatient care may want to include a detox period as an inpatient to assist you in minimizing the withdrawal symptoms that are common when you stop using alcohol. Outpatients will need to attend regular meetings for therapeutic care at an Indiana alcohol treatment program. Inpatients will also attend daily therapy sessions to develop strategies to manage alcoholism and learn how the disease will affect their lives in the future.
Drug Rehab
Indiana drug rehab can be used along with treatment for alcoholism or for another type of drug addiction. Dual diagnosed addiction occurs when there is an addiction to more than one substance. You will need to complete an initial evaluation when entering drug rehab, whether you have a single addiction or are entering a dual diagnosis treatment plan. The evaluation will include both a mental and physical assessment to determine the types of treatment options that will work best for your personal needs. A large number of people have mental disorders, such as depression, that are related to their addiction. By treating the mental disorder and addressing physical health issues, you will have a significantly increased chance of completing the treatment program successfully and achieving long-term recovery from addiction.
Indiana alcohol treatment and drug rehab can be completed as an outpatient. Patients are advised to discuss options with a drug counselor before making a final decision on the type of preferred treatment. Every person that enters drug treatment facilities in Indiana is unique and requires a personalized treatment plan to reach their goals. The specific type of treatment plan that you work through can be based on the type of drug addiction that you are suffering from and the duration of the addiction. Long term addictions to drugs may require a more comprehensive treatment plan. Drug and alcohol rehab centers should offer treatment that is based on your specific needs, rather than a one-size-fits-all program. This is the best option available for overcoming addiction.
Cocaine Rehab
Drug and alcohol rehab options include treatment plans that can help you overcome an addiction to cocaine. Cocaine and similar substances, such as crack cocaine, are very addictive and can quickly disrupt your lifestyle. If you have noticed that you are suffering financially, emotionally or mentally because of an addiction to cocaine, now is the time to take steps toward recovery. Cocaine can become a serious problem very quickly; if you or someone that you love has been using the drug, now is the time to develop a treatment plan and explore your options in Indiana.
Heroin Detox
Heroin is also a very addictive drug that can cause addicts to suffer in all aspects of life. Heroin detox is particularly challenging because there are both painful mental and physical symptoms as the drug is being eliminated from the body. A professional heroin detox offered by drug and alcohol rehab programs allows you to stop using heroin in a safe and controlled environment. Physicians and other medical professionals will assist you in reducing the effects of withdrawal symptoms and monitor your physical and mental health; this ensures that you are as comfortable as possible. You will also be able to address any mental disorders or health conditions that are present during the detoxification process.
Prescription Drug Addiction
Alcohol and drug rehab programs in Indiana provide treatment for prescription drug addiction. Prescription drugs are abused by people of all ages and from a diverse range of backgrounds. Taking medications without a prescription or trying to obtain medications without a legitimate medical need are both signs that you may have an addiction to prescription drugs. The medications most commonly abused include prescription stimulants and opiates such as pain medications and other narcotic medications. Like illicit drugs, prescription medications can be very addictive and cause serious mental and physical problems. Taking steps to treat the problem allows you to live a satisfying life, free from the debilitating disease.
Rehab Treatment in Indiana
Alcohol and drug rehabilitation programs in Indiana provide care for over 24,000 people annually. Males account for about sixty-five percent of those treated for drug and alcohol addiction in the state. Prescription drugs and marijuana are the two most common substance addictions treated in Indiana, and about 4,000 people seek care for co-occurring addictions, which is a substance abuse problem in addition to a mental disorder. Treatment for heroin addiction has increased significantly in the past few years, with treatment for heroin addiction up 300% since 2009. This number continues to increase.
Beginning Your Recovery
Drug treatment facilities in Indiana can help you begin your recovery, even if you do not have insurance. Indiana treatment programs can be contacted any time using our online contact form, or you can call alcohol and drug rehab programs Indiana directly to talk to someone about your recovery options. Overcoming addiction is a life-long challenge, yet it is made simpler when you have a compassionate, supportive team to assist you. Call us today and find freedom from substance abuse.