Alcohol and Drug Rehab Programs in New Jersey
Alcohol and Drug Rehab Programs in New Jersey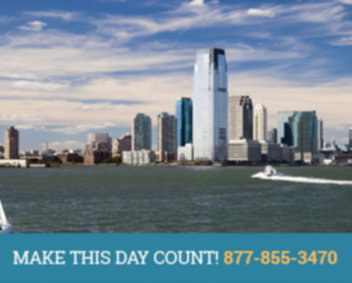 Hoping to get your life back with the help of New Jersey drug and alcohol treatment programs? Although dealing with an addiction can be difficult and intimidating, you can get the support you need to overcome the cravings and live a sober life, free from substance abuse. If you're thinking of seeking treatment at one of the alcohol and drug rehab programs in New Jersey, contact us today to take the first step toward recovery. The State of New Jersey: Governor's Council on Alcoholism and Drug Abuse is dedicated to ensuring that there are resources available for those who are seeking addiction help.
Alcohol Rehab
For people seeking help in New Jersey, alcohol treatment should focus on four phases: alcohol detox, alcohol rehab, relapse prevention, and aftercare. However, it's crucial to make sure that you choose a rehab program that will provide competent care through every step of the process. During the detox phase, New Jersey alcohol treatment programs should closely monitor individuals to make sure they can deal with their cravings and withdrawal symptoms. Immediately following treatment at detox programs in NJ, patients should enter alcohol rehab to maximize their chances of success in staying clean on a long-term basis. New Jersey alcohol treatment programs should then work with patients to prevent relapse. This prevention phase should work to address the underlying causes of the addiction and give the addict tools for overcoming cravings and temptations long after they leave treatment. In aftercare, addicts should work to continue their recovery for the rest of their life with a customized recovery plan. When it comes to alcohol rehab, NJ patients must be sure to choose a facility that offers cost-effective care and has a track record of success. Not every rehab program in New Jersey can live up to that standard, but White Sands Treatment Program does.
Drug Rehab
Drug treatment facilities in New Jersey work with the same phrases used in treating alcohol addiction but focus on the specific issues that are unique to drug addiction. Because each addiction is a little different, it is important that each recovering addict receive personalized attention and a recovery plan tailored to their own unique situation, which is where White Sands stands out. For those seeking the help of drug rehab programs in NJ, our high-quality, individualized plans are a superior option, focusing on each patient and what will work best for them.
During the detox phase, a team of medical professionals will monitor each addict to make sure they are safe and successful in getting clean. Following detox, individuals will enter the drug rehabilitation phase of treatment, where they will work to address the underlying reasons for the addiction. While drug treatment facilities in New Jersey can be challenging environments for recovery, we offer a therapeutic community where addicts can work together to overcome their addictions. Recovering addicts receive personal therapy and can take part in group sessions to get even more support during their treatment. Counseling is an effective way to work through some of the triggers that often drive people to seek out drugs. New Jersey drug rehab programs may not offer the level of care available at an accredited program like White Sands, which is why it's important to explore all of your options before choosing to get help at drug rehab programs in NJ.
Cocaine Rehab
Since cocaine is one of the most commonly abused drugs in the state, New Jersey drug rehab programs need to be experienced working with cocaine rehab and provide support that is tailored to those suffering from this kind of addiction. Those seeking care at New Jersey treatment facilities can rest assure that they are in the best care possible. This can include the risky behaviors associated with abuse and the serious negative consequences that these behaviors may have. When it comes to inpatient drug rehab, NJ residents need an accredited facility with a professional advisors they can depend on, and that's why so many of them turn to White Sands.
Heroin Detox Treatment
Because heroin addiction is associated with many complicated medical risks, the professionals at drug treatment facilities often give private medical attention and monitor patients 24 hours a day, seven days a week. During heroin detox treatment, symptoms typically peak within 48 to 72 hours after the last dose of the drug. It is important that patients looking for detox programs in NJ find a competent, safe environment where they can be monitored. Without proper medical attention, withdrawal symptoms during heroin detox can lead to life-threatening seizures and convulsions. With the attention of trained medical professionals, however, each addict is monitored to make sure they come through the detox phase of treatment safely and successfully.
Prescription Drug Addiction
Prescription drug addiction can be particularly difficult to recognize and overcome because it often starts with a legitimate prescription from a doctor. Over time, the users of prescription drugs may find that they build up a tolerance to their prescription, and doctors may increase their dosages. However, with continued use, individuals can become addicted to these drugs and develop negative side effects such as depression, insomnia, hallucinations, and changes in appetite. Drug treatment facilities in New Jersey may not be up to the task of handling these complex addictions, but at White Sands, we are experienced in dealing with prescription drug addictions and can provide addicts the support they need to overcome their dependence on prescription drugs.
The Need for Alcohol and Drug Rehab Programs in New Jersey
In recent years, alcohol has grown to become the second most abused substance in the state of New Jersey. Although there has been a decline in the number of admissions for alcohol and cocaine addiction since the mid-1990s, admissions for heroin addiction have increased. Of the individuals seeking drug or alcohol rehab in New Jersey, 67.8 percent are male and the remaining 32.2 percent are female.
Commonly abused substances in New Jersey include cocaine, heroin, marijuana, methamphetamines, and prescription drugs. Of these substances, crack cocaine is the most widely abused drug in the state, and heroin has increased in availability in recent years. Marijuana continues to be one of the most commonly abused drugs because of the misconception that it is a safe substance. This means rehabilitation programs in NJ are in high demand as the number of certain types of addictions continues to increase.
Alcohol and drug treatment facilities in New Jersey are located throughout the state, from Atlantic City to Elizabeth, Jersey City, Newark, Paterson, and Woodbridge, but just as their locations vary, so do their levels of care. That's why one of the alcohol and drug rehab programs in New Jersey may not be the right choice for you. Call us today or fill out the form below for assistance in locating the right support system to aid you on your path to freedom. While rehab facilities in NJ offer lots of different benefits, White Sands Treatment Program goes above and beyond to help you get the assistance needed to regain control of your life. Get help today.