North Dakota Drug and Alcohol Treatment Programs
North Dakota Drug and Alcohol Treatment Programs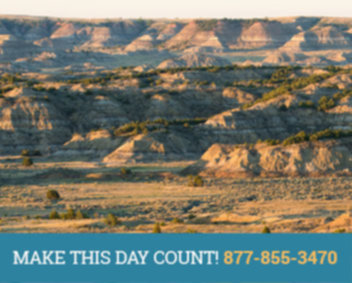 North Dakota drug rehab programs can help you stop abusing drugs and alcohol as long as you have the motivation to do so. If you are interested in seeing what more life has to offer, call us today and let our addiction specialists guide you to sobriety and freedom. They are available around the clock to answer your questions regarding treatment and help you find the facility that will benefit your unique needs the most. Making the decision to enter rehabilitation can seem frightening at first, but we are here to walk you through it every step of the way.
Calling our treatment program or completing our online form today will provide you with a solution to eliminating addiction from your life. You can also learn more about addiction and what to expect from drug and alcohol rehab. The North Dakota: Department of Human Services, has resources available for those who are seeking help for their addiction.
Alcohol Treatment
Alcohol rehab provides treatment that begins with an overall evaluation of your physical and mental health. The initial evaluation is important because it can provide insights into your addiction and which treatment methods will work most effectively for your personal needs. You will work with a drug counselor to determine whether you need to attend detox treatment. Detoxification from any drug, including alcohol, can be physically uncomfortable. After detoxification, you will begin receiving other types of treatments.
Therapy, including behavioral therapy, is one of the most common methods used in North Dakota alcohol treatment programs. Therapy focuses on helping you understand addiction and how to treat alcoholism as a lifelong disease. You will learn how to recognize triggers, which are people or situations that cause cravings for alcohol, and what to do to avoid those types of situations in your everyday life. North Dakota alcohol treatment can also include family therapy that focuses on rebuilding your relationships with close family members, including your spouse and children. You may also be referred to Alcoholics Anonymous meetings for long-term treatment, while family members can attend Al-Anon for support in your recovery.
Drug Rehab
North Dakota drug rehab programs provide care for those suffering from substance abuse and addiction, including an addiction to prescription medications. Like North Dakota alcohol treatment, anyone entering drug rehab will first undergo an initial evaluation to determine which treatments will be most useful. For those with a dual diagnosis, which occurs when a person has both a substance abuse problem and mental health issue, special programs may be required. Regardless of your individual situation, North Dakota Drug Treatment Facilities will include a comprehensive, personalized plan to ensure the greatest chances of a successful long-term recovery.
Inpatient treatment can last for thirty, sixty or ninety days. The length of time that you spend in North Dakota drug rehab programs can vary based on the types of treatment that you need for a successful recovery. Inpatient treatment is often recommended for those experiencing long-term or chronic addictions, while outpatient treatment is an option for those with a strong recovery support group at home and a strong commitment to overcome addiction. As an outpatient, you will typically need to attend sessions at the treatment program on a daily basis until you have completed the program. You will also need to attend outside support meetings as well.
Cocaine Rehab
Cocaine rehab is one treatment program available through drug treatment facilities in North Dakota. Cocaine and cocaine based drugs, such as crack cocaine, are very addictive and often require inpatient treatment to recover successfully. A detox session is part of the standard treatment for a cocaine addiction. You will have a team of medical professionals to ensure the detoxification period is safe and as comfortable as possible. Treatment may include a referral to another treatment program, such as a transitional living program (sober living community) after your inpatient program has been completed.
Heroin Detox
Heroin is a powerful drug that causes a strong physical dependency. Detoxification is often overwhelming without the right support system. Attending heroin detox through drug rehab facilities in North Dakota provides you with the support that you need to overcome addiction to heroin. You may be provided with medications that offer relief from the symptoms of withdrawal during detox. Counseling is a vital aspect of treatment for heroin addiction as well. You will receive personalized care that builds your knowledge and provides you with a foundation for recovery at drug treatment facilities in the area.
Prescription Drug Addiction
Prescription drug addiction is a serious condition that requires treatment to overcome. Improperly used medicines can include narcotics, such as pain medications, sedatives, and stimulants. When medications are used improperly, including when they are used for reasons other than they are prescribed for, addiction is possible. Working with drug treatment facilities in North Dakota allows you to leave addiction behind and begin working on a new, sober lifestyle free of the consequences of prescription drug addiction.
About North Dakota Rehab
Alcohol and drug rehab programs in North Dakota offer treatment to thousands of people for addictions to drugs and alcohol. In the state, over 60 percent of those seeking treatment were male. While alcohol addiction treatment has fallen slightly in North Dakota, the number of people seeking treatment for marijuana and amphetamines has risen. Among those seeking treatment, the highest number of people were seeking assistance in overcoming an addiction to marijuana. Dual-diagnosis treatment is also common.
Finding Help
Contact us today and let us direct you to the North Dakota Drug and Alcohol Treatment you so desperately need. Professional drug addiction experts can help you find the right treatment plan for your personal needs and provide you with the options that make attending rehab possible. Call us now, or take just a moment to complete an online contact form to request help. With a personalized plan that is focused on your recovery, you can move on to a more fulfilling lifestyle without drugs and alcohol. Addiction stops with a phone call, why wait one more day.