Rhode Island Drug and Alcohol Treatment Programs
Rhode Island Drug and Alcohol Treatment Programs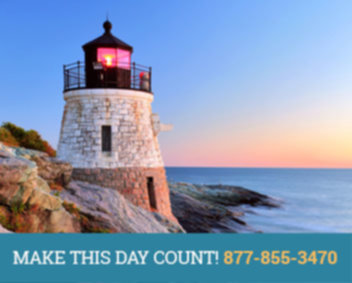 You don't have to deal with an addiction alone. Call us and we can help you find suitable treatment through Rhode Island Drug and Alcohol Treatment Programs. Let us help you find a way to overcome your addiction to drugs and alcohol. Alcohol and drug rehab programs Rhode Island offer you the tools and support that you need for a successful long-term recovery from drug and alcohol addiction. The Division of Behavioral Healthcare Services (DBH), is committed to providing wellness, quality treatment, and addiction prevention throughout the State of Rhode Island.
Alcohol Treatment
Rhode Island alcohol treatment programs offer personalized care that can help you learn new ways to meet challenging life situations without relying on alcohol. Treatment at an alcohol rehab begins with a detoxification period where your body physically adjusts to functioning without alcohol. Detox for alcohol rehab is typically less than a week long and will be overseen by medical advisors to ensure your comfort. Medical counselors will monitor your withdrawal symptoms and provide treatment for any severe symptoms that you may experience. Alcohol rehab can be completed on an inpatient or outpatient basis, depending on your personal needs for treatment.
Alcohol addiction can be treated in combination with other addictions to prescription or illicit drugs. When entering rehab, dual diagnosis treatment plans can be provided by discussing your options with an intake counselor or drug counselor. Make sure to discuss your treatment options to determine whether you will need to stay on-site for a dual diagnosis treatment plan to be completed. Most drug rehab programs in Rhode Island can provide you with a specific treatment plan within the first week of entering rehab.
Drug Rehab
Drug rehab and alcohol treatment are often combined when you experience more than one addiction that requires treatment. Rhode Island drug and alcohol rehab programs will provide a physical and mental evaluation when you enter the treatment program. The evaluation allows the drug and alcohol rehab to provide the best care possible based on your specific health condition and whether you have any underlying mental illnesses. You will also work with the advisors to determine which type of treatments are right for you. For instance, some patients may need outpatient care while others will experience a more successful recovery after completing an inpatient treatment program.
Alcohol and drug rehab programs in Rhode Island provide personalized care that is tailored to fit your lifestyle and the type of addiction that you are learning to eliminate. Because every patient is unique, it is important to find a Rhode Island drug rehab that offers a treatment plan that you are comfortable with Twelve-step programs are offered but typically aren't customized to fit your addiction. Twelve-step programs do work for some people, while customized treatment plans through alcohol and drug rehab centers Rhode Island offer success for others.
Cocaine Rehab
Rhode Island drug rehab programs provide care plans for those dealing with a cocaine or crack cocaine addiction. Cocaine and crack cocaine are both harmful drugs that can cause major problems in your personal and financial life. Like Rhode Island alcohol treatment plans, cocaine addiction is initially treated through a detox program. Detox is an important step in the process of recovery. You will want to opt for a Rhode Island drug rehab program that offers an on-site medical counselors that is available to monitor withdrawal symptoms and provide treatment as needed during the first days at the center.
Heroin Detox
Heroin detox is one of the most intense types of detox programs. Heroin, whether smoked or injected, is one of the most addictive drugs today. Alcohol and drug rehab programs Rhode Island provide an initial evaluation of your addiction before you enter the detox session. Detox can include medications that reduce withdrawal symptoms, nutritional therapies to increase your overall health and diagnosis of any underlying medical conditions that may have developed as a result of drug use. The severity of your withdrawal symptoms will have an impact on how long detox lasts and the type of treatment you receive after detox is completed.
Prescription Drug Addiction
Prescription drug addiction typically occurs after you have taken medications for an illness or injury. Stopping the medications becomes increasingly difficult over time, resulting in the need to seek assistance with eliminating the medication from your routine. Drug treatment programs Rhode Island provide the tools that you need to treat an addiction to any prescription medication. You will receive therapy and referrals to assist you with any medical conditions that may hinder your successful recovery from prescription drug addiction.
Drug Treatment in Rhode Island
Alcohol and drug rehab programs Rhode Island treat over 10,000 people in the state for addiction to drugs and alcohol. Of this number, over seventy percent of people seeking treatment are males. Rhode Island has seen an increased number of people seeking treatment for drug addiction and a reduced number of people seeking rehab options for alcohol abuse. People from the ages of eighteen to twenty-five were the largest group treated for an addiction to prescription medications, while heroin and alcohol were linked to the highest numbers of people entering rehab for addiction treatment.
Reaching Out for Addiction Treatment
Reaching out for help with an addiction is the first step to a successful recovery from drug and alcohol abuse. Call us so we can direct you to Rhode Island Drug and Alcohol Treatment programs where you can speak to a drug counselor who can give you more information about the available treatment plans. Taking just minutes to reach out for help can provide you with the tools that you need to begin recovery from drug and alcohol abuse.