Vermont Drug and Alcohol Treatment Programs
Vermont Drug and Alcohol Treatment Programs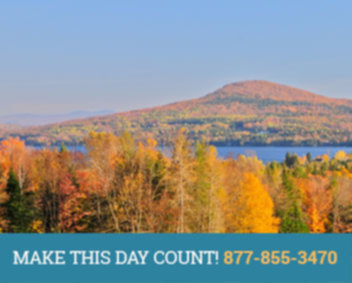 Vermont drug and alcohol treatment programs can help you begin the journey toward recovery. When you contact us, you will speak to a professional drug addiction counselor that will guide you toward the right treatment for your addiction. The Vermont Division of Alcohol & Drug Abuse has resources available for those who are ready to seek help in overcoming their addiction.
Alcohol Treatment
Vermont alcohol treatment programs are available twenty-four hours a day to assist you with overcoming addiction. Alcohol rehab can include a treatment for alcohol addiction alone or a combination treatment for alcohol and drug addiction. Entering alcohol rehab is completely confidential and is covered by many insurance plans.
Vermont alcohol treatment programs offer personalized treatment plans that fit your personal needs to overcome addiction. You may find traditional therapies, such as individual counseling, are combined with modern techniques, such as yoga, to provide you with a foundation for a successful long-term recovery from alcohol addiction. You can choose between inpatient and outpatient treatment options.
Drug Rehab
Vermont drug rehab can be used for any type of alcohol or drug addiction, including addiction to marijuana, prescription medications, cocaine, and amphetamines. The type of treatment that you receive will be based on several factors, including your personal physical health and any long-term, severe addictions that you are working to overcome. Inpatient treatment is comprehensive and can be used to treat multiple addictions. Inpatient drug rehab programs typically last for thirty days and include individual therapy, group therapy sessions, and life skills training to assist you in rebuilding your life after treatment.
Outpatient treatment can also be used to treat multiple addictions. Drug rehab programs in Vermont offer a variety of outpatient programs that are designed to fit your schedule and type of addiction. For example, if you have standard working hours, you will be able to attend rehab sessions on a schedule that fits your current work schedule. Take the time to work with an intake counselor to determine whether inpatient or outpatient treatment is the right option for you. Inpatient and outpatient treatment plans each have unique advantages and disadvantages that may be important to consider for your long-term recovery from addiction.
Cocaine Rehab
Vermont drug rehab programs offer care for those working to eliminate cocaine dependency. Often, drug treatment programs offer inpatient treatment for a long-term addiction to cocaine or other cocaine based drugs, such as crack cocaine. Since cocaine is very addictive and usually requires a detox session, you will need to remain on-site for at least a few days to help your body adjust to being drug-free. After detox, you may begin treatment. If you have opted for outpatient treatment, you will receive therapy sessions and other treatments offered by the drug treatment programs Vermont during the day and will be free to return home at night.
Heroin Detox
Heroin is a powerful drug that can be particularly challenging to eliminate without professional assistance. A heroin detox is often necessary to reduce the impact of withdrawal symptoms, which can cause severe physical symptoms that are uncomfortable and potentially harmful. You will be under medical supervision during the detox process. Make sure that you opt for Vermont drug and alcohol treatment programs that offer counselors that is available twenty-four hours a day, seven days a week for patients entering a detox program.
Prescription Drug Addiction
Prescription drug addiction is just as serious as other addictions and should be treated by a professional team of addiction counselors. Prescription drug abuse happens to both adults and teens and to people from all economic and social backgrounds. If you have been trying to stop using prescription medication but can't reduce your dosage or need more of the medication than prescribed, now is the time to contact a rehab program for help. Prescription medication that isn't used properly can be potentially harmful to both your physical and mental health.
Addiction Treatment in Vermont
Vermont is located in the Northeastern United States and is best known for its quaint New England beauty and stunning fall foliage. People seeking help from alcohol and drug rehab programs in Vermont will find that the state treats over 7,000 people a year for drug and alcohol addiction. Of those treated, most people were over the age of forty and were male. Opiate addiction is the most commonly treated addiction in Vermont, followed by marijuana addiction.
Finding Addiction Treatment
Seeking help to recover from drug and alcohol addiction is possible. The addiction advisors at Vermont drug and alcohol treatment programs are able to take your call any time of the day. You can speak to an intake counselor to assist you in determining the type of treatment plan that is right for you and to schedule a time and date to tour the facilities that you are interested in. The road to recovery begins with one simple step when you contact us today.