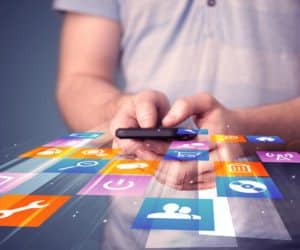 Recovery Apps, Virtual Chat Rooms, VR, and Neurofeedback: How using technology in addiction recovery has been proven to help patients during and after treatment.
Using technology in addiction recovery is relatively new. However, there is some early evidence that proves to incorporate certain technologies into a recovery plan can benefit the patient. One technology in addiction recovery has been around for many years but only recently has been adapted to helping people with addiction recovery. It's the good old chat room. Addiction recovery apps like the "In The Rooms" app are designed to provide support through technology.
There are many different apps that focus on different drugs, different addictions, and this community has thousands of people participating every day. Drug addiction apps like these may be especially useful to people who have had trouble getting involved in in-person support groups for many reasons including having a social anxiety disorder or agoraphobia, living in a rural area with limited access to proper support or suffering from a disability that limits movement.
In all of these cases, people who might have otherwise gone without important social support can use technology in addiction recovery to benefit them and hence society as a whole.
A man called Dr. Bordnick has also done a lot of work using virtual reality via VR headsets to help addicts. This technology in addiction recovery goes beyond current addiction recovery apps but it is a good example of a cutting-edge technology that will eventually come in drug addiction apps form.
This specific VR experience was designed by Dr. Bordnick to provide addicts with virtual experiences that allow them to practice coping with their various triggers in a safe and therapeutic environment. For example, this technology in addiction recovery can create a VR environment which includes a party with lots of drunk people and someone offering you drinks or it may be a house full of people actively using hard drugs.
These situations in real life can completely overwhelm an addict's ability to cope but, in the safety of VR, these experiences can be approximated and enrich the therapeutic experience and allowing progress to continue.
Another example of using technology in addiction recovery is the development of neurofeedback therapy. Similar to VR headsets and environments, this technology has not yet made it to addiction recovery apps status but it's not hard to imagine that one day it will.
Neurofeedback works by wearing a device on your head that can pick up different wavelengths in your brain that are associated with different states of mind. They go from energetic to calming to meditative.
Through work with this system that gives you real-time feedback into what your brain is doing, people are able to more consciously control the kinds of brainwaves they produce and thus have more control over their states of mind. This kind of technology in addiction recovery has hopeful promise as a treatment for addiction and as a supplemental therapeutic activity.
There are also a variety of drug addiction apps, or drug recovery apps, available that provide support from real people, helpful tips on recovery, the ability to track your recovery in details or incorporate therapeutic theories like cognitive-behavior therapy.
Using technology in addiction recovery can be another helpful piece of the puzzle that provides the above services in ways that fit nicely into people's technology-dense lifestyles. The more that the tools to recovery, including drug addiction apps or drug recovery apps, are easily and widely available the more chances, flexibility, usability and tailoring can be incorporated in the support that addicts need to be successful.
However, because of the wide variety of options, there should be a patient process of searching and discover which combination of apps will be useful to any particular addict.
Addiction recovery apps, or drug addiction apps, will also continue to develop and provide creative and new help for people struggling with addictions everywhere, making drug treatment more accessible than ever.
Sources:
http://www.uh.edu/cdspr/NEWSITE/bordnick.html
http://polysubstance-abuse.com/evidence-based-treatment-addiction
https://www.addiction.com/12575/six-sobriety-apps-you-should-know-about/
If you or a loved one needs help with abuse and/or treatment, please call the WhiteSands Treatment at (877) 855-3470. Our addiction specialists can assess your recovery needs and help you get the addiction treatment that provides the best chance for your long-term recovery.