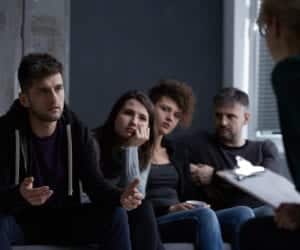 Inpatient vs Outpatient Treatment: The Benefits and Drawbacks of These Methods of Addiction Treatment
When a person first decides to get help for their substance abuse problem, they have to make a choice between inpatient vs outpatient treatment. According to the National Institute on Drug Abuse – the institution charged with advancing addiction sciences – intensive outpatient programs can be just as good as inpatient programs for substance use disorder treatment. So, how do you decide between the two?
Before a rehab program starts, there needs to be a professional evaluation to determine what the treatment needs of the patient are. You will receive an assessment and advice on what type of programs you should use. This should heavily weigh in on your decision between the different addiction treatment services, but to help you decide, we will explore the differences between inpatient vs outpatient treatment in this article.
To be able to look at the differences between inpatient vs outpatient treatment, we will explore the benefits and drawbacks that each has, starting with outpatient addiction treatment services. However, before we look at the differences between inpatient vs outpatient treatment, it's important to understand that outpatient rehab can vary greatly in intensity; some programs may do little more than educate you on substance abuse without offering the crucial elements of treatment, such as behavioral therapy.
The benefits of outpatient care are as follows:
• Tends to be more affordable
• Autonomy because the person still stays at home, allowing them to carry out their responsibilities – daily routines can be maintained
• Gain access to a social support network
• A person in recovery can benefit from the continuum of care that outpatient treatment has when they leave inpatient rehab
The drawbacks of this type of treatment are as follows:
• Not appropriate for everyone, such as those with severe addictions that have relapsed after treatment, or those who don't have adequate support at home
• Negative influences can continue, making recovery more difficult
• Relapse more likely as the person has access to drugs
Inpatient Drug Addiction Rehab Treatment
Residential or inpatient care is seen as the more intensive form of treatment. You can gain benefits that would otherwise not be available in an outpatient program, but an inpatient program requires more of a commitment in general. However, this can make the difference between recovery and relapse for some.
In general, inpatient programs are advised for those who are afflicted by a severe addiction to physically addictive drugs.
The main benefits that inpatient or residential treatment programs have are as follows:
• Every day is focused on recovery, making for the most intensive experience
• Allows you to get out of a bad home environment with negative influences
• Ideal for severe addictions, especially if relapse has occurred before
• Access to medical detox programs
• Surrounded by supportive people
• No chance for a relapse during recovery because there are no drugs or alcohol on the premises
• Access to around-the-clock medical care, which is especially important in early recovery
There are also drawbacks to using an inpatient program to treat substance abuse, and they are as follows:
• It is disruptive to your everyday routine because you are staying at the facility for 30 or more days.
• It tends to be more expensive due to the greater costs that it incurs, i.e., board and lodging
• You will be away from friends and family, unable to be fully emotionally supported by them for a time, although visitors are allowed as well as phone calls.
Both treatment options are excellent ways to treat addiction as they both use the same evidence-based strategies to beat the disease. Get help today by contacting WhiteSands at (877) 855-3470.
Sources:
https://www.drugabuse.gov/publications/principles-drug-addiction-treatment-research-based-guide-third-edition/drug-addiction-treatment-in-united-states/types-treatment-programs
https://www.drugabuse.gov/publications/drugs-brains-behavior-science-addiction/treatment-recovery
If you or a loved one needs help with abuse and/or treatment, please call the WhiteSands Treatment at (877) 855-3470. Our addiction specialists can assess your recovery needs and help you get the addiction treatment that provides the best chance for your long-term recovery.