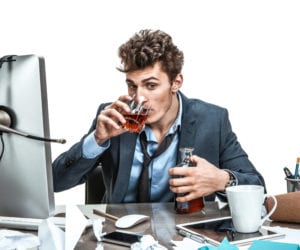 Employees Test Positive For Drugs
Recent studies that have been conducted on a nation-wide scale reveal that an increasing number of employees are testing positive for drugs. Certain employers have their employees take drug tests at random in order to ensure that they are staying focused and not abusing substances outside of the workplace, or in the workplace for that matter. Not only are employers testing for illicit drug abuse, but they are also testing for drugs such as opioids, especially with the growing drug epidemic that is sweeping the nation.
Drug screenings are simply safety precautions which allow employers to lessen the chances of workplace drug use and accidents from occurring. Through ensuring that employees are leading a healthy life that is substance-free, they are also lessening the chances of individuals becoming addicted to drugs or alcohol. Chances are that if your employer conducts weekly drug screening tests then you won't risk taking drugs or drinking.
Holding Down a Job
Unfortunately, many individuals across the U.S. struggle with drug or alcohol addiction while also trying to maintain their job. The National Council on Alcoholism and Drug Dependence (NCADD) found out that more than a shocking 70 percent of individuals who abuse illegal substances across the country hold steady jobs. This is especially concerning fact as, depending on their job, employees are putting their lives in risk every day as a result of their drug addiciton.
There needs to be accessible help to those who have drug or alcohol issues so that they can work toward leading a healthy and fulfilled life. When you are addicted to drugs or alcohol and trying to hold down a steady job, your addiction can often get in the way of you performing your best.  When you have a drug or alcohol problem, you are more likely to miss out on work and prioritize your bad habits. Although you may be able to get away with this for a while, this pattern cannot continue forever.
Problem Drinking
Just because you do not classify as an alcoholic or drug addict, you can still struggle with binge drinking and alcohol use disorder (AUD). According to a national study that was conducted, which looked at alcohol-related injuries while on the job, reported that close to 16 percent of patients who entered the emergency room had been injured on the job had alcohol in their system. This inevitably puts their safety at risk and also puts the safety of others in jeopardy.
Some side effects that substance abuse can have at work are:
Experiencing withdrawal symptoms while at work
Inability to concentrate
Selling illegal drugs at work
Not performing your best due to lack of attentiveness
These consequences of drug and alcohol abuse can inherently affect your ability to perform your best which can ultimately cost you your job. If you or someone you know is experimenting with substances of abuse at the workplace or feel as though your drug or alcohol issue is affecting your performance at work, it's time to get help.
If you or a loved one needs help with abuse and/or treatment, please call the WhiteSands Treatment at (877) 855-3470. Our addiction specialists can assess your recovery needs and help you get the addiction treatment that provides the best chance for your long-term recovery.