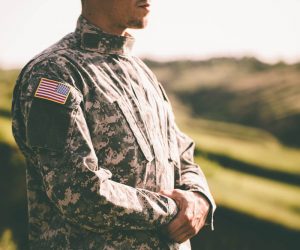 Top Rated Alcohol Rehab for Veterans
WhiteSands Alcohol and Drug Rehab honors and respects veterans for their service. We know that our veterans have dynamic pasts while deployed, and returning home comes with challenges that some didn't anticipate. It's no secret that going to war and serving in the military can come with complex job expectations that coincide with traumatic memories. Many find these memories troublesome to manage. Having little proper mental health support when you return home can lead to finding ways to cope like turning to alcohol, which can feel like a way to escape the burdensome memories and flashbacks.
If alcohol rehab for veterans is needed, a treatment program is designed to meet the needs of someone experiencing the trauma through PTSD from deployment and recognize the anxiety that follows once you return home from active duty. You will be offered one-on-one mental health counseling and addiction support with our addiction specialists. You will be given opportunities to participate in trauma therapy and life skills development that will teach how best to manage future stressors and triggers and flashback management.
If you or a loved one are struggling with addiction, call WhiteSands Alcohol and Drug Rehab today at 877.969.1993 to learn how we can help.
Veterans and Alcohol Addiction
Many veterans struggle with managing the stressors that come with being on active duty and returning home, leaving some feeling helpless in treating their symptoms. Turning to a socially acceptable substance, like alcohol, can feel like the only way to lessen the anxieties and discomfort associated with returning home. You are not alone in these feelings. A 2017 study found that 56.6% of veterans are more likely to use alcohol upon returning from deployment.
Witnessing the horrific sights of war while on active duty wears heavy on many veterans. When you return home, you are often left with traumatic memories while trying to reintegrate back into daily living. Turning to alcohol is common among those who have levels of PTSD and traumas associated with going to war. Nearly one in three veterans that are experiencing addiction are suffering from PTSD.
Taking steps to receive treatment for your alcohol use is a big step. Our rehab program for veterans will have you surrounded by other men and women who have served our country and are trying to manage their alcohol use and painful memories of their deployment. Learning to have a strong, supportive community will prevent you from feeling alone again. Nearly 65% of veterans that enter into treatment are looking for support with their alcohol use.
Dual Diagnosis Treatment for Veterans With PTSD and Alcohol Addiction
Dual diagnosis treatment is treating a mental health condition alongside an addiction. For many veterans, you will be experiencing symptoms of PTSD that have gone unmanaged for some time. Untreated PTSD can create crippling side effects and leave veterans with feelings of anxiety, fear, and vivid flashbacks making it challenging to return to their home life without being triggered. Our dual diagnosis program will separate your addiction and PTSD to treat them individually.
As you enter treatment, the first step with dual diagnosis is to remove any substance use from your life to understand your baseline mental health status to formulate a treatment plan for your PTSD that is not clouded by alcohol. During alcohol rehab for veterans, you will participate in trauma therapy individually and gain insight into your addiction and the triggers that drive you to pick up a bottle.
Medically Assisted Alcohol Detox for Veterans
Alcohol detox affects each person differently, and we highly suggest that you complete our medically assisted detox with us. Alcohol withdrawals can range in severity and our trusted team knows the symptoms that can arise and how best to treat them. Some signs that some can experience are:
Nausea
Cold sweats
Delirium tremens (T)
Fever
Elevated heart rate/high blood pressure
Shakiness
Our team of physicians and nurses will work to keep you as comfortable and safe as possible throughout the process. Medication can be provided to maintain a safe chemical and biological balance as you detox.
MAT Alcohol Rehab for Veterans
Medically Assisted Treatment (MAT) is available for veterans who may not commit to entering into an inpatient program or are waiting to be able to go. MAT allows veterans the freedom to tape off of alcohol safely while remaining at home. Patients will check in with the medical staff at WhiteSands Alcohol and Drug Rehab weekly to adjust medication and assess how they are doing with detox management. For more information on alcohol rehab for veterans, please reach out to us today.
If you or a loved one needs help with abuse and/or treatment, please call the WhiteSands Treatment at (877) 855-3470. Our addiction specialists can assess your recovery needs and help you get the addiction treatment that provides the best chance for your long-term recovery.