Man Praises WhiteSands Treatment Palm Harbor as "Very Helpful, Open, Understanding"
addiction and recovery • Addiction TreatmentMan Praises WhiteSands Treatment Palm Harbor as "Very Helpful, Open, Understanding"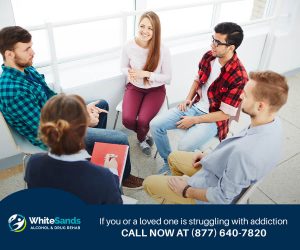 Palm Harbor, Florida—The recovery program and treatment staff at WhiteSands Alcohol & Drug Rehab have earned praise from a man who began a successful journey to substance abuse recovery there.
"Very helpful, open, understanding," Nick wrote in a five-star review of the program. "Staff goes above and beyond to support in and through recovery."
Nick attended rehab at WhiteSands' facility in Palm Harbor, Florida, one of 17 residential and outpatient programs WhiteSands offers throughout Florida. WhiteSands was built with the goal of elevating the standards of care in addiction treatment, to ensure that we are giving patients the best chance at sustaining long-term sobriety and doing so in a safe and comfortable environment. 
Within the first week of treatment, each patient meets with the WhiteSands medical director, clinical director, psychiatrist and individual therapist multiple times. The team carefully evaluates each patient to determine the best course of treatment, but the patient plays an active role in setting their goals and selecting therapy groups and medication options. Each patient will have four to five individual and/or family therapy sessions per week – one of many ways in which WhiteSands sets a higher standard of care than other treatment programs, where patients attend only one or two sessions per week. Further, WhiteSands has the same treatment team working with the patient throughout their stay, rather than rotating in different therapists. This is one of the keys to building trust between patient and therapist, which in turn is critical to successful recovery.
All of this requires WhiteSands to have more qualified clinical staff as part of its treatment team, a worthwhile expense considering that WhiteSands' patients show a higher success rate in long-term recovery than those who attend other programs.
WhiteSands believes in truly individualized treatment and implements this in a variety of areas. From its conception, WhiteSands has been on a mission to develop the recovery industry's most comprehensive and individualized treatment program. When treatment follows a one-size-fits-all model, patients are more likely to become disengaged from the treatment experience, leading to poorer outcomes in achieving and maintaining sobriety. By focusing on individualizing the treatment experience, WhiteSands finds that patients are able to better understand and address the issues underlying their addictions. 
The core of WhiteSands' approach is examining the underlying issues that could lead someone to abuse alcohol or drugs. Detox, the preparatory phase of treatment, may rid the body of addictive substances, but that  must be followed by treatment of The mental and emotional roots of the dependence. WhiteSands's treatment teams help patients reach an understanding of their underlying emotional challenges such as depression and anxiety, learn how to cope with past traumatic experiences and current family dynamics and develop strategies for overcoming the pressures and temptations of home, work and community. 
One indicator of WhiteSands' success is the rate at which patients choose to leave treatment early – "against medical advice," or AMA. The typical AMA rate is 10 percent, but WhiteSands can claim a much lower rate of 4 percent. Between the leading-edge therapy and comfortable amenities where patients are respected and made to feel valued – they're even called "guests" rather than "patients" when not in treatment – it's easy to see why positive reviews like Nick's keep coming in.
Anyone seeking comprehensive treatment for a substance use disorder can visit WhiteSands Alcohol & Drug Rehab or call 877-855-3470.
If you or a loved one needs help with abuse and/or treatment, please call the WhiteSands Treatment at (877) 855-3470. Our addiction specialists can assess your recovery needs and help you get the addiction treatment that provides the best chance for your long-term recovery.