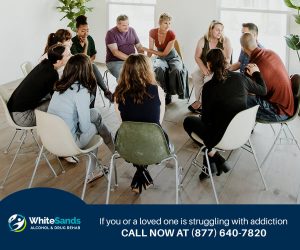 A person who has an addiction to alcohol may benefit from alcohol detox in Tampa. WhiteSands offer alcohol detox programming to help clients begin their addiction recovery journey. Although alcohol detox only addresses the physical aspects of a substance use disorder, this part of the recovery process is extremely important. Until the physical addiction is managed, clients may experience powerful cravings to use, which can impede other aspects of their treatment plan. 
WhiteSands features a full lineup of addiction treatment programs, including alcohol detox and rehab treatment. Our detox facilities are staffed by experienced addiction specialists and provide a safe, supportive environment where clients can get the help they need during this critical part of their recovery process. Our clinicians can provide treatments that reduce withdrawal symptoms, a common part of the detox experience, and monitor clients to ensure their comfort and safety.  
We offer clients a welcoming environment where they can undergo detox safely under the care of addiction specialists. If you need alcohol detox in Tampa, call WhiteSands.
Alcohol Detox Treatment Options in Tampa
Need alcohol detox treatment in Tampa? Our Tampa alcohol detox centers provide a safe and welcoming environment where clients can immerse themselves in their recovery journey. Detoxing alone is never a good idea as alcohol withdrawal symptoms can be quite severe. Symptoms might begin mild but then quickly progress in severity. Our clinicians treat withdrawal symptoms to reduce or eliminate them, helping clients detox as comfortably as possible. 
We invite clients to explore our detox options and let us help them select the ideal treatment plan for their needs. Alcohol addiction is chronic, but treatment can help you prevent relapse and create a new sober life. 
Alcohol Withdrawal and Detox Process
Alcohol withdrawal treatment in Tampa can help people build a strong recovery foundation. The alcohol detox process in Tampa generally takes a week to complete. Some clients detox more quickly but it depends on their chemistry and the amount of time they've been addicted to alcohol. Detox targets the physical aspect of alcohol use disorders. Once detox is complete, clients can begin treatments that address the powerful psychological and behavioral aspects of the disorder. 
Our alcohol rehab is known for its evidence-based treatments and holistic therapies. Our clinicians can prescribe treatments that ease clients through the detox process. There are many medications that can reduce or even eliminate unpleasant alcohol withdrawal symptoms. Our addiction specialists support and monitor clients throughout the process. In most cases, withdrawal symptoms peak between 24 and 72 hours from the last drink of alcohol. After that point, symptoms will gradually subside, and clients can relax as their body continues its healing journey.
Tampa Alcohol Rehab and Detox Centers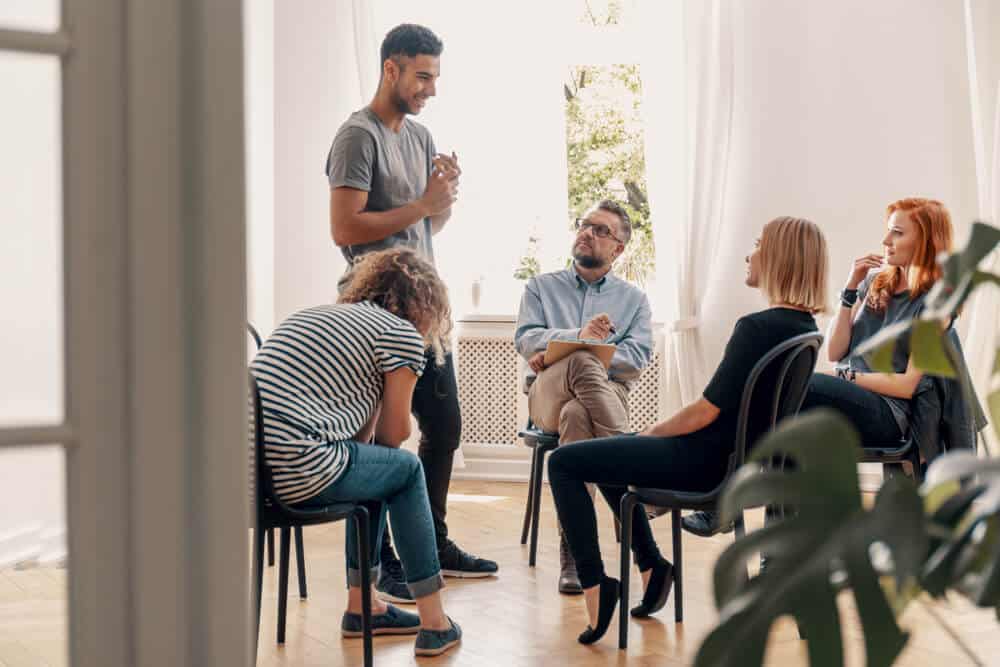 Clients searching for Tampa alcohol rehab or a Tampa detox center can rely on WhiteSands for our expertise and experience. Medical detox is often step one in the long recovery process. It doesn't cure alcohol use disorder, but it does sever the body's physical addiction to alcohol. After that point, clients can transition to their rehab program to address the mental and behavioral aspects of their alcohol addiction. 
Unlike other rehab centers, WhiteSands individualizes treatment. Each client is different and experiences detox in their own way and at their own pace. Some clients experience mild withdrawal symptoms. Other clients might experience severe symptoms, including a series of symptoms known as delirium tremens. These symptoms, often referred to as DTs, can include hallucinations, fever, dehydration, and even heart irregularities. DTs can potentially trigger serious health complications. That's why it's important to undergo alcohol detox at a medical facility such as a hospital or an addiction treatment center like WhiteSands. 
The Cost of Alcohol Detox in Tampa
Cost is, necessarily, an important factor when considering alcohol detox and rehab programs. The cost of alcohol detox in Tampa varies. Some clients may need just a few days to complete detox. Other clients may need a week or longer before they're ready to move forward on their recovery path. While the cost of detox and addiction treatment may seem expensive, just consider the cost of not getting treatment. 
Alcohol addiction doesn't just ruin relationships and careers. It can also damage mental and physical health. Keep in mind that alcohol is one of the leading causes of preventable deaths in the U.S. So, how much does detox cost? Not as much as the cost of healthcare resulting from alcohol-related illnesses such as organ damage or liver failure. The next time you ask how much alcohol detox costs, remember to weigh the figure against the cost of not enrolling in high-quality detox and addiction treatment. 
Frequently Asked Questions:
What is alcohol detox and why is it important?
Alcohol detox is an important part of the alcohol addiction recovery process. Alcohol detox targets the physical aspect of an alcohol use disorder. At WhiteSands, we offer clinically supervised detox in a safe and comfortable setting. Our clinicians can prescribe treatment to speed recovery and reduce unpleasant withdrawal symptoms that can accompany the detox process. We monitor clients to ensure they're comfortable and safe as they complete their detox milestones. 
What are the treatment options for alcohol detox in Tampa?
If you need alcohol detox in Tampa, you can enroll at WhiteSands. We feature medical detox that includes 24-hour support and monitoring. Our goal is to ensure clients progress through their detox process safely and as comfortably as possible. We prescribe treatments designed to reduce or even eliminate uncomfortable withdrawal symptoms. Once detox treatment is complete, clients can move forward in their recovery journey. 
How does the process of alcohol withdrawal and detox work?
Alcohol withdrawal is a normal part of the recovery process. Once someone stops drinking, the body goes into withdrawal, triggering unpleasant symptoms like headache, chills, nausea, and vomiting. As the person detoxes, alcohol is slowly released from the body. The detox process can take about a week, but withdrawal symptoms will gradually subside until stopping. After withdrawal, clients can begin the next phase of their recovery plan.
What role do Tampa alcohol rehab and detox centers play in recovery?
Tampa alcohol and detox centers like WhiteSands provide a safe setting where clients can get support throughout their recovery process. 
How much does alcohol detox cost in Tampa?
The costs of alcohol detox in Tampa vary. Some clients require longer in detox than others. Some people may need treatments that others do not. These variations affect costs.
How does the cost of detox compare to the broader costs of addiction?
Although rehab and detox can be pricey like other medical costs, the cost of addiction is more expensive. Alcohol addiction will erode physical and mental health over time. To safeguard your health, the sooner you stop drinking the better. 
Are there resources to help with the costs of alcohol detox in Tampa?
Contact WhiteSands to learn about cost-saving resources for alcohol detox in Tampa. 
What should I look for in an alcohol detox center in Tampa?
When seeking a detox center in Tampa, search for one like WhiteSands. We offer a full continuum of care and experienced clinicians who specialize in addiction medicine. 
If you or a loved one needs help with abuse and/or treatment, please call the WhiteSands Treatment at (877) 855-3470. Our addiction specialists can assess your recovery needs and help you get the addiction treatment that provides the best chance for your long-term recovery.