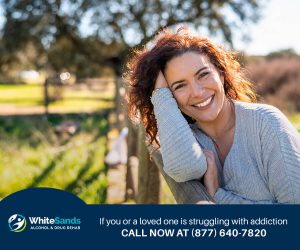 "I cannot put in words how the hospitality in this center is the best place I have been to as far as an outpatient facility is concerned"
David, a recent patient of WhiteSands Treatments' outpatient program in Lakeland Florida, cannot be more pleased with his experience in the program. David's testimonial resonates deeply with the facility's commitment to offering top-tier outpatient services. It reinforces the mission to create a welcoming, supportive, and comfortable environment where individuals can find the care, understanding, and healing they need. 
WhiteSands takes great pride in delivering exceptional outpatient care and ensuring that patients feel valued and supported throughout their journey to recovery. Guests' well-being is the number one priority, and WhiteSands does everything it can to provide a positive experience. Just like the facility has helped tens of thousands of individuals recover from addiction, it can help you too.
The Crucial Role of Outpatient Treatment
Outpatient treatment at WhiteSands plays a pivotal role in patients' success stories. They understand that addiction recovery is not a one-size-fits-all journey, and for many, outpatient care is the key to maintaining a healthy and fulfilling life. Here are a few reasons why the outpatient program is crucial to success:
Continuity of Care:

The outpatient program provides a seamless transition from more intensive treatment, ensuring that patients receive ongoing support and guidance.

Flexibility:

WhiteSands recognizes the demands of daily life. Outpatient treatment allows patients to attend therapy sessions and receive vital support while still managing work, family, and other commitments.

Community Connection:

Staying connected with a sober community is essential for long-term recovery. The WhiteSands outpatient program encourages individuals to build strong, supportive relationships with peers who understand Their journey.

Customized Care:

Every patient is unique, and the unique outpatient treatment program offered here is tailored to guests' specific needs and challenges. The personalized treatment plan may include therapy, counseling, group sessions, and additional support services.

Relapse Prevention:

Outpatient care equips individuals with valuable tools and strategies to prevent relapse and cope with life's challenges without returning to substance use.
By choosing WhiteSands for outpatient treatment, patients are taking a proactive step toward lasting recovery. The experienced team is dedicated to supporting patients on this journey, ensuring they have the resources and guidance needed to maintain their well-being and live a fulfilling life in sobriety.
Your Journey to Lasting Recovery
WhiteSands' outpatient program is designed to bridge the gap between residential treatment and independent recovery and living. It's a flexible, comprehensive solution that helps individuals apply the skills they have learned to the real world. With an experienced team by the guests side, they can confidently face life's challenges and embrace the opportunities of lasting recovery.
WhiteSands Treatment is committed to patient success in overcoming addiction. The outpatient program is a vital part of the recovery journey, offering personalized, flexible, and effective care. Take the next step toward lasting recovery and a healthier, happier life. If you or a loved one are seeking the support and guidance needed for a successful recovery journey, contact us today. Let's work together to build a brighter, addiction-free future.
If you or a loved one needs help with abuse and/or treatment, please call the WhiteSands Treatment at (877) 855-3470. Our addiction specialists can assess your recovery needs and help you get the addiction treatment that provides the best chance for your long-term recovery.