Drug Addiction Treatment Programs in Texas
Drug Addiction Treatment Programs in Texas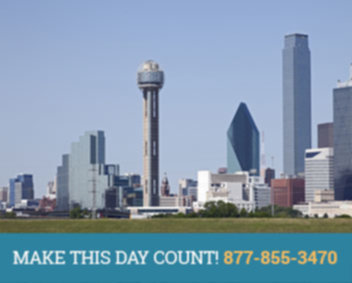 Starting the recovery process begins with understanding that addiction is a chronic, progressive disease that affects both the brain and behavior. People initially use alcohol or other drugs out of curiosity because someone else is doing it or just because it makes them feel better. But in order to continue to achieve the same euphoric feelings, occasional drug use can escalate to compulsive abuse, leading to the growing demand for rehab facilities in Texas that offer safe and private care. The Texas Mental Health and Substance Abuse Divison can help guide you toward recovery through providing you with necessary resources.
Over time, continued drug abuse causes changes in brain chemistry. These changes create addiction, tolerance, and withdrawal symptoms, resulting in powerful physical cravings for the drug. An addict becomes emotionally obsessed with taking their drug of choice, despite the negative consequences. In Texas, drug and alcohol treatment programs can help, but it's important to make sure that you find the individualized care you need. That's where White Sands comes in.
The Effects of Addiction and How Treatment Can Help
When you or a member of your family is addicted to alcohol or drugs, it affects all of our lives. Anger, resentment, guilt, shame, frustration, and sadness are just some of the emotions that can negatively impact relationships. Financial hardship, mental and physical illness and co-dependence are all risk factors for addicts, friends, and family. All of these reasons usually lead patients to search for drug rehabs in Texas that provide customized and cost-effective care.
Drug and Alcohol Treatment and Rehabilitation
In Texas, drug rehab programs aim to help people resolve their addiction issues, show them how to live a clean and sober lifestyle, and strengthen their relationships. But for many, the best possible care isn't found in Texas. Alcohol treatment and drug rehab programs can vary widely when it comes to success rates, cost-effectiveness, and even the quality of their facilities. For those who are ready to get help from drug treatment facilities in Texas, there's a better solution: White Sands. At our accredited facility, we offer both inpatient and outpatient treatment, medically supervised detox, and dual diagnosis treatment. Drug treatment programs in Texas can't compare to our individualized programs, which are customized to give our patients the best possible chance at success.
Keys to Effective Alcohol Rehab and Treatment in Texas
For those struggling with addiction to alcohol in Texas, rehabilitation is a priority for people looking to regain their lives and relationships. The first step to treating alcohol addiction is deciding you want help from a Texas alcohol rehab program. The type of alcohol rehab that you need depends on how long and how much you have been drinking. While almost all alcoholics will experience withdrawal when they stop drinking, some can be treated for mild to moderate symptoms on an outpatient basis, while others will need to be monitored in a facility like ours that specializes in safe detoxification.
After the alcohol detoxification period, which usually takes three to seven days, psychological rehabilitation can begin. Alcohol rehab programs can range from short-term residential treatment to long-term outpatient counseling and 12-step support programs like Alcoholics Anonymous.
The Process of Drug Rehab
In Texas, for those struggling with an addiction to drugs, the first step on the road to recovery from drug addiction is deciding you want help and beginning to research Texas drug rehab facilities. Once you begin rehabilitation, you'll first need to undergo the detox process, and the severity of your withdrawal symptoms will depend on which substance you are addicted to and the length of your addiction. With our safe detox program, we'll work to minimize these effects.
The best drug rehab programs in Texas will offer medical and psychotherapeutic treatment for those addicted to several different substances, from prescription drugs to street drugs. Not all Texas drug and alcohol treatment programs can provide this level of expertise, but at White Sands, a variety of drug treatment programs are available to help you or your loved one, including residential inpatient programs, outpatient treatment, sober living houses, and local support groups like the 12-step Narcotics Anonymous program.
Alcohol and Drug Rehab Programs in Texas
There are 475 alcohol and drug rehab programs in Texas, according to the 2011 National Survey on Drug Use and Health. This includes 240 private nonprofit facilities and 183 private for-profit facilities. The remaining Texas drug rehab and alcohol rehab facilities are owned and/or operated by the federal, state, or local government.
The total number of clients in treatment in alcohol and drug rehab programs in Texas in 2011 was 36,875. Of these clients, 42% were being treated for drug abuse only; 17% for alcohol abuse only; and 41% for both alcohol and drug abuse. Of the 475 alcohol and drug rehab programs in Texas, 387 offer some type of outpatient treatment, including 42 outpatient detox programs. There are 139 residential alcohol and drug rehab programs in Texas, including 39 that offer detox programs. There are 44 hospital inpatient alcohol rehab and/or drug treatment facilities in Texas, and 41 of those offer detox.
Some alcohol rehab and/or drug treatment facilities in Texas offer special programs for clients with co-occurring disorders; adult women; pregnant or postpartum women; adult men; adolescents; seniors or older adults; or other special populations. Many Texas drug and alcohol treatment programs offer individual and group counseling. In addition, 82% offer family counseling and 49% offer marital/couples counseling.
A wide variety of counseling and therapy approaches are used alone or in combination at Texas drug rehab and alcohol treatment facilities. These can vary greatly in effectiveness, so researching drug rehab centers in Texas to find the one that might be right for you can take time. But there's a better solution: At White Sands Treatment Center, we offer customized, cost-effective programs and take a holistic approach, so in addition to substance abuse treatment, your recovery may include mental health services and/or general health care. For those seeking drug rehab centers in Texas, we're a superior choice.
We Can Help You Now
If you or someone you care about is thinking about seeking help from Texas drug and alcohol treatment programs, call us today. We offer medical detoxification, inpatient rehabilitation, residential rehabilitation, partial hospitalization, intensive outpatient treatment, and a halfway house option. Addiction advisors are available 24 hours a day, seven days a week, to help you decide which type of high-quality treatment is best for you or your loved one. Call today or fill out the form below for more information on options for Texas rehabilitation.