36+ Cool Things to Do in Tampa, FL (Besides Partying)
36+ Cool Things to Do in Tampa, FL (Besides Partying)
Tampa is a renowned party hot-spot in the U.S., so it can be sometimes hard to stay sober. But there are plenty of cool things to do in Tampa, Florida, that don't involve drugs or drinking. "If you are looking for addiction treatment help, WhiteSands would love to help you or a loved one, with the best drug rehab Tampa services in the area. With a huge variety of sports teams, museums, unique attractions, and weird oddities to visit, Cigar City has plenty of healthy activities to enjoy. We've created a list of wholesome, unique, and family-friendly things to do in Tampa Bay, Florida, to keep you interested along your journey.
But first, check the events calendar to find specific Tampa activities.
Looking for the top things to do in Tampa this weekend? Check these lists:
Pro Tip: Come winter there be pirates.
The Gasparilla Festival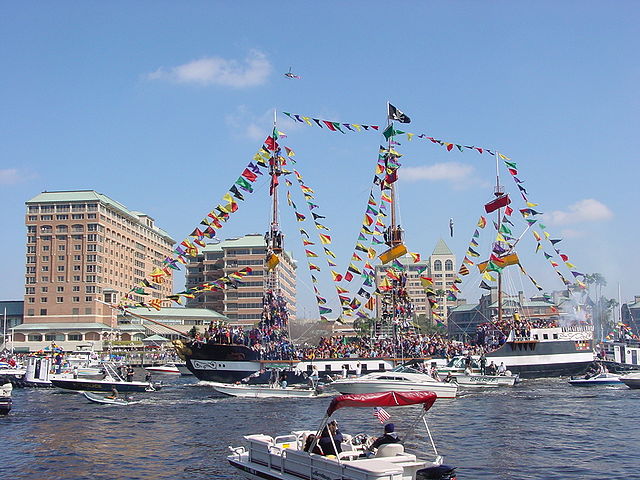 Source: Christopher Hollis for Wdwic Pictures (Wikimedia Commons)
There are many different annual events in Tampa, like the much-loved pirate festival, Gasparilla, which happens in the winter months. (There are alcohol-free events within the festival.)
Other notable events include the Florida State Fair, Guavaween (in Ybor City around Halloween), the Strawberry Festival (in Plant City in March), and the Outback Bowl on New Year's Day.
Here are other common places to check for events: Try the cultural hotbed of Cigar City: the Tampa Museum of Art. You could also see what's happening at the Straz Center for the Performing Arts.
But if you've looked through the events calendars and are still looking for cheap or free things to do in Tampa today, we've ranked some unconventional ideas that don't involve destructive habits or much cash. We've gone out of our way to find the weird, unique, and wacky adventures for locals that are off the beaten path. (But if you're looking for more of the typically recommended stuff to do in Tampa, go to the bottom of this list!)
Without further ado, here's our list of the top things to do in Tampa Bay while staying sober!
1. Feel reality bend at the Dali Museum.
Salvador Dali Museum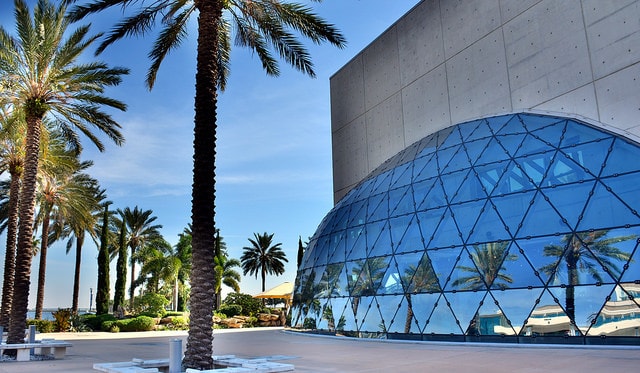 Source: Walter (Flickr)
You don't need anything but an open mind and amazing art to go on quite a trip, and the Dali Museum has it all. It also has really cool events, like lectures, workshops, calming yoga classes, and films.
2. Get a thrill on a thrill ride at Busch Gardens.
Busch Gardens Tampa Bay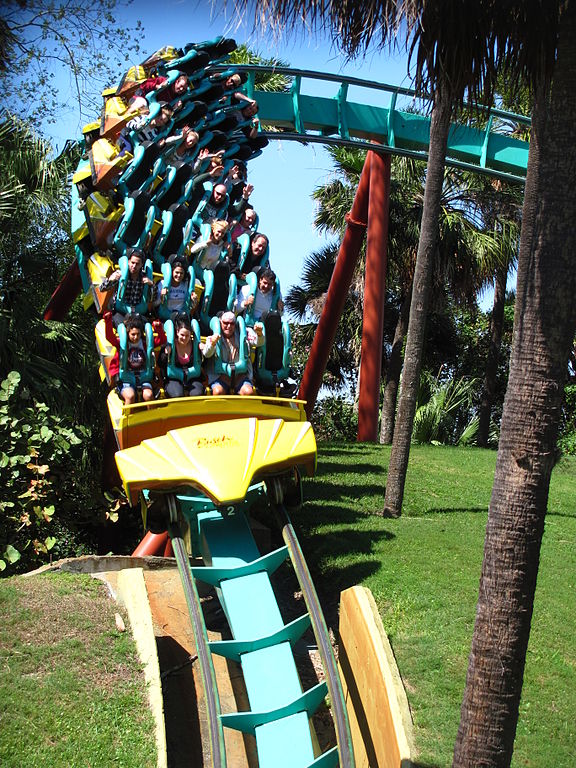 Source: Jeremy Thompson (Wikimedia Commons)
If you have some extra change in your pocket, an off-season ticket might be fun. Try the Kumba (pictured above) or the Sheikra. Or, if you want to keep your feet on the ground, you can wave to the animals. Adventure Island is the other favorite theme park of the area.
3. Buy a loofa – a real one – and take relaxation seriously.
Spongeorama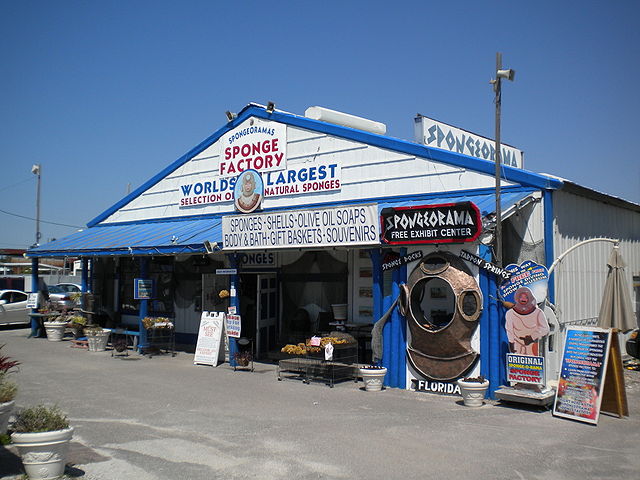 Source: Leonard J. DeFrancisci (Wikimedia Commons)
If you want to relax, do it in style. Tarpon Springs is home to the world's largest selection of natural sea sponges, and they have quite a few loofas and seashells, too. Visit this shop and the 50s-era attraction that goes with it. While you're there, enjoy the Greek restaurants that have cropped up in the area.
4. Get a bit obsessive about the local hockey team.
Tampa Bay Lightning
Source: NHLHockey95 (YouTube.com)
Consider how fast ice melts in this part of Florida, it's pretty strange how genuinely obsessive fans are with their hockey team. Check the Tampa Bay Lightning schedule for upcoming games. Don't forget the Buccaneers or the Rays, of course.
5. Do the tourists' favorite thing: See the manatees warming themselves.
Tampa Electric Manatee Viewing Center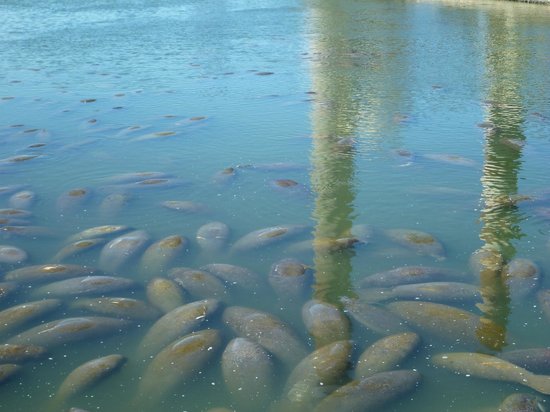 Source: This photo of Tampa Electric Manatee Viewing Center is courtesy of TripAdvisor
It might be strange to see manatees hanging out next to a power station, but they tend to like the warm water. It's one of the best things to do in Tampa with kids for free and it's open from November to mid-April. Check the webcam to see if there are any sea cows there right now.
6. Find serenity at the local temple.
The Hindu Temple of Florida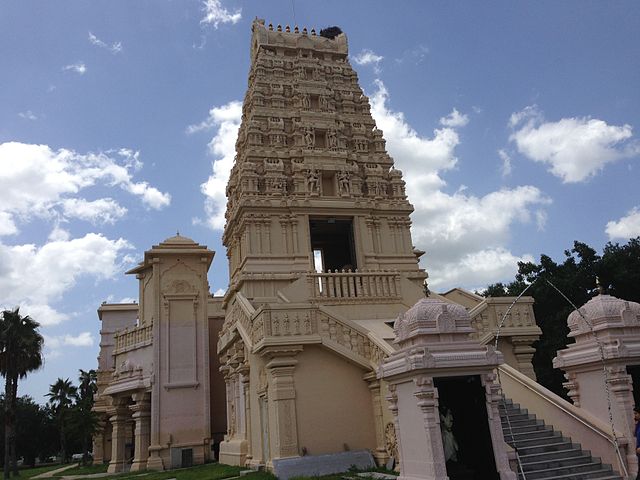 Source: User:proshob (Wikimedia Commons)
This is a massive, beautiful place of worship and cultural center in Tampa, which serves as a place of deep and introspective meditation. You can tour the temple for free.
7. Get lost in world-famous gardens.
The Sunken Gardens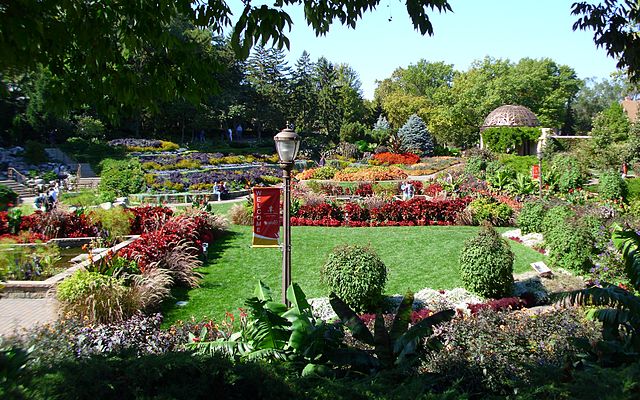 Source: Babymestizo (Wikimedia Commons)
The world-famous Sunken Gardens are more than a century old. This important and beautiful Floridian attraction is home to some of the oldest tropical plants in the region, as well as a beloved flock of flamingos.
8. Visit Cuba (but just for a minute).
Parque Amigos de Jose Marti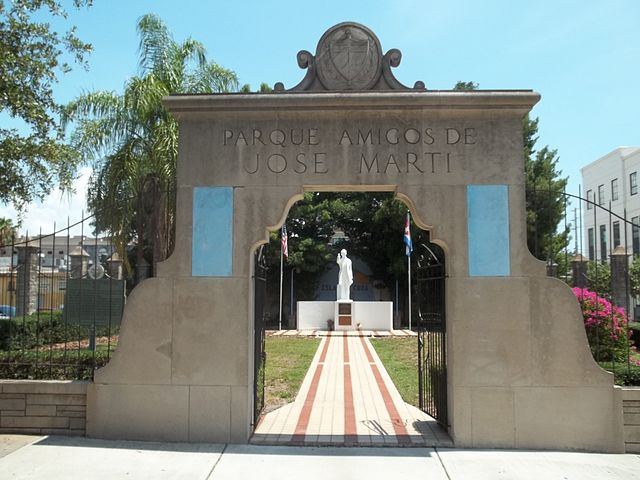 Source: Ebyabe (Wikimedia Commons)
The Republic of Cuba technically owns this tiny park in Ybor Square. It's very unassuming and sports two statues of Cuban heroes.
9. Be blown away by the glass art of the world-famous Chihuly collection (or take a class yourself).
Morean Arts Center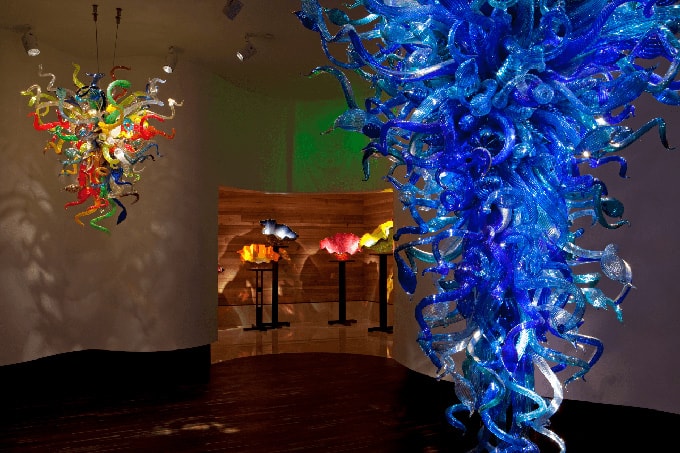 Source: Morean Arts Center
Chihuly is a famous American sculpture whose works frequent New York City, Japan, Canada, Jerusalem, and numerous places around the world. However, he has a permanent piece sitting right in Tampa. The Morean Arts Center houses his works and trains a new generation of artists during classes: learn to draw, paint, make jewelry, blow glass, bake clay, make prints, and more. The Gott Glass Studio also has workshops.
10. Experience pure gaudiness at a whole new level.
Kopok Tree Inn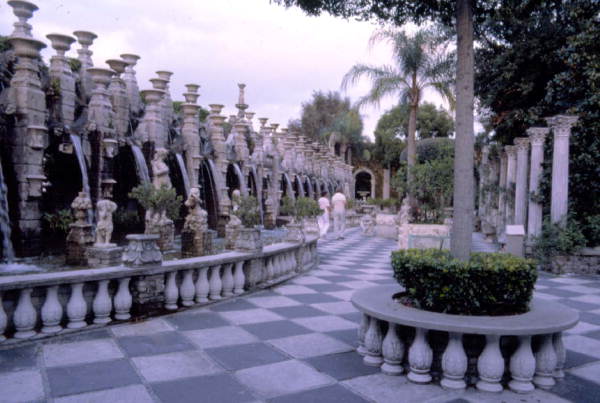 Source: State Library & Archives of Florida
No one does an excessive amount of statues quite like this place. Locally famous for its absurd extravagance, the Kapok Tree Inn is still a popular events spot. (Make sure the calendar is clear before you stop by.)
11. Get in a new frame of mind at the iconic photography museum.
Florida Museum of Photographic Arts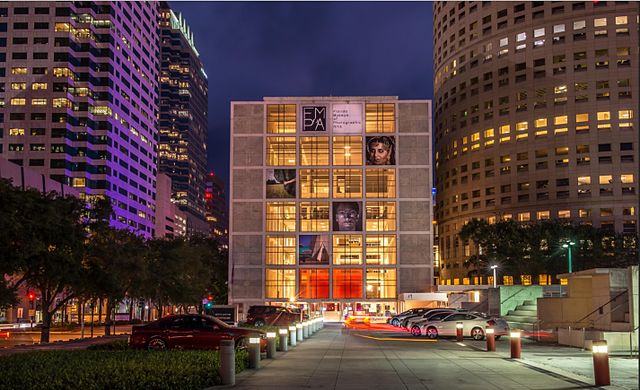 Source: Fmopa (Wikimedia Commons)
Snapchat is all well and good, but photography is an art form that should be celebrated every once in a while. Tickets are inexpensive; only $10 to get in.
12. Embrace deathly beauty at the local oddities shop.
Dysfunctional Grace Art Co.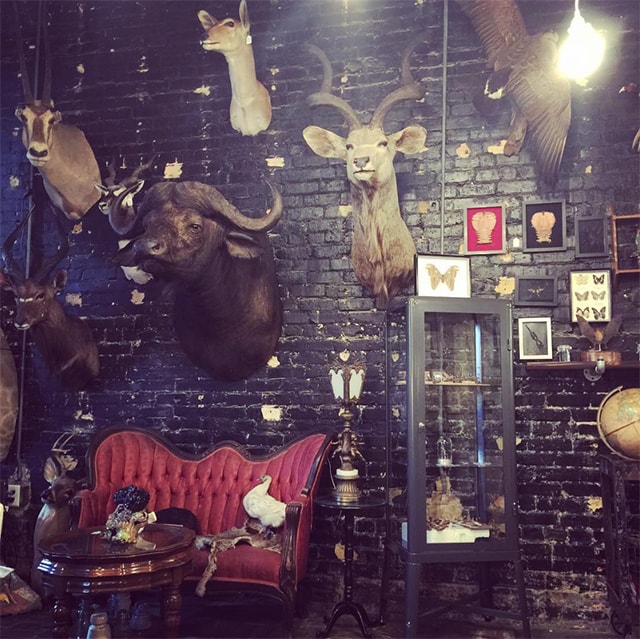 Source: @dysfunctional_grace (Instagram)
Skeleton fish heads and elk toe necklaces decorate the strange and beautiful Dysfunctional Grace Art Company, which celebrates all things weird, unacceptable, revolting, and beautiful. (Note: It's NOT kid-friendly!)
13. Step right up! Step right up! Explore the incredible history of the circus!
John and Mable Ringling Museum of Art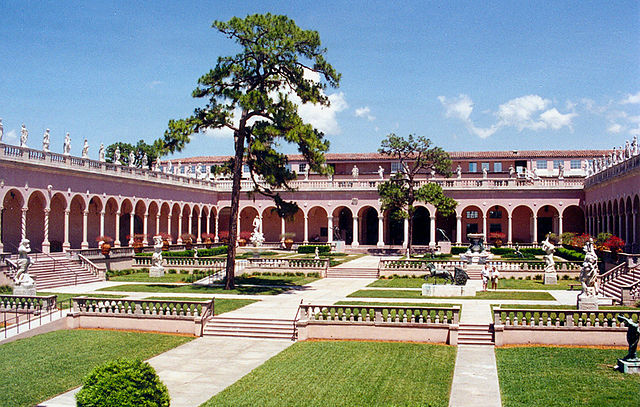 Source: Roger Wollstadt (Wikimedia Commons)
Not-so-far away, in Sarasota, was the home away from home for the Ringling brothers. Today, the estate is home to a massive art museum. It also houses the Circus Museum, which comes highly recommended, a huge mansion, lovely gardens, and a historic theater.
14. No monkeying around. (Well … alright. Maybe some.)
Suncoast Primate Sanctuary

Source: Suncoastprimates.com
Over in Palm Harbor is a retirement home for primates. It's home to more than 100 animals with nowhere else to go, including orangutans, chips, lemurs, baboons, parrots, snakes, turtles, and more.
15. If monkeys aren't your thing, visit rescued lions and tigers instead. (Oh my!)
Big Cat Rescue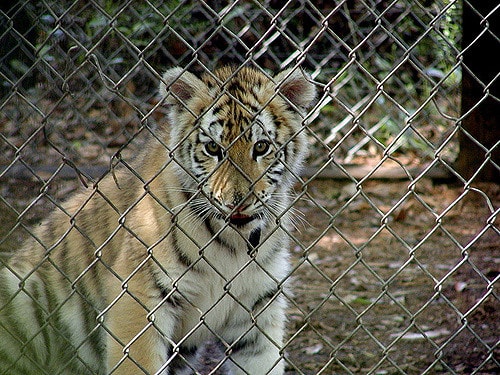 Source: Tony Webster (Flickr)
Reserve some time with the big cats at one of the largest accredited sanctuaries for abused and abandoned big cats. They have leopards, lions, tigers, bobcats, ocelots, and more. (Note that you'll need to get tickets ahead of time.)
16. Or visit Winter, the star of Dolphin Tale (2011).
Clearwater Marine Aquarium
Source: Clearwater Marine Aquarium (YouTube.com)
It's impossible to not be inspired by this dang dolphin. For those who haven't seen that tear-jerker film, Winter is an amputated dolphin that swims with a prosthetic tale after surviving a horrific encounter with a fishing net. She and many other animals at Clearwater have been rescued and rehabilitated.
17. Or see oodles of animals at the Florida Aquarium.
The Florida Aquarium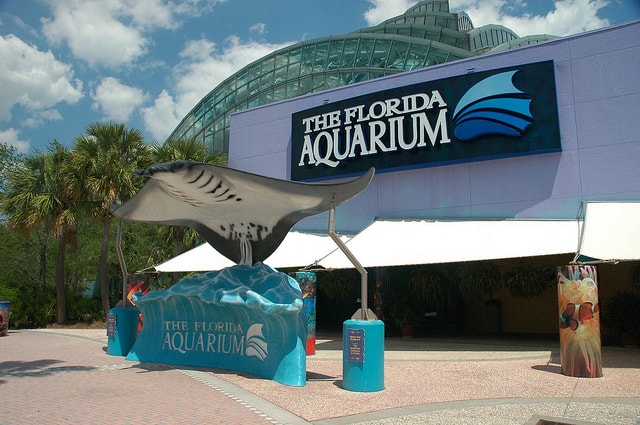 Source: Ekistics Design Studio (Flickr)
It might be a tourist favorite, but that doesn't mean it's not one of the more fun things for kids to do in Tampa Bay. Also, if you're looking for a rewarding and wholesome experience on your recovery journey, you could also consider volunteering.
18. Learn more about Florida.
South Florida Museum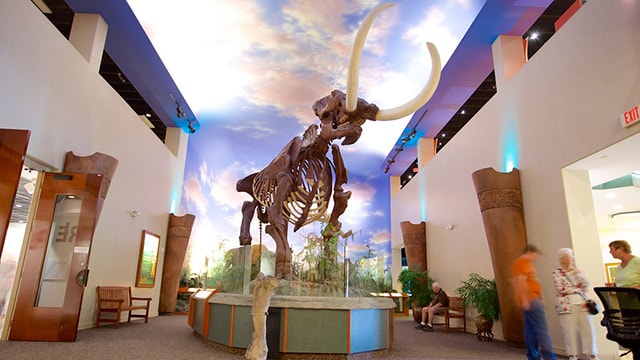 Source: South Florida Museum
Tourists flock to the Tampa Museum of Art and MOSI, but this museum has local interests in mind. From huge local fossils to an epic planetarium, the museum holds more educational goodies for everyone to enjoy. While you're there, be sure to visit the aquarium, which houses rehabilitated manatees. Just know that they might be mourning Snooty the Manatee, the super-curious 69-year-old manatee who recently passed away.
R.I.P. Snooty the Manatee: May your heaven be a waterway with no boats overhead and lots of smiles.
19. Do the most typical thing of all the typical things to do in Florida: Take a long walk on the beach. (But, hey, it's still pretty relaxing.)
Clearwater Beach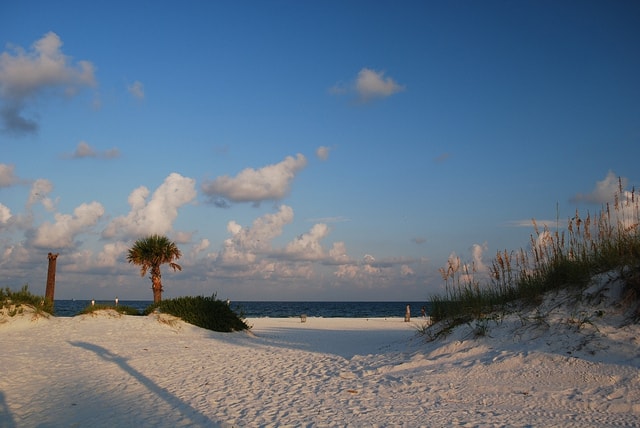 Source: rcgtrrz (Flickr)
A sunset nap, a kite-wielding excursion, a game of frisbee with friends, or a very typical dating-profile-worthy walk on the beach can be very therapeutic to our patients and coping friends. And Clearwater is one of the favorite Tampa, Florida, beaches to visit.
20. Or burn your toes on the only public black sand beach in Florida.
Caspersen Beach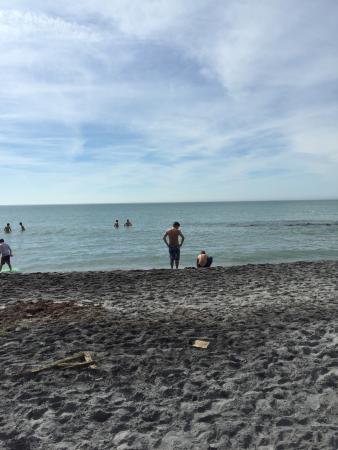 Source: This photo of Caspersen Beach is courtesy of TripAdvisor
Quiet Caspersen Beach, with its gray/black sands, is also one of the best places in the world for shark-tooth hunting. If you find one, here's how to make a necklace out of it.
21. Visit the world's largest shuffleboard club. Hey, don't knock it 'til you've tried it. (Or do knock stuff … as that's a part of the game.)
St. Petersburg Shuffleboard Club
Source: Carrie Waite (YouTube)
Every Friday from 7-11 p.m. is the St. Pete Shuffle, during which all visitors are welcome to play shuffleboard (weather permitting).
22. Go on an epic culinary quest.
Multiple Locations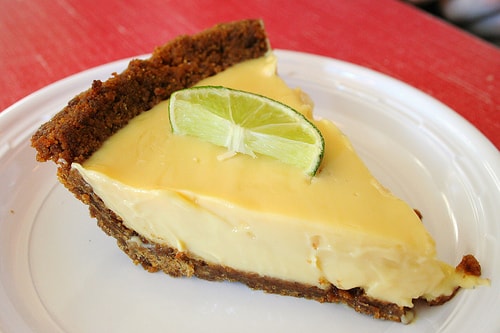 Source: Foodista (Flickr)
Tampa is home to great eats. Make it your goal to explore them. These are some examples of food adventures you could complete:
23. Reduce. Reuse. Recycle. Find the artist who takes the three r's seriously.
Hong Kong Willie's
Source: hongkongwillie (YouTube)
Ever heard the expression "one man's trash is another man's treasure"? Hong Kong Willie is the embodiment of that. He can make something out of any refuse or item found along the shore, and inspires all of us to be wiser when tossing out plastic. Locals know that he has some of the best junk art and composting worms around.
24. See the world's largest collection of autographed baseballs.
Schrader's Little Cooperstown exhibit at the St. Petersburg Museum of History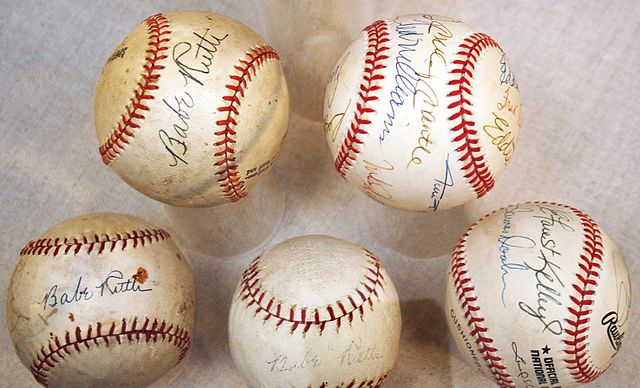 Source: Federal Bureau of Investigation (FBI) (Wikimedia Commons)
Out of all the different obscure, strange, and fun stuff to do in Tampa, FL, seeing a huge collection of signed baseballs in one of the most substantive baseball museums outside of Cooperstown, NY, is one of the most unexpected ones.
25. Take a dorky selfie with the chicken church.
The Church by the Sea in Madeira Beach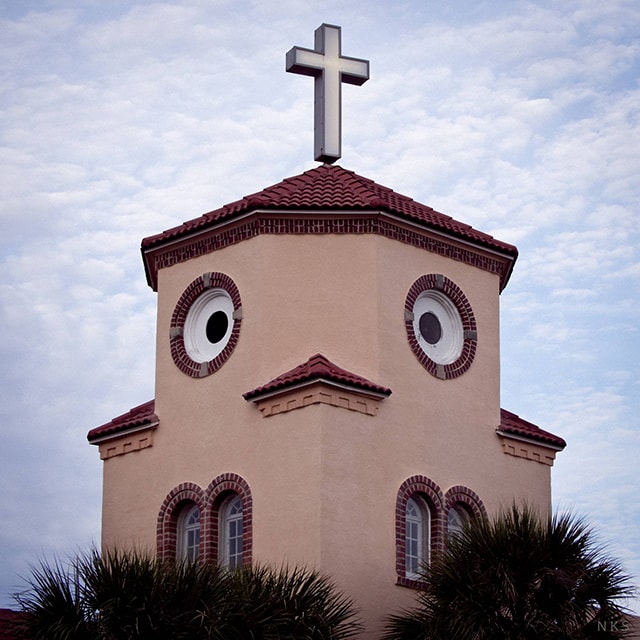 Source: lighthugger (Imgur.com)
An unintentional aspect of the architecture of this church is that it looks like an adorably baffled chicken. It's a favorite for selfies. It's hard not to grin when looking at its smile.
26. Visit Recyclosaurus on your way into the museum.
Museum of Science and Industry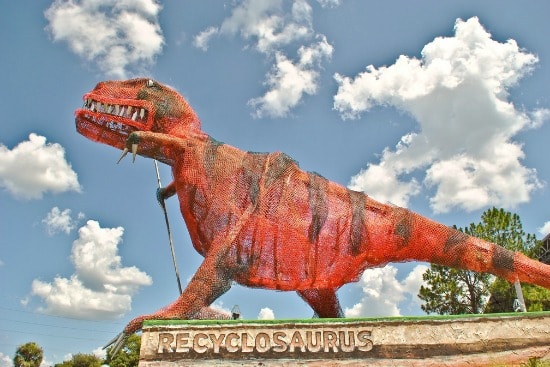 Source: Wyrmwren (Smithsonianmag.org)
It's a T-Rex made out of recycled materials sitting outside of the Museum of Science and Industry in Tampa. Kids activities, programs, exhibits, and events all help to promote STEM there. (If you didn't get enough dino-action with Recyclosaurus, visit Dinosaur World in Plant City.)
27. Too weird not to visit – tour the house inside a redwood in Tarpon Springs.
Redwood Log House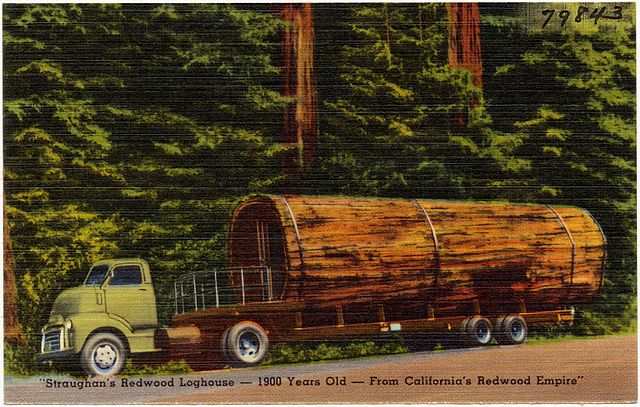 Source: Tichnor Brothers, Publisher (Wikimedia Commons)
We wish there was an explanation for this one, but there isn't. It's a house made from a 1900-year-old Californian redwood tree: a tiny home before it was cool. Because it's mobile, you should check to see if it's currently in the area.
28. Wave at mermaids.
Weeki Wachee State Park
Source: Weeki Wachee Springs State Park (YouTube.com)
It's not often you get to visit a city of live mermaids at an actual state park. One of the deepest underwater caverns in the U.S. is home to an attraction near Tampa that's drawn in audiences since 1947. Here's a nostalgic snapshot from the earlier years: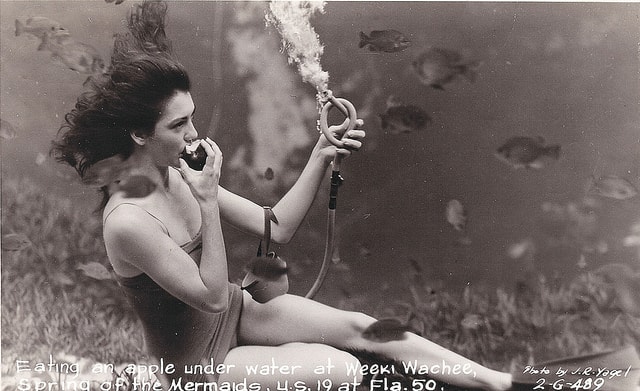 Source: ellen jo roberts (Flickr)
Check for upcoming show times to see when they'll be flippin' around.
29. But pirates are cool too.
Captain Memo's Pirate Cruise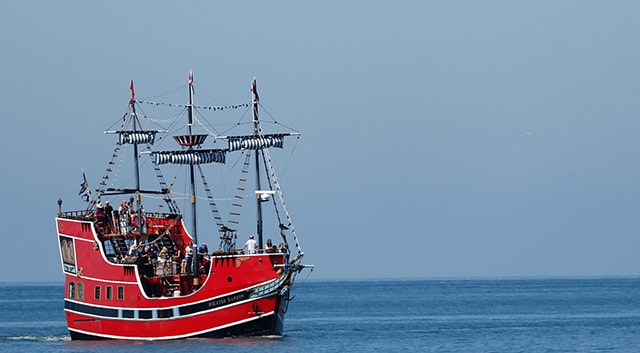 Source: CaptainMemo.com
Another common tourist activity is still one of the most unique, kid-friendly things to do in Tampa, FL. Most cruises (except for the champagne cruises) are for families. Give this local institution some love; they've been shouting "yar" for more than 40 years!
30. Unless you'd rather hang out with conquistadors.
De Soto National Memorial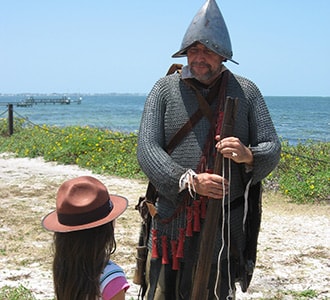 Source: nps.gov
Hernando de Soto made landfall in this area in 1539 and, today, it's often the source of living history exhibits.
31. Take life a little bit more seriously: rub your chin while studying contemporary art.
Contemporary Art Museum (CAM)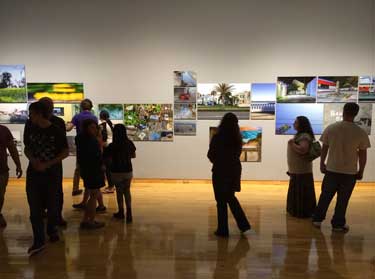 Source: University of South Florida
While the Tampa Museum of Art is certainly worth visiting, the University of South Florida houses more than 5,000 works for you to drool over. Also, it's free. So if you're looking for free stuff to do in Tampa Bay, stop by!
32. Or take life far too seriously while observing the dead on a ghost tour.
Ybor City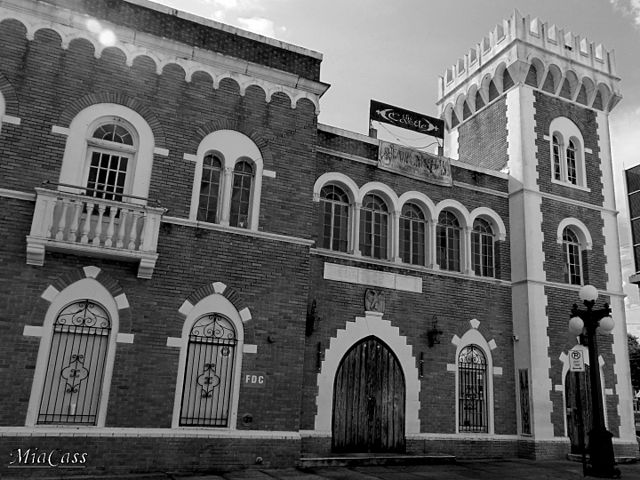 Source: MiaCass16 (Wikimedia Commons)
Ybor City is a cool place whether you're stopping by at the museum, riding a trolley, or trying to bust ghosts. No matter what, the area likely has fun things to do in Tampa tonight, but be aware of the downtown nightlife.
33. Accept an invitation to first Fridays at a Victorian hotel.
Henry B. Plant Museum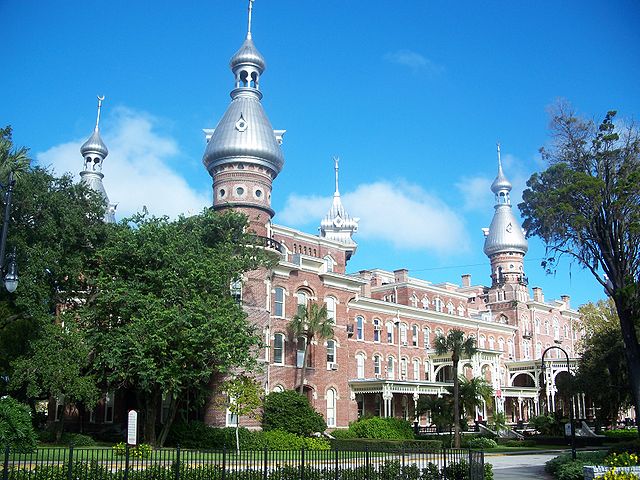 Source: Ebyabe (Wikimedia Commons)
The Henry B. Plant mansion is one of the most beautiful structures in Tampa. Things to do and see within the building are numerous. Admission is free between 5 and 7 p.m. for every first Friday (except during December).
34. Bike the longest continuous sidewalk in the world.
640px-Tampa_Bayshore_Blvd_looking_south01.jpg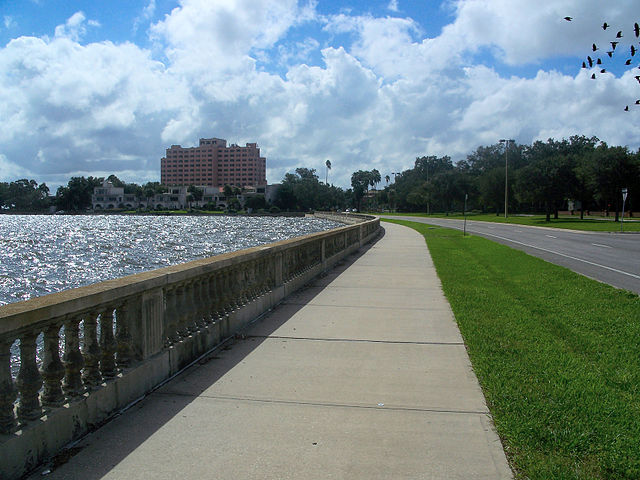 Source: Ebyabe (Wikimedia Commons)
At 4.5 miles long, this sidewalk is a cyclist's dream. If that's somehow not far enough for you, take a waterbike instead.
35. Or fish on the world's longest fishing pier.
Skyway Fishing Pier State Park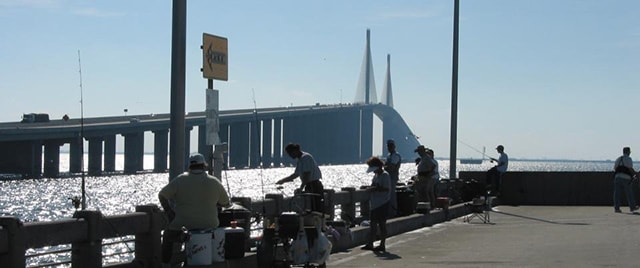 Source: Florida State Parks
This is one of the more calming activities in Tampa to do on a nice day. The pier, made from an old bridge, is a hotbed of fish. Locals say they can successfully catch grouper, red snapper, black sea bass, tarpon, anglers, and other types of delicious fish here. Just be aware that you may need a fishing license depending on your rod, as well as what and how much you're catching.
36. Go to one of the 8 zillion amazing state parks and observe the awesomeness of nature!
Multiple Locations
Alafia River State Park from Dustin Roedding on Vimeo.
Source: Dustin Roedding (Vimeo)
Consider any one of these parks near or around Tampa for your next adventure:
More of the Typically Recommended Things to do in Tampa Bay
If you haven't checked these locations out yet, stop by for some family fun.
Out of all the places one could take part in sober living, Tampa certainly can be life-fulfilling!