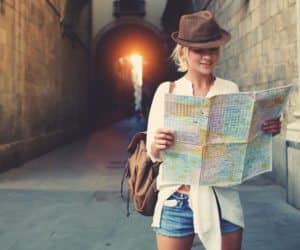 Recovery is a time of self-discovery and developing new, healthy habits that promote a life of sobriety. But early recovery can be challenging, especially when it comes to activities that you associate with substance use. For many, traveling for business or pleasure can pose a serious risk of relapse. These tips for staying sober while traveling will help you stay on the road to recovery wherever you are in the world.
Tips for Staying Sober While Traveling for Pleasure
Whether you're planning a short weekend getaway or you're heading off for an epic adventure, following these tips for staying sober while traveling for pleasure will reduce your risk of a slip-up during your vacation.
Choose Alcohol-Free Holiday Destinations Some destinations are more conducive to drinking than others. You don't want to plan a trip to Germany in October, and you're probably better off avoiding vineyard tours in Napa Valley. Consider alcohol-free holiday destinations instead, such as a sober cruise or a camping trip in your favorite state park. Choosing a destination where alcohol isn't served can help you enjoy your vacation without constant temptation following you around.
Take Along Support Not drinking on vacation can be very difficult, especially if others in your group are enjoying cocktails. If you're not choosing from alcohol-free holiday destinations for your vacation, bring along a sober or highly supportive friend or family member to help you avoid a lapse and enjoy yourself without alcohol.
Plan Ahead Know ahead of time what there is to do at your destination, and schedule as many as you can before you go. Not drinking on vacation will be easier if you have plenty of activities planned so that you're not sitting around idly. Remember, empty time is a common trigger for a slip-up.
Tips for Staying Sober While Traveling for Business
Traveling for business is far different than traveling for pleasure, especially if you're going solo. It can be even harder to stay sober when you're out of town on business due to long stretches of time to kill between or after meetings and the heavy social drinking that often occurs during these trips. Follow these essential tips for staying sober while traveling on business to keep you focused on recovery during your trip.
Attend Support Group Meetings One of the best tips for staying sober while traveling is to have a high level of support while you're gone, whether that means regular phone calls to check in with a loved one or taking a supportive co-worker or family member along for the ride. If regular support group meetings are an important part of your recovery plan, do some digging to find out when and where you can attend meetings during your trip. Staying connected to peers in recovery will help you stay motivated to remain sober, and it'll help bolster feelings of accountability and personal responsibility.
Book Sober Lodging If you can choose where to stay on your business trip, book lodging that doesn't have a bar on the premises, especially if holing up in the hotel bar during business trips is a particularly strong trigger for you. Consider staying at a budget or long-term motel, which won't usually have a bar on site. You may also want to consider booking a bed-and-breakfast or finding lodging through online travel marketplaces like airbnb or Craigslist.
Plan Activities for Down Tim If you're going to have large blocks of free time during your trip, plan some activities ahead of time to stave off boredom and keep you busy. Visit an art museum, tour a historic site, or see a movie, concert, or play. A quick Internet search will probably yield a plentiful list of things to do in your destination city.
Staying sober while you're traveling doesn't have to be a constant struggle. With a little planning ahead and by staying ever mindful of your thoughts and emotions, you can continue your successful recovery no matter where you end up on the map.
If you or a loved one needs help with abuse and/or treatment, please call the WhiteSands Treatment at (877) 855-3470. Our addiction specialists can assess your recovery needs and help you get the addiction treatment that provides the best chance for your long-term recovery.