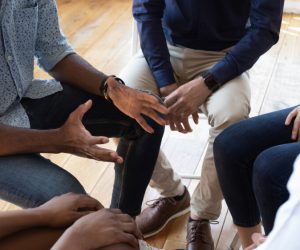 Understanding the Benefits of Inpatient and Outpatient Rehab
When you find yourself struggling under the weight of drug addiction, it can be hard to know where to turn. Substance use disorder entails many different illnesses with numerous treatments available to help heal them. There is no one-size-fits-all approach to treating drug addiction and alcoholism, and every individual situation varies. When seeking drug treatment or alcohol rehab, both inpatient rehab and outpatient rehab have their merits.
No matter what you call it or how it first arose, it's vital to seek help with your substance use disorder as quickly as possible. And as you do so, you will encounter several different terms and approaches to getting clean and staying sober. Keep reading to discover some key areas to know about inpatient and outpatient approaches to drug rehabilitation and treatment.
If you or a loved one are struggling with addiction, call WhiteSands Alcohol and Drug Rehab today at 877.969.1993 to learn how we can help.
Pros and Cons of Inpatient Addiction Treatment
For those looking for a clean break from their old life, staying in an inpatient drug or alcohol rehab center can be a vital first step. By freeing the person from their triggers and giving them a chance to focus on recovery, inpatient treatment centers create a powerful environment where addicts and alcoholics can heal.
If you are considering inpatient rehab for yourself or someone you love, it's essential to weigh the pros and cons carefully. For many people, a stay at a residential or inpatient drug treatment facility can be a true game-changer, providing a chance to focus entirely on recovery by removing preexisting triggers and providing space for healing.
Here are a few pros and cons of inpatient drug treatment to consider:
Pros
 Allows the addict to focus entirely on their recovery
Access the support of others in recovery
Receive assistance from a dedicated staff of professionals
Gain freedom from common triggers that would otherwise make recovery more difficult
Ability to live in a sunny and pleasant location for the duration of their recovery
Have professional support by your side 24/7
Cons
Can be disruptive, as it requires moving to a facility
Will be challenging to continue schooling
Disruption in employment (although employers are typically required to provide time off for treatment
Will be spending time away from friends and family
Pros and Cons of Outpatient Addiction Treatment
If you are dedicated to getting better and ready to reclaim your sobriety, working with a quality outpatient rehab center like WhiteSands Alcohol and Drug Rehab could be the first step on the road to a lifetime of recovery.
Like inpatient and residential rehab, the outpatient approach to drug and alcohol recovery also has its place. There are several pros and cons of working with a quality outpatient rehab facility, including the following:
Pros
Those in recovery can continue to go to school, working their way toward a better life
Recovering addicts can continue to work and support their families
Outpatient treatment lets patients maintain the support of their friends and family members
This form of treatment typically offers more flexibility than residential treatment models
Cons
Outpatient rehab is best suited for those with a strong desire to get better
Triggers will surround those in recovery, and they will need strong coping skills to resist them
In many cases, outpatient rehab will be used as an adjunct to, not a replacement for, inpatient drug treatment
At WhiteSands Alcohol and Drug Rehab, we believe in taking a holistic approach to drug and alcohol treatment. That means treating everyone we work with as the individual they are and designing a treatment protocol just for them. If you are tired of struggling with substance use disorder, we have a network of addiction treatment centers around Florida.
Whether you prefer the structure and rules of an inpatient treatment facility, the flexibility, and freedom of outpatient rehab, or a combination that gives you the best of both approaches, we can design a program just for you. Please contact us today to discover the ideal treatment program for your needs.
If you or a loved one needs help with abuse and/or treatment, please call the WhiteSands Treatment at (877) 855-3470. Our addiction specialists can assess your recovery needs and help you get the addiction treatment that provides the best chance for your long-term recovery.