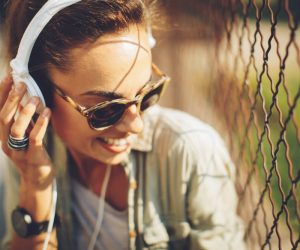 These Songs Can Help Keep You Motivated in Your Recovery
Making it through drug detox and rehab is a significant accomplishment in your life, and now you deserve to celebrate your achievements. As you move forward with your addiction recovery, you will want to reconnect with family and friends, even as you make new connections and move on with the rest of your life.
If you or a loved one are struggling with addiction, call WhiteSands Alcohol and Drug Rehab today at 877.969.1993 to learn how we can help.
As with so many things in life, having a playlist will make your recovery easier and more fun. There are plenty of appropriate songs that will keep your toes tapping every single day, but here are ten songs that will inspire your recovery and get you started:
I Will Survive by Gloria Gaynor – If there was an upside to the much-maligned disco era, it is undoubtedly this anthem of survival and independence. Gloria Gaynor's I Will Survive is the perfect soundtrack for your recovery, so put in your earbuds and sing it proudly.
Not Afraid by Eminem – There is a lot of fear, pain, and uncertainty when you are trapped in the cycle of addiction, but now that you are on the road to recovery, you can afford to be much braver. That makes Not Afraid the perfect soundtrack addiction for your recovery, so add it to your playlist today.
Fight Song by Rachel Platen – You have probably sung this song a time or two, but now is the time to really let your voice shine. This anthem to all things important in life is an excellent choice for any playlist, including the one you are building to aid your recovery.
Sober by Demi Lovato – One of the best songs to tackle the subject of addiction and sobriety head-on, the well-named Sober is the perfect addition to your recovery playlist. You will want to focus on the lyrics, so find a quiet time and cue up this wonderful song.
The More I Drink by Blake Shelton – This song by a country music superstar with his own personal issues is another great choice for your recovery playlist. Once again, you will want to focus on the lyrics, so choose a quiet spot and let this song wash over you.
B.o.B. by John Doe – No matter what the subject, John Doe always has something to say, and the poignant lyrics and powerful melody make this song one of the best. The hypnotic melody will have you humming along, but the lyrics will stop you dead in your tracks.
Recovery by James Arthur – If you are looking for inspiration in your recovery, look no further than this painfully honest song. This is a great one for your playlist, so download it and let it inspire you.
Dog Days are Over by Florence and the Machine – This band always delivers, and Dog Days Are Over is an especially apt choice for any recovery playlist. You are sure to enjoy this wonderful song, so download it to your favorite mobile device, put on your headphones, and take a health-restoring walk.
Not an Addict by K – The title says it all, but you will still want to listen to the lyrics and hum along with the catchy tune. This one definitely belongs on your recovery playlist, and it is destined to become one of your favorites.
Brave by Sara Bareilles – This is another song whose title speaks for itself, and this anthem to courage is the perfect choice for any addiction recovery playlist. You will still need to do the work, but this song is sure to inspire you throughout your addiction recovery.
Having the right tunes by your side can be a big help in recovery, and any of the ten songs listed above would be a worthy choice for your addiction recovery playlist. So grab your smartphone, download some tunes and get ready to sing along.
If you struggle during addiction recovery, WhiteSands Alcohol and Drug Rehab has the tools and resources to help you during this journey, so please don't hesitate to contact us today.
If you or a loved one needs help with abuse and/or treatment, please call the WhiteSands Treatment at (877) 855-3470. Our addiction specialists can assess your recovery needs and help you get the addiction treatment that provides the best chance for your long-term recovery.