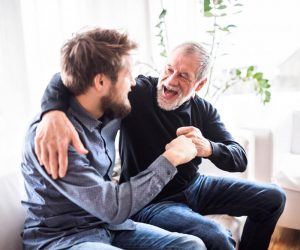 Providing an Inclusive and Comfortable Environment Aids in the Overall Journey Toward Sobriety
Former patient, Mike, attended WhiteSands Alcohol and Drug Rehab in Fort Myers after realizing that his addiction controlled his life. The difference of WhiteSands compared to other treatment facilities he attended and attempted in the past was immediately present as soon as he walked through the facilities' doors.
"You feel like family, don't hesitate to make the call. This is coming from someone with multiple rehabs in the past," he says with a smile.
The WhiteSands difference is unparalleled, and our center goes above and beyond in the levels of care and quality of treatment we provide and the accommodations and amenities offered.
If you or a loved one are struggling with addiction, call WhiteSands Alcohol and Drug Rehab today at 877.969.1993 to learn how we can help.
Eliminating the Institutionalized Model
Unfortunately, many patients fail in long-lasting recovery from addiction because the facility they sought treatment at applies a generic, one-size-fits-all approach to recovery. This modality simply does not work and is not conducive to long-lasting sobriety, as it does not consider any sort of underlying conditions that may be the driving force behind the addiction. By uncovering the root cause of the individual's addiction, a proper treatment program can be crafted.
Some of the elements that contribute to overall recovery and long-lasting sobriety are:
Attending a treatment program that includes dual diagnosis
One-on-one therapy with a primary therapist
Holistic means to recovery such as yoga and meditation
Individualized treatment programs based on the unique needs of patients
Full-time staff members that get to know patients on a deeper level
Fully customized treatment programs
When patients at WhiteSands Alcohol and Drug Rehab in Fort Myers know their recovery and success in treatment truly does matter, they are much more receptive to treatment.
"This is more than a rehab, intense therapy sessions, very comfortable detox; there is no rehab in the country like this one," Mike mentions.
Many of the staff members at Alcohol and Drug Rehab in Fort Myers are in remission from addiction and can genuinely resonate with patients and their struggles. Seeing how staff members have turned their life around for the better further motivates patients to make a lasting recovery and have the power to live productive and constructive lives. With the proper tools and resources necessary, patients have every opportunity to succeed in recovery.
Staying Active Throughout Treatment
WhiteSands Alcohol and Drug Rehab in Fort Myers offers a wide range of amenities and activities for patients to enjoy. When patients can spend their spare time taking part in something constructive, they build new healthy habits, hobbies, and skills that will help them post-discharge. The boxing program offered at WhiteSands Alcohol and Drug Rehab in Fort Myers has helped countless patients learn the art of boxing, which has inherently aided them in their recovery.
"The campus, weight room, yoga, and meditation room are excellent," Mike adds.
If you or someone close to you is struggling with a drug or alcohol addiction, contact our admissions and intake team at WhiteSands today. A brief patient assessment will be conducted over the phone that will help in guiding you toward the first steps in the recovery process. The sooner you call for help, the faster you can lead a fulfilled and content life. Our treatment center has helped tens of thousands of individuals make a full and lasting recovery, and we can help you too.
If you or a loved one needs help with abuse and/or treatment, please call the WhiteSands Treatment at (877) 855-3470. Our addiction specialists can assess your recovery needs and help you get the addiction treatment that provides the best chance for your long-term recovery.