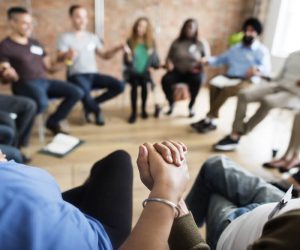 What Is Inpatient Drug Rehab? 
Deciding to work through your drug addiction is undeniably one of the most important decisions that you will make in your life. If you're in a position where you need to change the environment around you during the early stages of your treatment, you may be an excellent option for the best inpatient drug rehab in Tampa. This is exactly what you will find when you come to WhiteSands Alcohol and Drug Rehab.
If you or a loved one are struggling with addiction, call WhiteSands Alcohol and Drug Rehab today at 877.969.1993 to learn how we can help.
What Makes WhiteSands the Best Inpatient Drug Rehab
In 2020 and 2021, WhiteSands was voted the #1 Addiction Treatment Center in Florida by Newsweek magazine. Newsweek's rankings are based on a survey of medical professionals asked to evaluate treatment centers based on the quality of care, the services, the follow-up care, and accommodations and amenities.  
In addition to this recognition from the medical community, WhiteSands' two inpatient and 14 outpatient treatment centers across Florida have received hundreds of 5-star google reviews from former clients and their families.  
Inpatient Drug Rehab Treatment Options 
An inpatient program, or a residential treatment program, will provide you with the care and structure you need and deserve as you take steps toward overcoming your addiction. A focal part of your time at the best inpatient drug rehab in Tampa will be incorporating certain forms of therapy into your overall treatment program. Types of treatment that you will experience during your inpatient treatment include: 
Behavioral therapy 

Group therapy 

Family therapy 

Individual therapy 

Trauma-based therapy 
When you reach out to our intake team, we will provide you with a more detailed explanation of what you can do during each form of therapy. 
How Long Does Inpatient Drug Rehab Last? 
The length of your time in inpatient treatment will be one of the personal decisions you will need to make. Many people don't feel comfortable committing any more than 30 days of treatment at first. In contrast, others think they can't truly overcome their addiction unless they complete a more comprehensive 60 or 90-day recovery program. This is a decision that you should always make with the help of your treatment team so you can truly make the most out of your time in recovery. 
Remember, you may need to complete a detox program before inpatient rehab. Depending on the length of your time in addiction, your drug of choice, and the severity of your addiction, you may experience withdrawal symptoms that could make it impossible for you to properly care for yourself. Detox typically lasts approximately seven days. After that, you will be in a better place physically and psychologically to focus on overcoming your addiction. 
Inpatient vs. Outpatient Drug Rehab 
Before you decide to commit to an inpatient program, you must understand the differences between inpatient and outpatient programs. Whereas an inpatient treatment program requires you to live on the campus of our facility, an outpatient program provides you with more flexibility when it comes to your treatment program. You will be able to come and go around your work or school schedule, and you will be able to adjust your treatment program should any unforeseen situations come up throughout your recovery. Keep in mind that you can always transition into an outpatient program after an inpatient program if you would like to continue to work on your recovery. Our treatment team will speak with you about this in greater detail once you get closer to the end of your inpatient treatment program. 
Inpatient Drug Rehab at WhiteSands
At WhiteSands Alcohol and Drug Rehab, you will find the relaxing environment every person needs to overcome their addiction. Our intake team is available around the clock to answer any questions or concerns you may have regarding why we are considered the best inpatient drug rehab in Tampa. To learn more about our inpatient treatment options, we encourage you to call us to speak with a treatment specialist anytime, 24/7. Calls are completely confidential.
If you or a loved one needs help with abuse and/or treatment, please call the WhiteSands Treatment at (877) 855-3470. Our addiction specialists can assess your recovery needs and help you get the addiction treatment that provides the best chance for your long-term recovery.