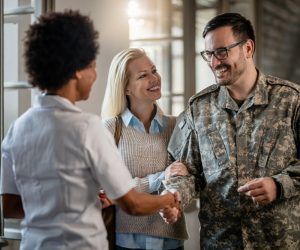 Veterans and Substance Abuse
According to the U.S. Census Bureau, there were roughly 18 million American veterans in 2018, which made up 7% of the American adult population. The unique stress and culture of the military can cause some veterans to cope in unhealthy ways, including abusing drugs or alcohol, which can lead to drug rehab for veterans. 
While active military members can face dishonorable discharge and criminal charges if caught with illicit drugs or fail a drug test, veterans may not face the same repercussions. Studies show that the rates of illicit drug use increase when active duty personnel leave military service. 
According to the National Institute on Drug Abuse (NIDA), marijuana accounts for the vast majority of drug use among veterans, with 3.5% reporting use and 1.7% reporting use of another illicit drug other than cannabis over a one-month time period. Further, between 2002 and 2009, marijuana use increased by more than 50% among veterans who received health treatment from the Veterans Health Administration (VHA). 
Opioid drugs are often commonly misused among veterans to help with pain management. In fact, more than two-thirds of veterans report feeling consistent pain, and more than 9% reported experiencing chronic to severe pain. Because of this, veterans have a higher risk of developing an addiction to prescription drugs, as well as a higher risk of accidental overdose. Studies show that between 2010 and 2016, the overall opioid overdose rates of veterans increased by 7%. 
In addition to illicit drugs and prescription drugs, some veterans also struggle with an addiction to alcohol. According to a 2017 study conducted by the National Survey on Drug Use, veterans were more likely to use alcohol and to report heavy use of alcohol as compared to their non-veteran counterparts. In fact, 56.6% of veterans reported drinking alcohol, and 7.5% reported heavy alcohol use in a one-month period. 
Additional statistics on veteran substance abuse include: 
More than 10% of veterans have a substance use disorder

Nearly 40% of veterans from Afghanistan and Iraq were likely to abuse alcohol

About 3% of veterans from Afghanistan and Iraq were likely abusing drugs
Often, substances such as drugs or alcohol are used by veterans in an attempt to self-medicate for mental conditions such as anxiety, depression, post-traumatic stress disorder (PTSD), and more. In fact, those who experienced trauma or were hospitalized or injured on duty are at a higher risk for increased drinking or drug use. 
If you or a loved one are struggling with addiction, call WhiteSands Alcohol and Drug Rehab today at (877) 640-7820 to learn how we can help.
How Much Does Drug Rehab Cost for Veterans?
If you or a loved one struggles with addiction, consider help from a professional drug rehab facility. The cost of drug rehab for veterans can vary. However, the VHA takes mental health and mental health needs seriously. As such, the VHA may include mental health services such as: 
Grief treatment

Anxiety treatment

Depression treatment

Post-traumatic stress disorder (PTSD) treatment

Military sexual trauma (MST) treatment

Substance use disorder (SUD) treatment

Other needs based on your situation
The Affordable Care Act (ACA) defines mental health services and substance abuse treatment as essential benefits. Therefore all permanent health insurance companies must have some level of coverage. However, the specific benefits you receive and how much your treatment costs for drug rehab for veterans will vary. Veterans have access to a wide range of treatment options, including inpatient drug rehab, outpatient treatment, mental health counseling, and other services. 
The cost of drug rehab for veterans will also depend on the level of care needed. For example, inpatient or residential treatment may cost more compared to a part-time treatment plan, such as outpatient or day-night treatment. 
A residential program typically lasts between 14 and 21 days. During this time, patients will attend four-to-five therapy sessions per week, including individual therapy, group therapy, family systems therapy, and more, as well as set and work towards different goals. 
Outpatient drug rehab for veterans can last anywhere between 30 and 90 days. This type of treatment option includes three hours of group sessions, three days or nights per week. Here, patients learn life skills to help them prevent relapse in recovery. 

Issues That Affect Recovery for Veterans
Veterans, especially those that have experienced combat, have a higher rate of substance use disorder than the general population. A 2013 report done by the National Academy of Sciences found that 44% of veterans returning from deployment in Iraq and Afghanistan experienced substance use disorder, depression, PTSD, and other challenges. 
Additionally, homelessness, incarceration, and suicide are also more prevalent among veterans than non-veterans. And those experiencing substance abuse, PTSD, and other mental conditions are at a higher risk of homelessness, substance abuse relapse, and related hospital admissions. 
Drug rehab for veterans and other mental health services for veterans is crucial to their recovery and sober living. However, according to the Substance Abuse and Mental Health Services Administration (SAMHSA), only about half of veterans receive the mental health or substance abuse treatment they need because of a myriad of potential treatment barriers. 
In addition to personal beliefs, societal stigma, and organizational shortcomings, common treatment barriers for veterans may include the following: 
Viewing getting help as a weakness

Embarrassment or shame about the addiction or mental health conditions

Worry that treatment services will affect job eligibility

Long wait times for VHA services

Lack of faith in the veteran medical system

Logistical issues in accessing drug rehab for veterans

Unaware of treatment options
To help reduce barriers veterans face to receiving addiction treatment, the Department of Defense and the VHA have increased the number of outreach programs to enhance veterans' access to health services, hired more mental health professionals, and increased the number of psychological health treatment programs available to veterans. 
Veterans Can Find Sobriety at WhiteSands
For veterans struggling with drug or alcohol abuse, consider seeking help from WhiteSands Alcohol and Drug Rehab. Here, patients can enroll in inpatient/residential treatment, intensive outpatient treatment, or day and night services. The level of care best for you depends on the severity of your addiction, as well as the type of substance you misuse. However, no matter which level of care you choose, you'll receive custom individualized treatments created especially for veterans to help you overcome your addiction and enjoy sober living. 
If you're a military vet who turned to drugs or alcohol as a way to cope with your trauma, visit WhiteSands Alcohol and Drug Rehab to achieve sober living. This drug rehab facility offers medically-assisted detox to safely and gradually wean an individual off unhealthy substances. Medication assistance stabilizes an individual in withdrawal and eases the discomfort and symptoms of withdrawal. 
After detox, patients will participate in a variety of therapy programs, including individual therapy, group therapy, family systems therapy, trauma-informed therapy, music therapy, art therapy, cognitive behavioral therapy, dialectical therapy, and more to address issues from the past and present that contributed to your addictive behaviors. 
Unfortunately, many veterans turn to drugs and alcohol for comfort when they return home from military service. Many times, drugs and alcohol are used to self-medicate for injuries, emotional damage, psychological turmoil, and trauma. WhiteSands understands this and offers veteran-specific substance abuse treatment. 
If you or a loved one needs help with abuse and/or treatment, please call the WhiteSands Treatment at (877) 855-3470. Our addiction specialists can assess your recovery needs and help you get the addiction treatment that provides the best chance for your long-term recovery.