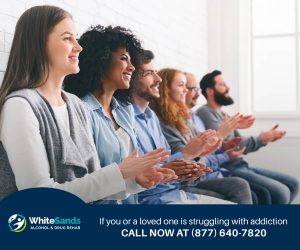 Plant City, Florida—A former client is wasting no words in praising WhiteSands Alcohol & Drug Rehab in Plant City, Florida, extolling its programs and staff. 
"WhiteSands Plant City literally saved my life," wrote Jamie, the grateful former client, in a five-star review on Google. "Everyone who works in this facility has helped me tremendously, and I could not be more grateful!"
"Lifesaving" may seem like a strong word, but WhiteSands' treatment programs for substance use disorders can be the lifeline addicts need to pull them back from the brink of fatal dependence. Its programs have profoundly changed lives for the better.
WhiteSands is a highly regarded treatment program with several residential and outpatient facilities throughout Florida. For three consecutive years, it has been named one of Newsweek magazine's best addiction treatment centers in America and the best in Florida. WhiteSands has more clients living in sustained recovery after leaving treatment than many other programs, thanks to its emphasis on relapse prevention and continuing outreach to graduates. Treatment programs include group and individual behavioral therapy; accelerated resolution therapy; sober living facilitation; mental health treatment; trauma therapy; and dual diagnosis treatment, which approaches addiction as a symptom of an underlying emotional or psychological condition rather than as a single disorder.
Because the facility offers all levels of care, patients are guided throughout each stage in the recovery process, from inpatient residential treatment to outpatient rehab, partial hospitalization and beyond. 
At WhiteSands' Plant City facility, as clients do throughout the group, Jamie found a dedicated community of addiction specialists. The treatment team includes board-certified specialists who are experts in their field, with specialties that include behavioral therapy, partial hospitalization, alcohol rehab programs and medical detox. They don't take a generic, one-size-fits-all approach but custom-design programs so each patient gets the individual care and attention they need for lasting recovery.
Treatment at WhiteSands also goes deeper than healing the addiction but is designed to reveal its root causes. Options include family therapy, which can be an essential part of the healing process for clients who are ready to explore their issues; it is only conducted with the client's prior permission.
WhiteSands' overarching treatment goal is not just to bring clients to sobriety but to do so by helping them develop a healthier sense of self, stronger interpersonal relationships and the skills to reduce the chance of relapsing. As a result, clients leave WhiteSands with a rejuvenated mindset and confidence in their ability to sustain their sobriety for life – the kind of transformation Jamie found.
Many clients who have been treated at WhiteSands are impressed by the recreational and social activities that are included in treatment. WhiteSands offers an array of recreational and social activities in a comfortable setting. These comfort features are not offered as pampering privileges but are provided out of an accepted therapeutic strategy. It has been well-documented that clients are much more receptive to treatment and more likely to succeed in recovery when their whole self is cared for, not just their physical addiction. 
For this reason, WhiteSands includes an on-site recreation center where patients can come when they finish treatment at the end of the day. In the state-of-the-art center, they can participate in activities that include a boxing program to burn off pent-up energy while getting physically fit. WhiteSands set up the boxing program to help clients exert energy in a healthy, constructive manner while also improving their physical health and exploring new interests. 
Anyone seeking comprehensive treatment for a substance use disorder can visit WhiteSands Alcohol & Drug Rehab or call 877-959-2008.
If you or a loved one needs help with abuse and/or treatment, please call the WhiteSands Treatment at (877) 855-3470. Our addiction specialists can assess your recovery needs and help you get the addiction treatment that provides the best chance for your long-term recovery.