Understanding IOP Programs
White Sands drug rehab treatment program is provided on an inpatient and an outpatient basis and is customized to suit each person's unique needs. For many, an intensive outpatient program (IOP) is the best option after they complete their detox, as it is a flexible type of treatment plan that does not disrupt everyday life as much as leaving home for residential care might.
The White Sands IOP program in Tampa is top-tier, as all care is provided within a high-end treatment facility, with care from expert doctors, psychiatrists, psychologists, counselors, and life skills guides who truly want to help. Through a 30-to-90-day program, you will get the care you need, while continuing to attend class or take care of your responsibilities at home, the perfect combination of living life and strong support from experts in addiction treatment.
IOP programs are rehab treatment plans that are part-time. Patients live and sleep at home or in a sober living home, going into the rehab center for therapy, doctor's appointments, group sessions, and life skills coaching at pre-set times. At White Sands, these are three one-hour groups, three days per week, along with individual psychiatrist visits.
To help patients integrate their everyday lives with their new recovery skills, life skills guides will check in with them every single day for 90 days, ensuring that things are going well and they are staying on track. When a person hits a stumbling block, there will always be somebody they can talk to about it, who can provide real support and solutions.
 IOP is a very important step in many people's recovery, even if they have completed an inpatient drug rehab program, as it teaches patients, through real-world experiences, how to apply the knowledge and skills they have learned to their everyday lives.
The WhiteSands Difference: Our IOP Program in Tampa
WhiteSands takes a unique approach to sober living and support for patients in an IOP program, with a variety of therapies offered in a customized program tailored to each person's needs, which is what makes it one of the best IOP rehab centers near Tampa.
Early recovery is a vulnerable time for many people, and knowing that there is a full team behind you, there to talk to 24/7, can make all the difference in a person's sobriety. There is a strong social element to the services provided as well, including group therapy, support groups, and family therapy as part of many people's programs.
Comprehensive Approach to Treatment
WhiteSands offers different types of treatments and therapies to address the different aspects of addiction, including cognitive behavioral therapy, dialectical behavioral therapy, group therapy, individual counseling, social support, family therapy, life skills training, and relapse prevention training. Addiction is a complex disorder, and healing the underlying roots of addiction, while addressing the physical, social, emotional, behavioral, and psychological needs of each patient, and inspiring them with hope for the future, is exceedingly important. Achieving a full recovery is possible, and the WhiteSands drug rehab treatment team helps individuals get there through this integrated approach.
Personalized Treatment Plans
Every person is an individual, with unique histories, symptoms, mental health conditions, and substance use disorders. Therefore, treating addiction should also be an individualized process, with programs customized to suit each patient's needs.
At the WhiteSands outpatient drug and alcohol treatment center near Tampa, patients receive a full and in-depth assessment of their needs, to find out whether a medication-assisted treatment plan, a dual diagnosis program, or other customized care is required. They will learn all about your history, your health, and your goals for the future, and then make a program that works for you. This will give you a much better chance of achieving a full recovery.
Exceptional Aftercare and Support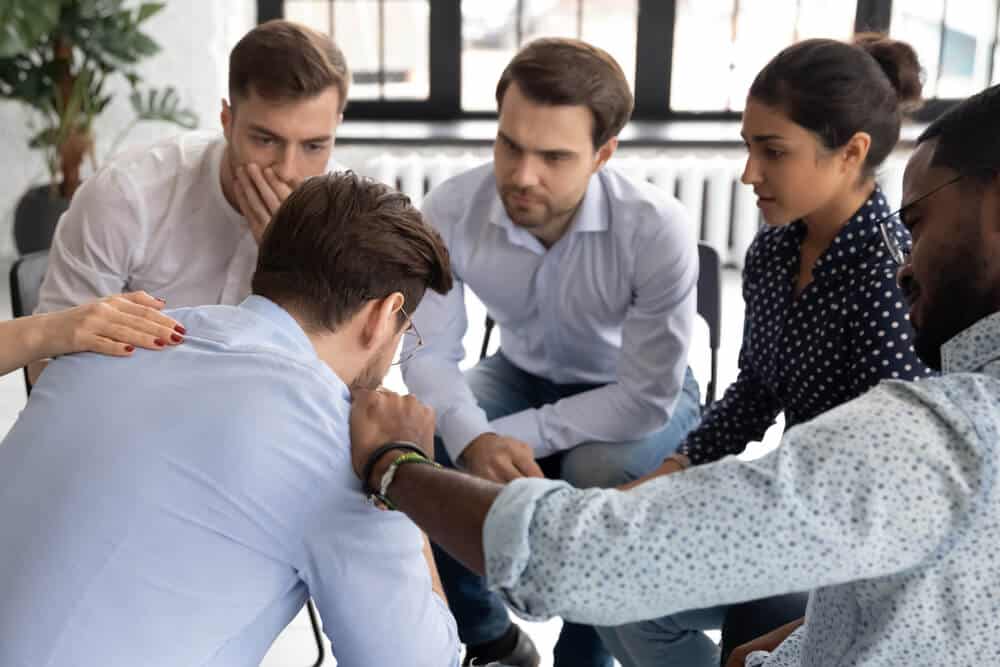 Addiction is a life-long, chronic disease that requires consistent management, even years after rehab is over. You will likely find yourself with cravings, or noticing the first signs of relapse at some point in your recovery, but knowing how to identify these issues right away, and remaining connected to sober support that is there whenever you need it can help you stay on track.
At WhiteSands, we provide lifelong support and ongoing aftercare services to all of our patients, so you will always have somewhere to turn. This includes resources like a 24-hour hotline and online check-in meetings, daily alumni gatherings, and a fun and active alumni group you can join. You can also be connected to local 12-step groups, sober living homes, and other local sober resources.
You can also set up an appointment with your therapist for an individual session, get psychiatric care for any mental health disorders, and see your medical doctor at any time. If you believe you would benefit from more time in an inpatient or outpatient rehab program, that is also always available to our alumni.
Comparing WhiteSands' IOP Program with Other Tampa Programs
WhiteSands Treatment center is the premiere choice for rehab in the Tampa area for several reasons, including:
A wide variety of customized treatment options

– our programs are tailored to suit each individual who comes for addiction treatment. In contrast, other rehab centers may only offer a one-size-fits-all plan that does not integrate behavioral health care, psychiatric care, or holistic health care into a person's program.

Life-long aftercare support

– unlike other rehab centers that do not keep their alumni connected for life with resources, care, and support, WhiteSands will ensure that you always have somewhere to turn when life feels especially difficult, or when you are confronted with a trigger. This includes groups and alumni meetings, but you can also set up an appointment with your medical provider or psychiatrist as needed as well.

Life skills programming

– our integrated treatment plans incorporate customized help for individuals who may not have the life skills needed to integrate back into everyday life, away from drugs and alcohol. This may be because their social circles and lifestyle used to revolve solely around substance use, or because they did not have the same opportunities that other people take for granted. Our case managers and life skills coaches will help set each of our patients up for a successful life after rehab.

A convenient schedule

– Our treatment sessions during an IOP can be tailored to suit your work schedule or other practical needs. The group sessions only take three hours, and happen three days a week, and then you can schedule your other appointments around the work week, your school timetable, or your family needs. Some other IOP programs happen during the day, or more frequently throughout the week, which can interfere with work and other responsibilities.

An easy transition from inpatient rehab

– because WhiteSands offers all levels of care, it is much easier for people leaving inpatient treatment to join the WhiteSands IOP, as we introduce you to all of your outpatient care providers weeks before you make the transition. If you were to transition into a different treatment plan, you would have to get to know all therapists and doctors over again, re-telling your story and starting over with a new routine.
Success Stories: Triumph Over Addiction with WhiteSands' IOP Program
Many people have benefitted from the IOP program at WhiteSands. In a recent review of the IOP program, a patient named Michael wrote that he found the transition from a partial hospitalization day program into the IOP to be seamless and that he truly enjoys coming to the tranquil, peaceful WhiteSands space after work and classes.
A reviewer named Fred W. wrote that he had the best experience at WhiteSands, because of all of the informative group sessions, and the helpful staff. He now feels prepared and excited to get back to his life and is ready to make the necessary changes to stay sober long-term while following an aftercare plan that was formulated specifically for their recovery.
Another patient named Anthony writes that the staff was great to him, with his case manager going above and beyond to help him find housing and aftercare treatments once his program was over, removing that huge stress from his life. He found that the family therapy sessions helped his relationship with his wife, allowing them to move forward in life together with better communication and a better understanding of addiction.
Start Your Recovery Journey with WhiteSands' IOP Program in Tampa
If you are considering treatment for a substance use disorder, you can trust the treatment team at WhiteSands to put your needs first. We are a fully accredited rehab center, with customized care programs run by highly qualified doctors, nurses, therapists, psychologists, psychiatrists, and life skills coaches. Through individual sessions, and a minimum of 9 hours per week of group therapy, you will be able to take back control over your life, get healthy, and overcome addiction at your own pace, with strong support every step of the way.
Please call 813-285-5113 today for a tailored IOP program at WhiteSands in Tampa. Discover why our approach to addiction recovery is unparalleled. You will never be alone again in your recovery journey.
Frequently Asked Questions About IOP Programs Near Tampa
The following are some of the top most frequently asked questions about intensive outpatient treatment plans in Florida. If you have any further questions or need assistance with a substance use disorder right away, you can call the WhiteSands treatment center now, at 813-285-5113 and our team of dedicated addiction experts will be able to guide you in getting the treatment you need.
What is the IOP Program at WhiteSands Tampa like?
When you enter the IOP program at WhiteSands, you will receive personalized and tailored addiction treatment, after an in-depth assessment of your condition that covers your physical and mental health, your needs, and your concerns. At WhiteSands, we consider a substance use disorder to be a complex issue that affects every aspect of a person's life, so our comprehensive treatment plans address the body, the mind, and the spirit in behavioral health, holistic, and scientifically-based programs, with a strong aftercare component.
How does the IOP Program in Tampa compare with other programs in the area?
The WhiteSands intensive outpatient program is a high-quality treatment program with more services, amenities, and quality care than many of the other drug rehab programs in Tampa. We take a well-rounded approach to healing that covers so much more than substance use. Our evidence-based therapies are effective and safe, and we ensure that our patients are always comfortable and supported.
On top of that, our team is compassionate, well-trained, and highly skilled in all they do, and put their focus on helping you succeed and achieve your personal recovery goals in the present, and in the future as well.
Who is the IOP Program suitable for?
The IOP program at WhiteSands is suitable for any patient who has completed an inpatient rehabilitation program. It may also be right for people who have just completed a detox program. Those who are best suited for an outpatient treatment plan are those who are no longer experiencing strong drug cravings, and who have their mental health conditions under control. They should be ready to put effort into their treatment, and willing to show up multiple times a week to appointments, groups, and other care.
 As they will not be living inside the treatment center, they must have somewhere supportive, safe, and sober-friendly to live. Those who have strong family and/or friend support will have a higher likelihood of success.
What kind of therapies and treatments are included in the IOP Program at WhiteSands Tampa?
When you join the WhiteSands IOP program in Tampa, you will have three one-hour group sessions, three days per week, along with individual therapy sessions, and follow-up sessions with a psychiatrist. There are case management services to help you get the life skills you need to move forward on a positive track, including job interviewing and resume building, along with life skills development.
These treatments will be given to help you gain the necessary skills to live life substance-free, dealing with stress, cravings, temptations, and mental health issues one day at a time. With your new knowledge, coping mechanisms, and the strong support offered by the WhiteSands team and other local recovery groups, you will be able to stay sober long-term.
Can I balance work or school with the IOP Program at WhiteSands Tampa?
Yes, the purpose of an intensive outpatient program is to allow you to return to your life, living as normally as possible as you get continued care and treatments. This will allow you to integrate your new lifestyle and recovery strategies into your real, everyday life. You will have new ways of communicating with friends and loved ones, new stress-reduction strategies, and healthy living knowledge that you can incorporate into your daily routine.
What makes the IOP Program at WhiteSands Tampa different?
The WhiteSands IOP addiction treatment in Tampa is unique because it not only includes a variety of therapies and groups that are chosen to suit your unique needs as a patient best, but also because you will have a life skills guide checking in daily for 90 full days, you will have the option to live in a sober living residence if you need it, and you will have up to 90 days of care, followed by a life-long recovery program, a resource that you can tap into as needed.
How can I join the IOP Program at WhiteSands Tampa?
It is easy to get started with WhiteSands, and if you feel ready to take the first step toward your new life in recovery, you can call our team at 813-285-5113. We answer our phones 24 hours a day and are ready to help you now. Our team understands what you are going through, and will guide you in your options, so you can get the help you need as quickly as possible.
What support is available after completing the IOP Program at WhiteSands?
Once you complete the 30-to-90-day WhiteSands IOP program, you are not left on your own. We have a Recovery and Wellness Program that helps with the transition back to everyday life. There is a 24-hour hotline you can call any time of day, there are daily alumni groups and check-in meetings, and further support that allows you to stay connected with the same healthcare providers and therapists, so you don't have to tell your story over and over again to new doctors. There is also a very active alumni group connected with WhiteSands who hold events like alumni picnics, summer BBQ events, and even play paintball together. 
If you or a loved one needs help with abuse and/or treatment, please call the WhiteSands Treatment at (877) 855-3470. Our addiction specialists can assess your recovery needs and help you get the addiction treatment that provides the best chance for your long-term recovery.