Man Praises WhiteSands Treatment Winter Garden for Offering a "Great Selection of Classes to Attend"
addiction and recovery • Addiction RecoveryMan Praises WhiteSands Treatment Winter Garden for Offering a "Great Selection of Classes to Attend"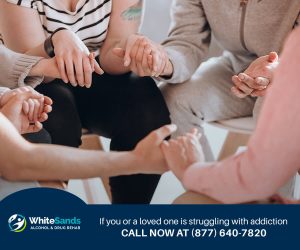 Winter Garden, Florida—After longtime substance abuse, finding true sobriety is not just a matter of kicking the addiction; it's a journey that requires honest introspection and serious exploration. A man who found success on his path to recovery is praising the guidance he received at WhiteSands Alcohol & Drug Rehab.
"I can't thank this facility enough," wrote Michael, the patient, in a five-star review. "All the staff go out of their way to ensure that our recovery is as easy as can be. They offer a great selection of classes to attend and will ensure that you get the treatment that you need. If it wasn't for this place, I don't know where I would be!!!"
Michael attended the WhiteSands program in Winter Garden, Florida, one of 17 outpatient and residential facilities the company operates throughout Florida. Like all the other locations, Winter Garden offers personalized therapy and individualized treatment from detox through inpatient and outpatient rehab and continuing to long-term aftercare to help patients avoid relapse for as long as they need.
WhiteSands' recovery program includes job skills training, financial counseling, nutritional evaluation and various other therapies designed to provide every opportunity to continue a successful recovery after returning home. Through its unique Life Skills program, patients have the chance to learn all the skills they need to function successfully in the world; classes include time management, career guidance, money management and effective communication. The goal is for participants to learn the practical necessities of functioning in society, setting them up for success in life and, therefore, sobriety.
WhiteSands defies the common misconception about drug and alcohol rehab, that it simply begins with a few painful days of detox followed by a few drab weeks of therapy ending in a cure. Instead, treatment at WhiteSands is a sophisticated program of specialized treatments that are equally as focused on all three drivers of addiction: physical, emotional and psychological.
This means delving into the root causes of their addiction with evidence-based therapies that also help the patient find new ways to cope with the circumstances that may lead to addictive behavior. These include individual therapy, where the patient meets one-on-one with a trained psychologist or counselor, and several varieties of group therapy, such as support groups, experiential therapy and psycho-education. Topics addressed in therapy sessions include challenges faced by the patient in their social, family, and work/school life.
A unique feature of WhiteSands' treatment is its insistence on creating a comfortable environment where patients; one of its core philosophies is that a comfortable patient is a successful patient. In fact, to further this sense of dignity and respect, WhiteSands patients are not called "patients" but "guests" when not in treatment.
Well-appointed surroundings, fun social activities, appetizing meals and a reliable routine help patients feel good about themselves and show them life without alcohol and drugs can be happy. Patients also have access to a salon offering haircuts for men and hair and nail services for women.
Two special programs take a therapeutic approach to this belief.
Nutrition therapy uses diet to address physical, emotional, and medical conditions. Dietary plans are designed by professional nutritionists or registered dietitians, and patients follow them in order to positively affect their physical and mental health. 
Recreational therapy provides creative and fun activities to help with addiction recovery. Recreational therapists lead patients in entertaining and engaging activities like sports or games; art (drawing, painting and sculpture); drama, music, and dance; and/or community outings.
The overarching philosophy is that everyone deserves a welcoming, supportive environment in which to discover a sober life.
Anyone seeking comprehensive treatment for a substance use disorder can visit WhiteSands Alcohol & Drug Rehab or call 877-855-3470.
If you or a loved one needs help with abuse and/or treatment, please call the WhiteSands Treatment at (877) 855-3470. Our addiction specialists can assess your recovery needs and help you get the addiction treatment that provides the best chance for your long-term recovery.