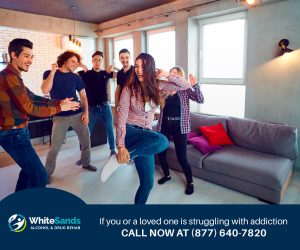 When you need alcohol detox Tampa, think WhiteSands. WhiteSands is a leading Tampa alcohol and drug rehab center that offers a complete range of detox and addiction treatment programs. If your loved one is addicted to alcohol, you can get professional assistance at our treatment center. 
The first step in the recovery process generally begins with alcohol detox. Not everyone who has an alcohol use disorder needs medical detox, but most people do. Alcohol detox addresses the physical aspect of the addiction. Once the physical phase is addressed, clients can transition to treatment that addresses their psychological and behavioral factors, which are crucial to preventing relapse.
Alcohol addiction is a complex and chronic condition. It's also frequently progressive; which means it's likely to get worse instead of better without professional addiction treatment. When you visit WhiteSands, our addiction specialists can provide you with a thorough evaluation. This allows us to recommend the ideal course of treatment that may or may not include alcohol detox. If detox is recommended, clients can begin treatment right away.
Understanding Alcohol Addiction and Its Impact
The loved ones of alcoholics often struggle to understand why it's so difficult to stop drinking. Getting a loved one addiction treatment is as easy as contacting WhiteSands. Without treatment, clients can experience a worsening of symptoms that may impact their jobs along with their family relationships. Although alcohol addiction can seriously impact physical and mental health, it can be treated effectively. 
Alcohol addiction treatment targets clients' unhealthy thoughts and feelings, which often govern substance abuse problems. If your loved one has an alcohol use disorder, treatment can help them manage it and get their lives back on track. 
Recognizing the Signs of Alcohol Addiction
Loved ones can recognize signs and symptoms of alcohol addiction in many cases. Common signs of alcohol addiction include:
Disengaging from friends and family

Lying about drinking

Drinking alone 

Spending excessive time drinking or recovering from drinking

Binge drinking

Engaging in reckless behavior when drinking (i.e. drinking and driving)

Continuing to drink even though it's causing problems (i.e. job performance problems)

No longer enjoying activities formerly enjoyed

Trying to stop drinking but failing to

Experiencing withdrawal symptoms
If your loved one exhibits these signs, encourage them to seek an evaluation at WhiteSands. 
Approaching a Loved One About Alcohol Detox
Approaching a loved one about alcohol detox may be difficult but it can also be life-saving. If your loved one has an alcohol addiction, they need to seek treatment. Alcohol will damage their physical and mental health. Our intervention specialists can help you create a plan to persuade your loved one to enroll in alcohol detox and rehab treatment programs.
Effective Communication Techniques
Do you have a loved one who is struggling with alcohol addiction? Substance use disorders can be managed with treatment, but it's vital to communicate your concerns in constructive ways. Effective communication techniques include speaking to your loved one with empathy rather than judgment. Let your loved one know that you care about their health as well as their overall well-being. 
Alcohol Detox Centers in Tampa
WhiteSands is among the top alcohol detox centers in Tampa. We have a reputation for our caring environment and experienced staff. We offer a full range of alcohol addiction treatments that include multi-type therapies, medication-assisted treatment, and holistic offerings. We can help your loved one with our effective treatment modalities designed to ward off relapse. 
Benefits of Alcohol Detox in Tampa
The benefits of alcohol detox in Tampa include getting local support from a trusted addiction treatment leader. We individualize treatment to ensure each client gets the help they need. With treatment, clients can safeguard their mental and physical health, and get support for rebuilding their lives in the context of sobriety.
Life AfterDetox: Steps to Alcohol Recovery
Detox is only the first stage of the recovery process. Detox involves the first steps to alcohol recovery, but it is not a cure for addiction. Alcohol detox only addresses the physical aspect of the addiction. Additional treatment is needed to address the mental and behavioral aspects of a substance use disorder.
Support During Alcohol Detox in Tampa
Clients can expect professional support during alcohol detox in Tampa when enrolled in WhiteSands addiction treatment programs. We pair clients with the treatments they need along with resources that can help them manage their addiction successfully.
Support Groups and Community Resources
Today, people trying to overcome an alcohol addiction don't have to face their journey alone. Support group alcohol participation allows people to give and receive support from others who share similar experiences. WhiteSands can help clients access Tampa support groups and community resources that support sober living. 
How to Encourage an Alcoholic to Stop Drinking
Wondering how to encourage an alcoholic to stop drinking? Let WhiteSands help. Embracing healthy habits can pave the way to a healthier and more rewarding life. Alcohol will cause mental and physical health to erode; that's why it's important to enter addiction treatment to stop drinking for good.
FAQs:
What is the first step in helping a loved one seek alcohol detox in Tampa?
Contact WhiteSands to find out about our enrollment information. That's generally the first step in the alcohol addiction treatment process.
How can I approach my loved one about their need for alcohol detox?
Talk to your loved one about the benefits of living a sober life and how treatment at WhiteSands can kickstart the recovery process. 
What are the benefits of undergoing alcohol detox in Tampa?
By obtaining alcohol treatment in Tampa, clients can get professional support at the local level for managing their addiction. Rehab programs often begin with medical detox that addresses the physical aspect of the disorder. 
Information about the top alcohol detox centers in Tampa?
Top alcohol detox centers in Tampa include WhiteSands. We're known for our expertise and empathetic care. 
How can support groups aid in the process of alcohol detox and recovery?
Support groups offer peer group support for people who are undergoing the recovery process. Participants can focus on topics that help them manage their recovery journey.
What are some effective ways to encourage a loved one to go through alcohol detox?
Remind loved ones that their condition is treatable. Tell them that WhiteSands offers a full continuum of care that includes medical detox, inpatient treatment, and outpatient treatment. 
After alcohol detox, what steps can a loved one take towards recovery?
Detox is only the first step in the recovery process. Detox only addresses the physical part of addiction. Subsequent treatment is needed to address the mental and behavioral aspects of the disorder. 
If you or a loved one needs help with abuse and/or treatment, please call the WhiteSands Treatment at (877) 855-3470. Our addiction specialists can assess your recovery needs and help you get the addiction treatment that provides the best chance for your long-term recovery.