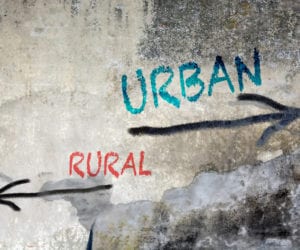 Addiction and Substance Abuse Vary by Locality
Recent studies have discovered a shocking difference in drug and alcohol abuse between those who reside in rural areas when compared to those living in urban areas. Substance abuse can affect anybody, regardless of age, race, socioeconomic background or location and nobody is immune from the disease of addiction. A study that contrasted drug use in the city to drug use in less densely populated areas discovered that those who resided in rural zones were more susceptible to substance abuse and addiction.
It's hard not to recognize the drug epidemic that the U.S. is facing, as addiction now affects all corners of this nation. Abuse and misuse of illicit drugs, prescription drugs, and alcohol vary between different demographics.
Rural Drug Users
Researchers have discovered that those who reside in rural areas not only abused drugs more frequently, but they also began doing so at a much younger age than those in rural areas. Some of the most popular drugs of choice in those who live in rural areas are:
Methadone
Oxycodone
Benzodiazepines
Hydrocodone
Cocaine
Crack
Alcohol
Alcohol abuse in rural areas also exceeded alcohol abuse in urban areas. Alcohol is one of the most commonly abused substances nationwide as it is legal for purchase in those who are of legal drinking age. Those who are of Native American descent are particularly vulnerable to substance abuse disorders in both urban and rural areas. Those of Native American descent are more likely to be predisposed to the disease of addiciton.
Factors Attributing to Rural Substance Abuse
There are many factors that contribute to the substance abuse that is prominent in rural areas of the U.S. which are not necessarily factors in urban areas. Some of these components are:
Poverty
Isolation
Low level of education
Unemployment
Those who live in urban areas are less-susceptible to substance abuse. This is because those who live in the city or close proximity to the city tend to hold post-secondary education which puts them at an increased education level, making them more 'skilled' and likey to get a job. Individuals who reside in the city also do not experience the same level of isolation as those who reside in rural areas, leaving them feeling less lonely, therefore, less likely to resort to drugs and alcohol as a means to get by each day.
Many people who live in rural areas and have drug or alcohol issues, also do not have a job which makes it easier for them to carry on their substance abuse. Those in urban areas, however, tend to hold jobs and careers that can be compromised if they begin to rely on drugs or alcohol to get by.
It's important that if you or someone close to you is struggling with substance abuse or addiction that you seek help right away. Even if you reside in a rural area, treatment is always available. Without the right treatment, your addiction will continue to worsen. Whether you are addicted to drugs or alcohol, there is a treatment program available that can help you obtain sobriety.
If you or a loved one needs help with abuse and/or treatment, please call the WhiteSands Treatment at (877) 855-3470. Our addiction specialists can assess your recovery needs and help you get the addiction treatment that provides the best chance for your long-term recovery.