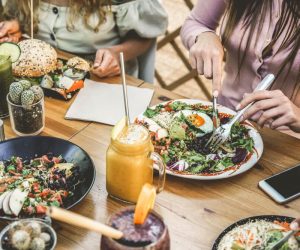 A Healthy Body & Mind Stays in Focus. Top Restaurants in Tampa for People in Recovery
Tampa is one of the 50 most populous cities in the United States and is a central hub for commerce, entertainment, and society on Florida's west coast. At almost 400,000 people, it is the third-largest city in the state, behind only Miami and Jacksonville. Tampa is also the largest municipality in the overall Tampa Bay area, including St. Petersburg and Clearwater. Tampa boasts several major sports teams, a fantastic variety of outdoor activities, award-winning restaurants, museums, music venues, great neighborhoods, and many other aspects you'd expect in a major U.S. city. Living in such a vibrant, energetic area can have both pluses and minuses for life after rehab and living in recovery. There are many healthy restaurants in Tampa to choose from that can be great options for people with a new, drug and alcohol-free lifestyle.
When someone first enters recovery, they have just gone through a significant change in their life that they hope to sustain over the long-term. In the past, drugs or alcohol or both have taken up a considerable amount of their time, and now those parts of their days and nights need more positive activities. Socializing with old friends and new ones that they may have met during rehab or aftercare is important, but not putting themselves in a stressful situation or one that could instigate triggers or cravings is paramount. Most people find go-to places they like to visit repeatedly, whether it's a store or restaurant or coffee house, and one of the keys to maintaining abstinence from drugs and alcohol is to find places you like that fit your new lifestyle. The Tampa area has spots that will fit the bill. If you or someone you know if struggling with addiction, call our Tampa addiction care phone number, and we would be happy to assist you or your loved one.
There are many excellent, and yes, healthy options in the Tampa area, from fast food to vegan fare. Take a look at these five choices that will get your mouth watering:
Fresh Kitchen
With a couple of locations in Tampa, Fresh Kitchen is fast food like you've never seen before. Fresh Kitchen, or FK for short, serves up delicious food to provide nourishing meals in a community-oriented environment. Filling a niche in the fast-food market, Fresh Kitchen offers food that they refer to as "fresh-to-order," which means even though it's quick, each dish is made just for you. Their offerings are also 100% gluten-free, taking one more question out of the equation when getting a quick bite that everyone can appreciate and enjoy. FK's create your own bowl concept starts with a base like brown rice or kale slaw and is customized by adding your choice of vegetables, proteins, sauces, and other optional add-ons. They also have menu choices that are designed for everyone, from kids to groups of eight. Drinks include pressed juices and homemade teas. FK is the perfect healthy lunch or dinner spot for people on the go who don't want to sacrifice quality or nutrition.
4616 W Kennedy Blvd, Tampa, FL 33609
Farmacy Vegan Kitchen & Bakery
Farmacy Vegan Kitchen and Bakery is a quick-service restaurant offering a well-rounded, 100% plant-based menu. Their goal is to provide a variety of familiar foods like burgers and cheesesteaks using plant-based ingredients. They also have fresh baked goods available daily on a rotating basis that are both clean and delicious. All of Farmacy's offerings are available hot or for to-go and re-heat and include several comfort food favorites like cashew mac and cheese. Working with complete meat and dairy-free ingredients, the chefs perform a little bit of culinary magic by preparing meals that are both amazing and guilt-free. Gluten-free options are available too. Farmacy also offers catering for any size event, including weddings, graduations, corporate retreats, reunions, and other gatherings. In addition to burgers and cheesesteaks, they also offer hot sandwiches, salads, wraps, acai bowls, and family-size portions of some of their staples.
803 N Tampa St, Tampa, FL 33602
Bamboozle Cafe
Bamboozle Cafe in the heart of Tampa is an excellent spot for Asian fusion with a great story. Owner and founder Lynn Pham came up with the idea for a healthy choice Asian cuisine restaurant one sleepless night. Her love for travel, food, and living a healthy and active lifestyle coalesced into the cafe as it is today. Her promise to her patrons is that she doesn't compromise flavor over health nor health over taste. In addition to downtown, there is also a Channelside location. Centered on Vietnamese with influences from throughout Asia, Bamboozle offers various fresh rolls, Pho, Banh Mi, rice dishes, salads, noodles, and a create your own bowl option. To drink, there are milk teas, smoothies, Vietnamese coffee, and specialty iced drinks like homemade ginger ale. The downtown location has separate menus for lunch and dinner and also accepts reservations. Bamboozle is also a healthy option for your event catering needs. There are many vegan and gluten-free menu options.
516 N Tampa St, Tampa, FL 33602
Zukku Sushi
If your taste for Asian leans more towards Japanese cuisine, check out Zukku Sushi for some excellent lunch and dinner choices. Zukku, which translates to canvas or cloth, challenges you to create your masterpiece when you order one of their rolls, bowls, or burritos. They do have some of each for you to choose from on the menu, also, if you're not feeling creative. Start your meal with edamame, tempura, dumplings, and other delicious appetizers. Whether you design your own roll, poke bowl, or burrito next is up to you. There are some fantastic specialty offerings, like the Godzilla burrito, which has four different types of seafood, or the Shrimp Volcano roll, which boasts tuna on the inside and shrimp on the outside, among other ingredients. Zukku does serve adult beverages but promotes their non-alcoholic options like milk tea made to order, Japanese sodas, and fresh brewed iced tea. Vegetarian choices are available throughout the menu, and catering is an option as well if you're looking for a healthy event option.
1910 N Ola Ave, Tampa, FL 33602
Daily Eats
Daily Eats might be the best combination of classic American diner and healthy options on one menu that you'll ever find, at least on the Gulf coast of central Florida. Daily Eats' claim to fame is that they offer food made with love, and they provide a modern refresh of the classic diner, where you can indulge in the comfort foods you crave and the healthy options you need to fuel your body. To back up their claim, you can get chili cheese fries or a selection of hummus as an appetizer and steak and eggs or an acai bowl as your main course. The staff has their favorites on each end of the spectrum, too. If you take one of their suggestions, you can have what's called The Gigante, which is one of each type of breakfast item on the menu or the much more heart-healthy Avo Toast. Open for breakfast, lunch, and dinner, Daily Eats is sure to satisfy every member of your party, regardless of how good they want to be on any given day.
901 S Howard Ave, Tampa, FL 33606
How to Eat At Restaurants That Serve Alcohol & Not Fall off The Wagon
Some experts attest that relapsing is all part of being in recovery. No matter where you stand on the topic, learning and utilizing relapse prevention skills is an integral part of your sobriety. There will come a time when you feel comfortable going out to restaurants and even bars with your friends, family, and loved ones. Here are a few tips on not falling off the wagon when you go out to eat at restaurants. First of all, check your disposition before you go out. If you've had a stressful day at work or school, maybe tonight is not the time to add stressors or triggers to your life. It's always ok to say no, no matter whether you've been in recovery for 10 weeks or 10 years. Second, and this might seem counterintuitive before going out to lunch or dinner, be sure that you're not overly hungry or thirsty, both of which could lead you to make a wrong choice. Third, know your triggers and be prepared to leave if you're ever starting to feel uncomfortable. This can mean taking your own car even if you'd usually be going with someone else and having a prepared excuse so that you don't feel self-conscious about leaving if the need arises. Remember, your health is an essential thing in any situation, and you shouldn't let anything else affect your decisions.
If you or a loved one needs help with abuse and/or treatment, please call the WhiteSands Treatment at (877) 855-3470. Our addiction specialists can assess your recovery needs and help you get the addiction treatment that provides the best chance for your long-term recovery.